Snow White holds a very special place in the Disney princess franchise as she is the very first official Disney Princess. In fact, without the success of her movie, Disney as we know it may not even have happened!
Snow White and the Seven Dwarfs was released in 1937. It was the Walt Disney Company's first full length animated feature film. Walt Disney put every penny the company had into this movie – he even put collateral on his own house! If Snow White was not a success, the Walt Disney Company was done for.
Lucky for all of us, Snow White and the Seven Dwarfs was a hit! It would become one of the most profitable films of all times. In today's money (adjusted for inflation), Snow White grossed $1.7 billion.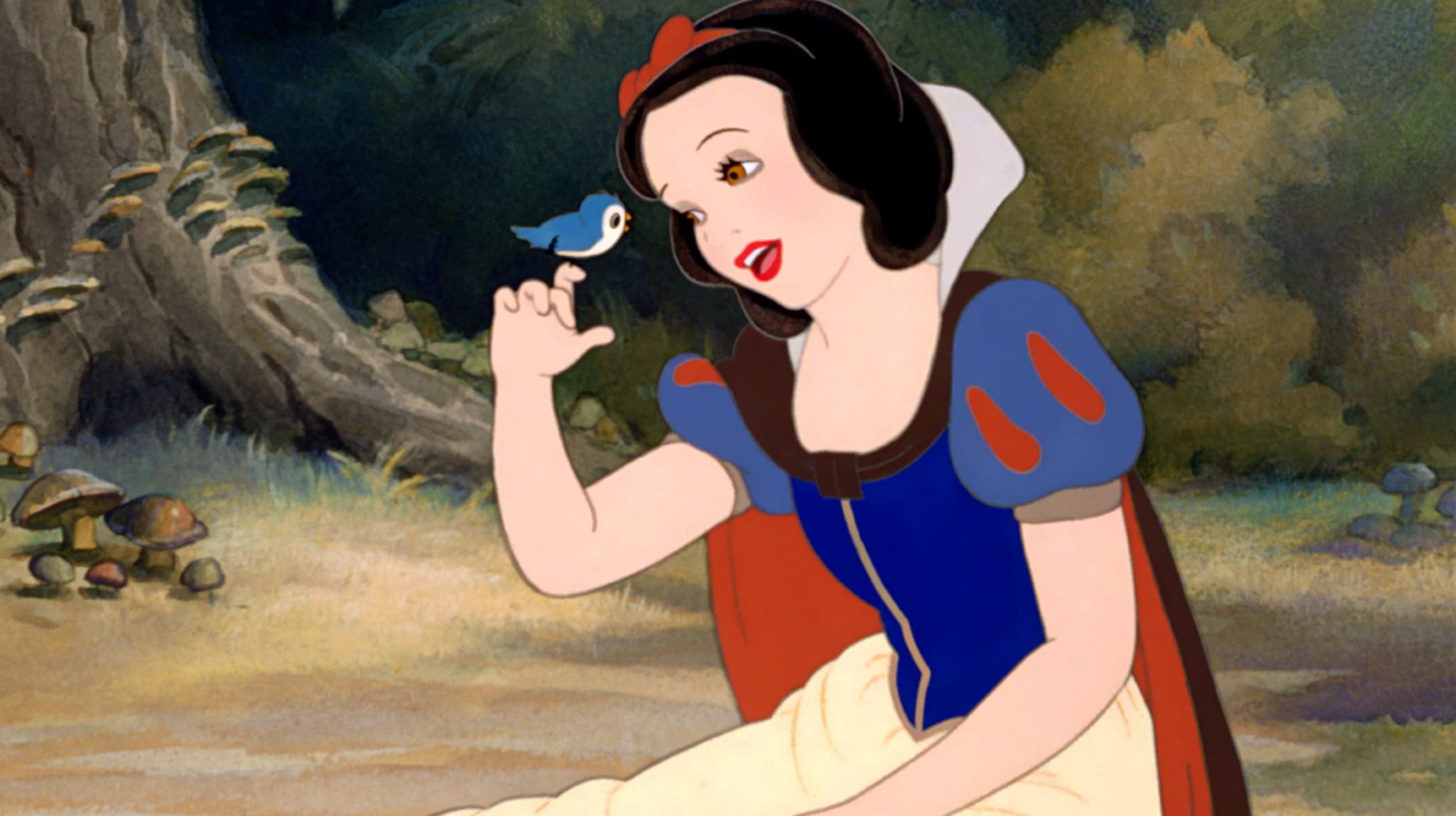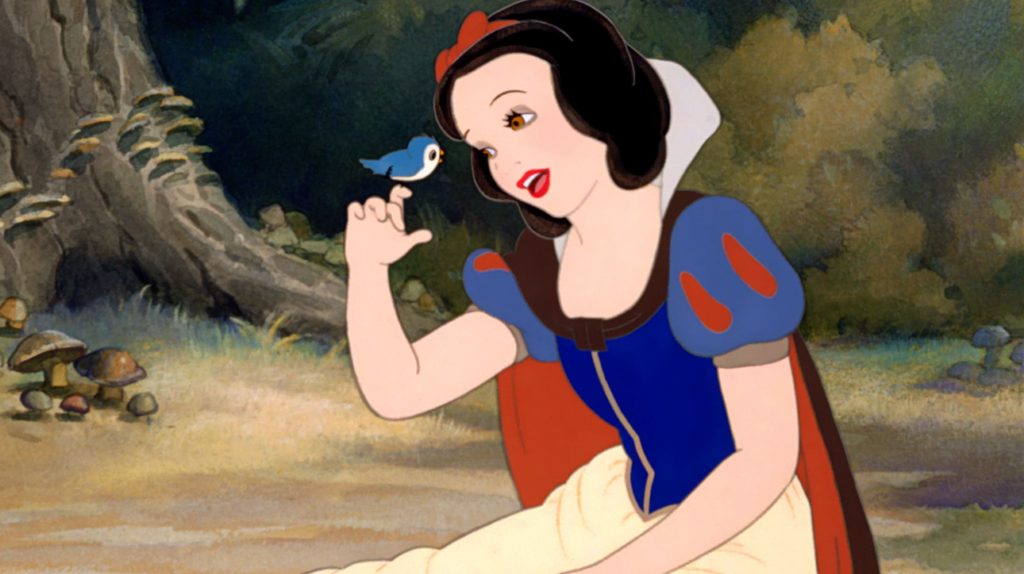 Snow White and The Seven Dwarfs Synopsis
The movie, Snow White, was based on a fairy tale created by the Brothers Grimm that was published in 1812. This fairy tale includes an evil step-mother, a magical mirror and a poisoned apple.
In the story of Disney's Princess Snow White, her stepmother, the Evil Queen, uses a magic mirror to find out that Snow White is "the fairest one of all."
The queen's jealousy that someone is more beautiful than her sends her into a rage. She enlists a huntsman to take Snow White into the woods to kill her. Instead of killing her, the huntsman lets her go and Snow White travels into the woods and finds shelter with the 7 dwarfs.
The Evil Queen (with the help of her magic mirror) finds out Snow White is still alive. Determined to get rid of her, the queen disguises herself as a hag and brings Snow White a poison apple.
Snow White takes a bite of the apple which sends her into a deep sleep. The spell can only be broken by the kiss of a prince. Spoiler alert – a prince DOES come and breaks the spell! And of course, they all lived happily ever after.
Who is Snow White's Prince?
The prince in Snow White is Prince Charming.
Who voiced Snow White in the Disney movie?
Snow White was voiced by Adriana Caselotti. She was 18 years old when she received the role. In the video below Adriana shares about eavesdropping in on her father's phone call with Walt Disney, which ultimately helped her land the role!
She loved that she was the first Disney princess! She decorated her home in the style of the movie. The video below is a treasure to watch even though the quality isn't the greatest. Adriana sings for us and shows us parts of her home. Close your eyes, and you hear Snow White!
Snow White Characters
Snow White stays with the 7 dwarfs after her escape from the Evil Queen.
What songs does Snow White Sing?
Snow White sings "I'm Wishing," "With a Smile and a Song," "Whistle While You Work," and "Someday My Prince Will Come."
Snow White is most known for singing "Someday My Prince Will Come."
9 Fun Facts About Snow White
Did you know that Snow White was the very first Disney princess ever created, back in 1937? (*Is your old Snow White VHS worth money?)
Snow White is known as "the fairest one of all" and she has "hair as black as ebony, lips as red as the rose, and skin as white as snow."
"Hi-Ho," "Whistle While You Work," and "Someday My Prince Will Come" are favorite songs from the movie.
Snow White is on the Hollywood Walk of Fame!
Adriana Caselotti is the actress who voiced Snow White – she looks like Snow White!
She is the only Caucasian princess to have brown eyes.
She is the first princess to communicate with woodland animals! (The second is Cinderella and the third is Aurora)
Real makeup was applied on to the animation cel to give Snow White a natural rosy look!
Some of Snow White's dancing was re-used in Robin Hood. You can see it here!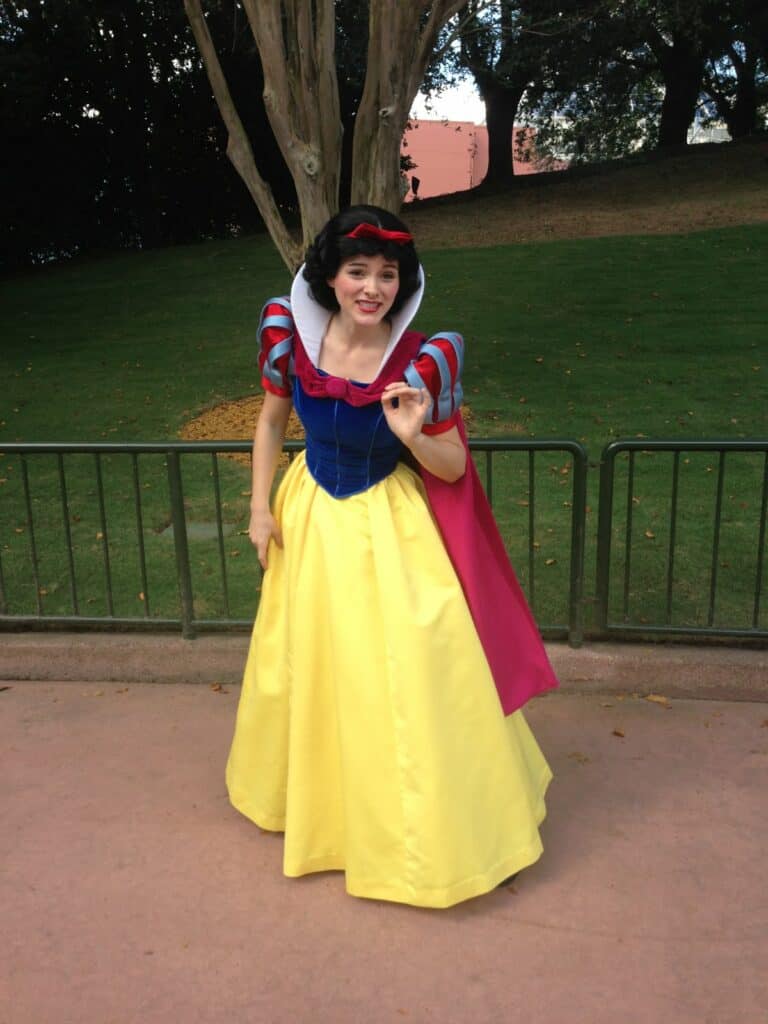 What to say to Snow White at Walt Disney World:
What to ask Snow White when you meet her at Disney:
1. Ask her if she eats apples.
2. Ask her who her favorite dwarf is!
3. Ask her if the magic mirror ever gets used anymore!
Fun family fact – Snow White is our grandma's favorite because of her kindness! Be sure to consider meeting Snow White, Grumpy, Dopey, and the Evil Queen at Story Book Dining at Artist Point.
Snow White Quotes
"I'm sure I'll get along somehow. Everything's going to be alright."
"Then he will carry me away to his castle where we will live happily ever after."
"Why! There's seven little chairs! There must be seven little children! And from the look of this table, seven untidy little children."
"March straight outside and wash, or you'll not get a bite to eat!"
"Bless the seven little men who have been so kind to me, and—and may my dreams come true. Amen. Oh yes, and please make Grumpy like me."
Official Disney Princesses
How well do you know all the Disney princesses? Who is your favorite? Check your Disney princess knowledge here: