Most people heading to Disney World enjoy staying on the Disney property to take advantage of the Disney Magic 24/7. However, for many different reasons, many people choose to stay off the Disney Property.
If you are staying in Orlando but are heading to the Disney Parks, where do you stay and what are things you should know about?
We are going to review some of the great options you have when you want to stay at an off site Disney World hotel in this post.
Choosing a hotel can be a daunting a process. There are many reasons why you may choose to stay at an off-site hotel instead of on-site. First of all, lets go over some of the perks of staying at an off site hotel when visiting Walt Disney World:
5 Reasons to Choose An Off Site Disney Hotel
You usually will receive more hotel for less money. You will almost surely have a bigger room for less money.
Off site hotels often have the option for kitchenettes to give you more options for food. You also are closer to less expensive restaurant and food options. Some may even off free breakfast.
Transportation to the parks are often included in your hotel fee, so no worries about parking! Just make sure the hotel you choose has complimentary shuttles.
You get away from the Disney fun for a while – which might be just what your family. needs in order to fully enjoy your time at the parks!
Off site hotels give you many more options to stay within your budget.
As you look for an off site hotel you want to be aware of the amenities and offerings.
5 Things to Consider When Choosing An Off Site Disney Hotel
Things you will want to consider as you look for a hotel that is not in the Walt Disney World Resort area:
Are there are hotel fees? (Most hotels charge a daily resort or hotel fee, some can be quite expensive.)
Are there are parking fees? (If you are taking your own vehicle.)
Are there shuttles or other forms of transportation available to the parks?
Is it a Disney Good Neighbor Hotel?
Is there a food court or other on site restaurants? What dining options are available?
The options we have listed below are some of the best hotels near Walt Disney World. These are NOT the cheapest hotels. The hotels we listed are close to Walt Disney World but are not Disney Resorts.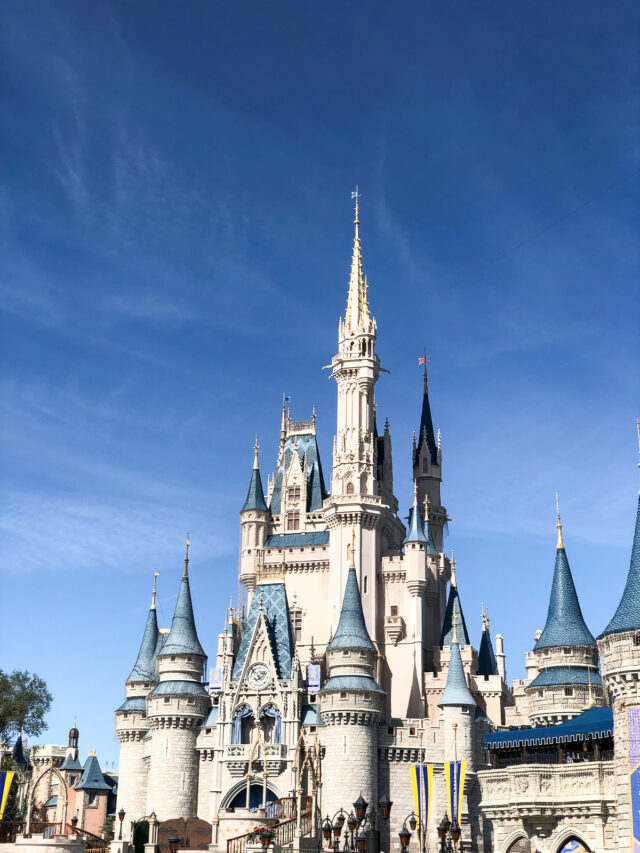 These hotels have easy and convenient access to the Disney theme parks: Disney's Magic Kingdom, EPCOT, Disney's Animal Kingdom and Disney's Hollywood Studios.
Many are within walking distance to the Disney Springs area! Several of these hotels have both standard rooms and bedroom suites. Almost all of these grocery delivery services will deliver to these hotels!
10 Best Hotels Near Walt Disney World
If you are looking for the resort nearest to the Disney Property, you look no further than one of these resorts. How close? You can walk or take a boat to Epcot and Hollywood Studios and take the free shuttle service to the other parks.
Many people think that these resorts are owned and operated by Disney because of their location sitting on the Disney property but in fact they are owned and operated by Marriott International.
You will enjoy the Disney magic while not paying Disney prices!
This hotel has a wide variety of guest rooms options available. You can get a standard hotel room, or upgrade to a deluxe room or family room. There a wide variety of suite options available as well.
The wonderful thing about these resorts is that you can take advantage of many of the perks other Disney owned resorts have including early entry, complimentary shuttle service and more.
If you are looking to play a round of golf you can get advance tee times for Walt Disney World's golf courses if you stay at one of these hotels. To sum up – you feel like you are at a Disney Hotel but you aren't!
Address: 1500 Epcot Resorts Blvd, Orlando, FL
Pros: Close to Disney World, Disney perks, less price than a standard Disney Resort, beautiful pools and other activities for the family.
Cons: Paying more for being so close (resort fees and parking added on)
Another resort that sits on the Disney Property and wonderful for families. You can actually see the Magic Kingdom fireworks from your room if you are on a high floor facing the park.
This hotel has five outdoor swimming pools, a lazy river, water slides, splash pads, two spa tubs and all the other great amenities make this a great place to stay for families.
Pool tables and board games are available to use on rainy Florida afternoons. There is a mini golf course on site, as well as evening activities such as karaoke and outdoor movie nights!
Address: 9560 Via Encinas, Orlando, Florida 32830
Pros: Family suites are fantastic for larger families. All rooms have full kitchens. Close to the Disney action.
Cons: Timeshare pitches try to pressure you.
Are you looking for a luxury hotel near Disney? When you compare this hotel with Disney owned, you are getting an amazing hotel for a better price in most cases.
It sits on it's own golf course, has complimentary transportation to the Disney Parks, and 12 onsite restaurants and bars!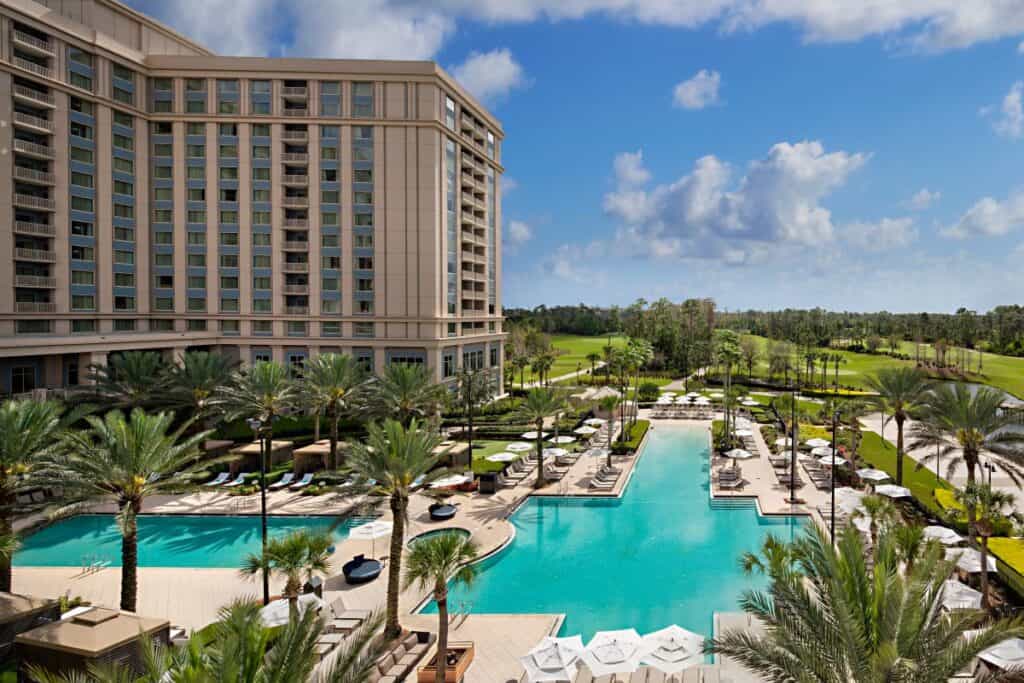 This hotel offers traditional hotel rooms as well as deluxe rooms that hold up to 8 people which is very hard to find in the Disney World Resorts. You are also able to book connecting hotel rooms for a more affordable option than the much more expensive suites.
Mears transportation provides charter rates to and from the Orlando International Airport.
Address: 14200 Bonnet Creek Resort Ln, Orlando, FL 32821
Pros: a 3-acre lazy river, perfect for after walking the parks all day. No need for a car with the complimentary transportation. You can request a room facing the fireworks.
You will get 30 minute early theme park entry to the Walt Disney World Theme Parks – just as if you were staying on property!
Cons: there is an additional $45 per day "resort charge" per room, per night.
Another wonderful hotel close to Walt Disney World -in fact, it is in the Disney Springs resort area! B Resort has many of the Disney amenities such as shuttle service and magic hours.
This hotel doesn't have a lot of the bells and whistles of many of the other hotels we are reviewing. Only one swimming pool, one restaurant etc… but for many families who are there to attack the parks and just need a place to sleep at night, this is one you should definitely check out!
Some of the rooms walk out to the pool and some have bunk beds – this could be a perfect place for your family.
Address: 1905 Hotel Plaza Blvd, Lake Buena
Pros: A solid choice for a hotel that is close to the Disney action but won't break the bank.
Cons: The trendy atmosphere might not be for everyone. It's a little "out there".
Let's start with a 5-acre water park including interactive fountains, water slides, splash zones, add in Disney extras like complementary luxury transportation and even character interactions and you have a wonderful non-Disney owned resort in the middle of the Disney action!
This hotel qualifies for early entrance into the Disney Parks This is probably one of, if not the most luxurious hotels in all of Orlando and your price tag will reflect it but it is a wonderful option many should consider.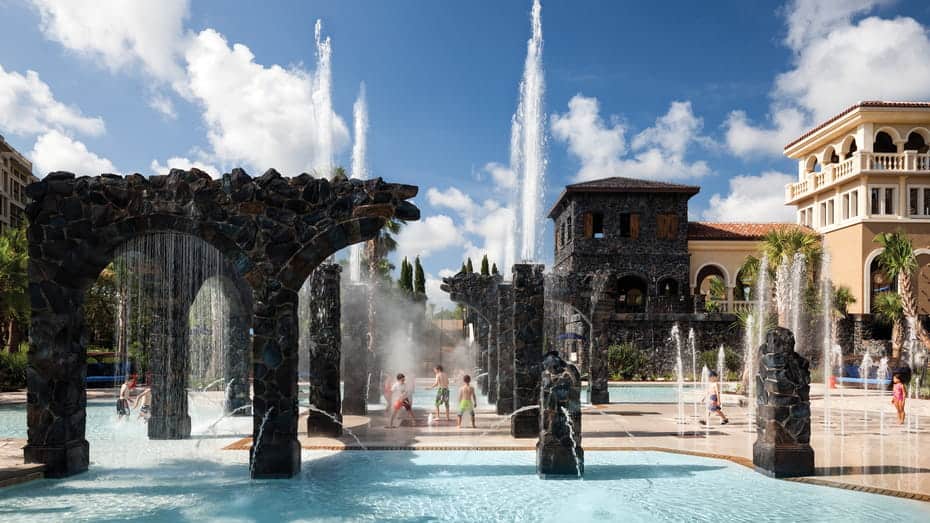 Be sure to check out the Good Morning Breakfast with Goofy & His Pals character breakfast, offered at Ravello every Thursday and Saturday morning. Themed welcome gifts can also be arranged!
Address: 10100 Dream Tree Blvd, Lake Buena Vista, Florida
Pros: Beautiful in every respect! Disney Planning Center on site with a Disney cast member ready to help you!
Cons: It is expensive (but usually less than the Deluxe Disney resorts)
If you are planning on doing a bit of the Disney Parks, a bit of shopping or eating at Disney Springs and a bit of relaxing, you will need to check out the Hyatt Regency Grand Cypress.
Located near Disney Springs, it is further away from the parks and there is unfortunately no shuttle service (there is shuttle service to Disney Springs).
All this being said, this charming resort has absolutely wonderful things to do, starting with a Jack Nicklaus signature golf course and an amazing outdoor pool!
There is also a rock-climbing wall, bike trails and rental, tennis courts, waterslide, fitness center, and much much more.
This is a pet friendly hotel.
Address: 1 Grand Cypress Blvd, Orlando Florida
Pros: Great hotel amenities
Cons: High resort fees and no shuttle to the parks
Located on the World Center Drive, it will take just a few minutes to drive to the Magic Kingdom. All-suite hotel rooms can accommodate 6 people which makes it ideal for larger families.
This hotel also has two-bedroom villas available! Beautiful swimming pool with waterfalls, a 75′ water slide, splash pad and the Calypso pool bar is a fun place to relax by the pool.
Basketball courts and tennis courts are available for use, as well as an arcade and two hot tubs. Catch and release fishing is a fun activity available!
This is a Walt Disney World Good Neighbor Hotel.
Address: 8101 World Center Drive Orlando
Pros: Another wonderful hotel that won't break the bank but is close to Disney
Cons: High resort fees and parking charge. You must sign up for shuttle service to the parks.
This is a newer resort that is beautiful. It is close to Epcot and Hollywood Studios and has a little bit for everyone.
For example, there is an adults only pool and hot tub a family pool with a splash pad so if you are visiting without kids, this may appeal to you as Disney is so kid friendly. The hotel is a bit more laid back and relaxed when compared to other hotels.
A rooftop terrace gives you views of the Disney fireworks every night! You can even get rooms with a view of the fireworks. Guest rooms also have options of a Disney Springs view or a pool view.
Address: 14900 Chelonia Pkwy, Orlando, FL
Pros: Luxurious with smart styling and modern guest rooms which caters a bit more to adults
Cons: It's a bit more adult friendly but don't let it stop you from checking it out if you are coming with kids
Another wonderful hotel that is connected to the pedestrian walkway to Disney Springs. In fact, some of the rooms will give you a panoramic view of the Disney Springs area and for everyone, Disney Springs is walking distance away.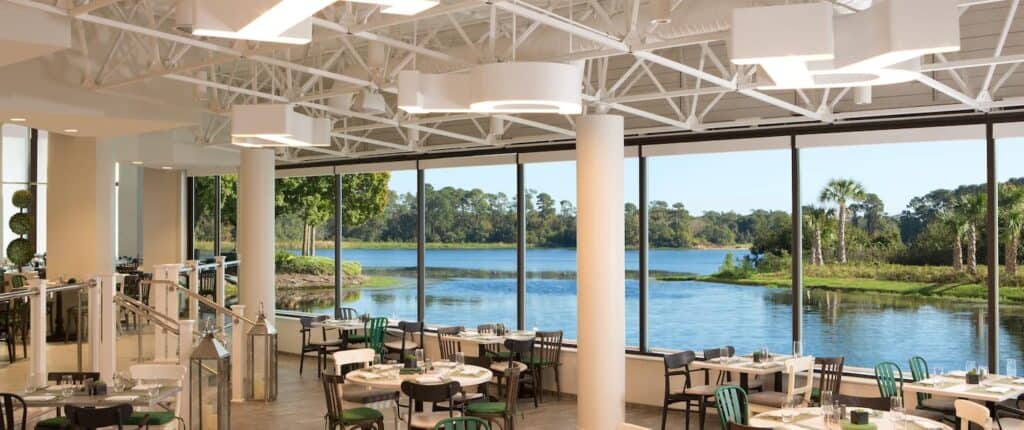 Some of the guest rooms will have a view of the EPCOT fireworks, so be sure to consider choosing that option! In addition, there is a great pool area for all ages, poolside cabanas and restaurant for your poolside drinks and snacks. Suite options are available for large families that will sleep up to 8 people.
Shuttle service is available to all the parks.
Address: 1900 E Buena Vista Dr, Lake Buena Vista
Pros: Along with everything else this hotel touts, believe it or not, people rave about their beds! Super comfortable pillows and mattresses.
Cons: A bit further away from the parks compared to others reviewed but not a deal breaker in our opinion.
SPECIAL HOTEL FOR MILITARY FAMILIES
An amazing resort for Members on Active Duty, Reserve and National Guard, Army, Navy, Air Force, Marine Corps, Space Force, Coast Guard and Cadets of Armed Forces Academies and their families. Check this out! (We thank you for your service to our country!)
When you are staying at the Shades Of Green, you can walk to the Polynesian Resort, hop on the monorail and get to where you are going! That is just the start of this great resort! 
This is a resort that you get many of the Disney perks you would find at Disney owned resorts, including extra magic hours and complementary transportation.
Address: 1950 W Magnolia Palm Dr, Lake Buena Vista, FL
For a full eligibility description, go here
Cons: Only for military personal – although this might be a perk for some of you!
Finding a local Orlando Hotel that fits your needs and preferences is definitely an option! Of course, you can always search for a condo or home on AirBnB or VRBO. Just be sure you take into consideration extra fees for parking at the resorts.
If you are still thinking about staying at an official Walt Disney World Resort we have a few posts to help you navigate if it is the best choice for you. Be sure to check out