If you love the Seven Dwarfs from Walt Disney's Snow White, chances are you have a favorite dwarf. But how do you choose?
Today we're going to share about one of the most lovable characters (and most relatable to parents of young children), Sleepy!
The seven dwarfs are some of the most iconic Disney Characters of all time. Snow White was America's first feature length animated film and is considered to be one of Walt Disney's greatest accomplishments!
Snow White was released in 1937 by the Walt Disney Company and the seven dwarfs have been in our lives ever since.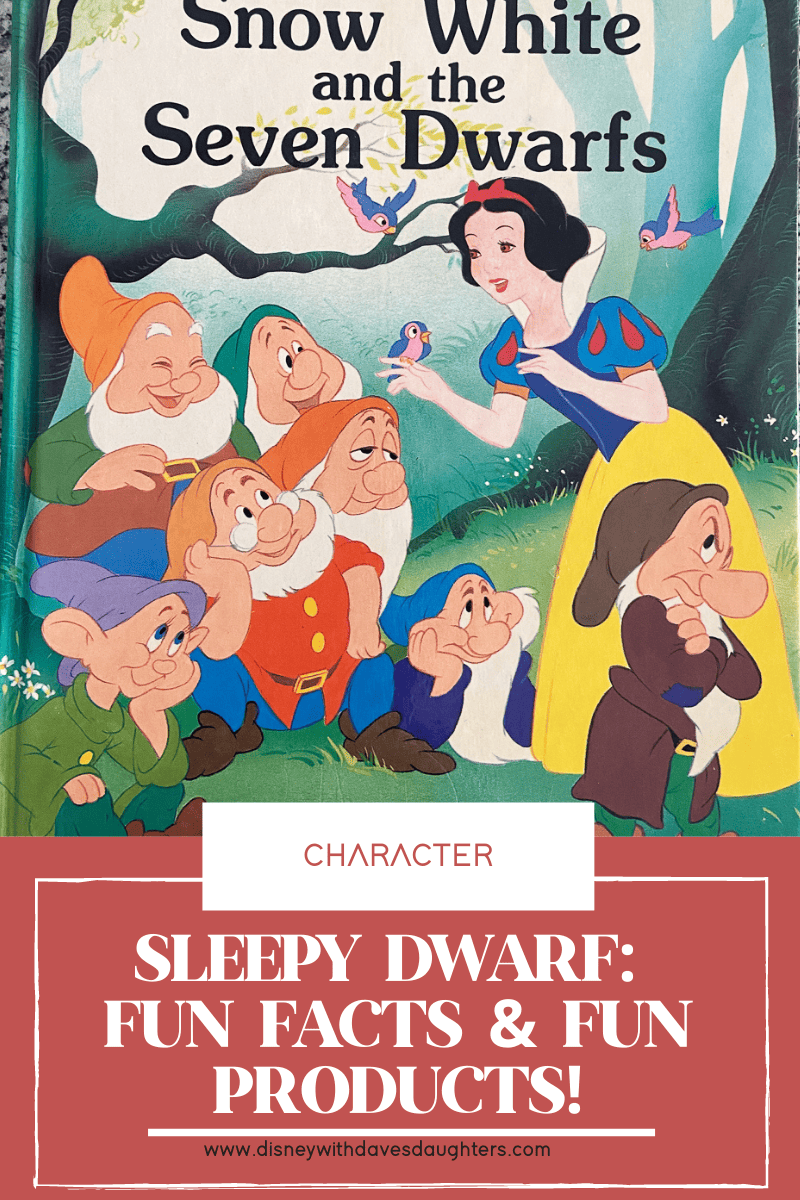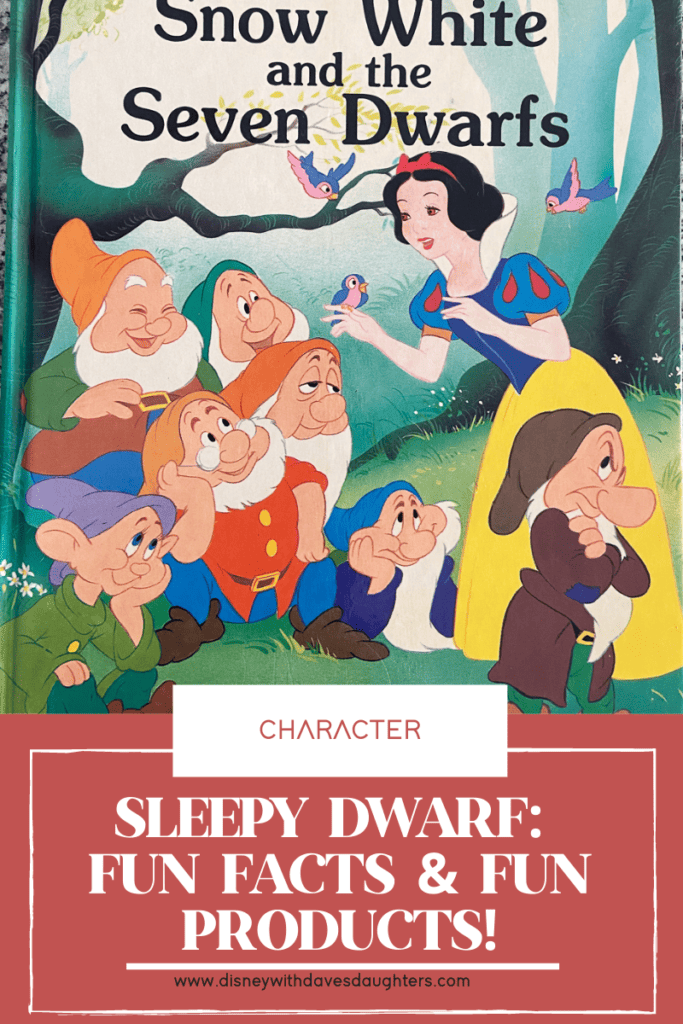 Disney With Dave's Daughters is a participant in the Amazon Services LLC Associates Program. This post may include affiliate links which means I may earn a small commission if you shop using the links below at no additional cost to you. 
Without the success of Snow White, it's very unlikely that Walt would have gone on to make more feature length animated films.
Can you even imagine not having animated movies such as Frozen, the Lion King, Cars, or Toy Story? Because of the huge success of Snow White, we have these and so many more Disney movies!!
Ok now that we are know why the Snow White and the Seven Dwarfs is such a big deal to the Walt Disney Company lets move on to Sleepy!
Sleepy's Personality
Always yawning and looking for a chance to catch a few winks anywhere he can, Sleepy demonstrates a laid back and relaxed personality.
He does work hard and can be pretty perceptive to things so don't let the tiredness fool you into thinking he is lazy. The ongoing saga of a fly bothering him keeps an interesting gag throughout the movie.
Key Moments For Sleepy In the Seven Dwarfs
Walt introduces Sleepy by saying, "And ol' droopy-eyes is called Sleepy." Here are some key movie moments:
Sleepy is the first dwarf we see in the movie.
We meet sleep at the mines along with the other dwarfs. On the way home, Sleepy is too tired to sing "Heigh-Ho."
Sleepy seems to have issues with flies! He swats a fly in the mine and causes a deer to get startled, and swats a fly at home with cymbals but ends up clanging himself.
Sleepy is the one who suggests that the Queen may have found Snow White
Who Voiced Sleepy?
Sleepy was voiced by Pinto Colvig. Pinto Colvig was the original voice of Goofy from 1932-1938. He was also the voice of Grumpy Dwarf, Plus, and Practical Pig, and a number of other animated characters.
What does Sleepy Dwarf Wear?
Sleepy Dwarf wears a dark green hat, a gray shirt with patches, and reddish pants.
In the Disney Parks Sleepy wears a pink hat, green pants, and orange shoes.
Sleepy's Quotes in Snow White and the Seven Dwarfs
Snow White: And you.
Sleepy: *yawns*
Snow White: You're Sleepy.
Sleepy: How did you guess?
"Maybe the old Queen's, uh, got Snow White."
Where to Find Sleepy in Walt Disney World
You can meet the seven dwarfs at the Not So Scary Halloween Party and Mickey's Very Merry Christmas Party. You may also see him at the Festival of Fantasy Parade in the Magic Kingdom.
These events have changed some over the years, so be sure to check with Disney to make sure that their character meet and greets will be available during these ticketed events.
Sleepy Dwarf Products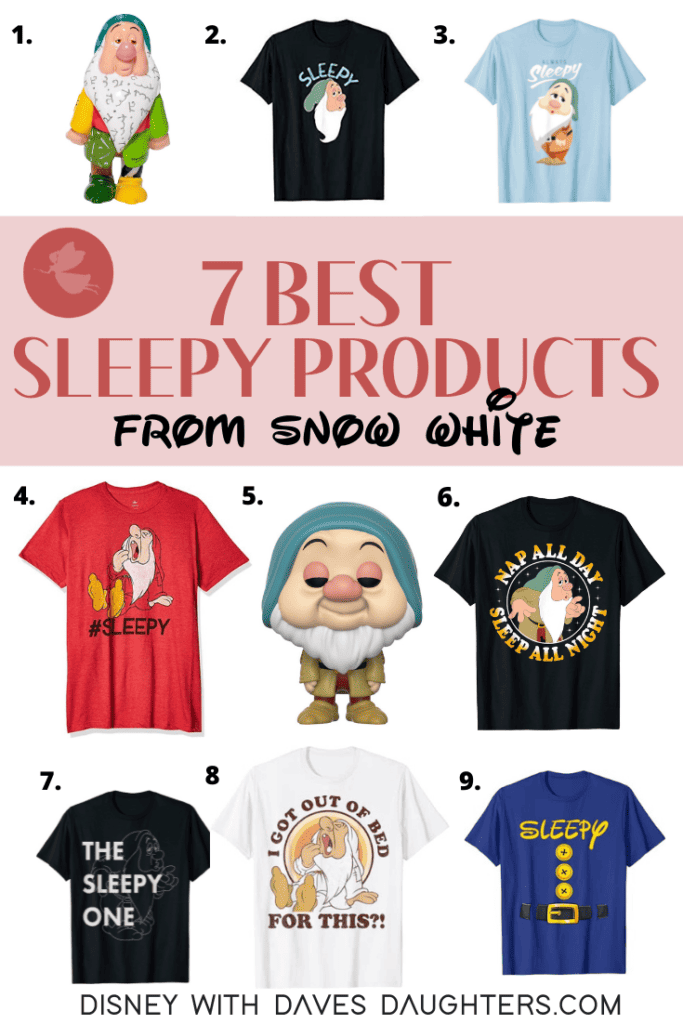 This super cute, colorful figurine is 4.7″ high and would be the perfect addition to your bookshelf or desk!
This shirt comes in nine different colors and both mens, women, and youth sizing! We love how the green letters matches Sleepy's green hat.
This shirt is perfect for someone who loves to sleep! It comes in 10 colors and mens, women, and youth sizing.
Do you stay up too late on social media and are now….#sleepy? This shirt is for you! This shirt is available on prime wardrobe which means you can try it before you buy it!
These collectible Funko Pop Figurines are a modern twist to the traditional figurines of days gone by. We like how Sleepy's eyes are half closed!
If you love taking naps you will love this shirt! Nap all day, sleep all night! This shirt comes in five colors and multiple sizing options.
We think this shirt would be great for a group trip to Walt Disney World! All the other Dwarf options are available as well.
This humorous shirt is available in both white and red. You are sure to bring smiles to people's faces when you wear this shirt!
This shirt performs double duty as a regular t-shirt….AND can be worn as a simple Halloween costume!
Now you know everything you wanted to know about Sleepy from Snow White and the Seven Dwarfs! If you want more fun facts of all the seven dwarfs, head to this post!
If you love the Seven Dwarfs, here's all our individual seven dwarfs articles!