Grumpy is one of our favorite dwarfs from Snow White! He's somehow ornery and lovable all at the same time. We're not sure how he does it, but we love it!
How much do you know about Grumpy? Today we're going to share some fun facts we bet you didn't know. But first….do you know why the Seven Dwarfs are still such a part of our lives?
The seven dwarfs are some of the most iconic Disney Characters of all time. Snow White was America's first feature length animated film and is considered to be one of Walt Disney's greatest accomplishments!
Snow White was released in 1937 by the Walt Disney Company and the seven dwarfs have been in our lives ever since.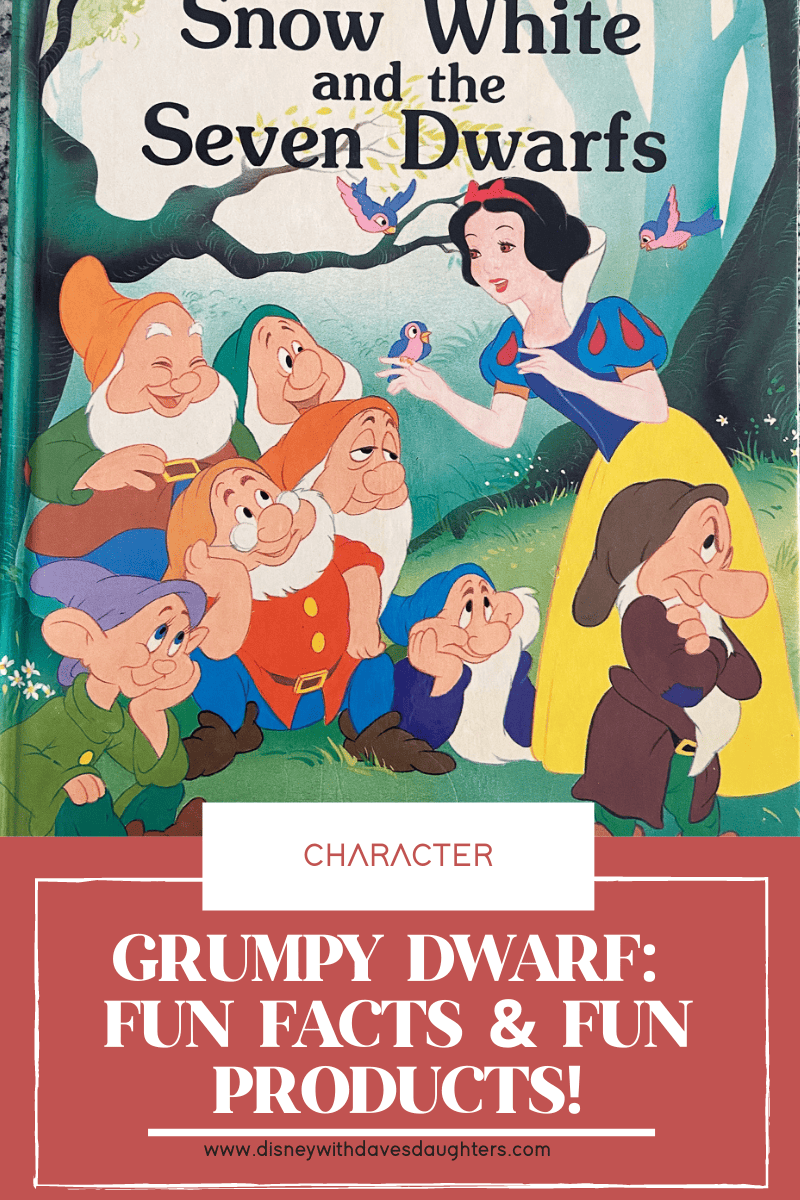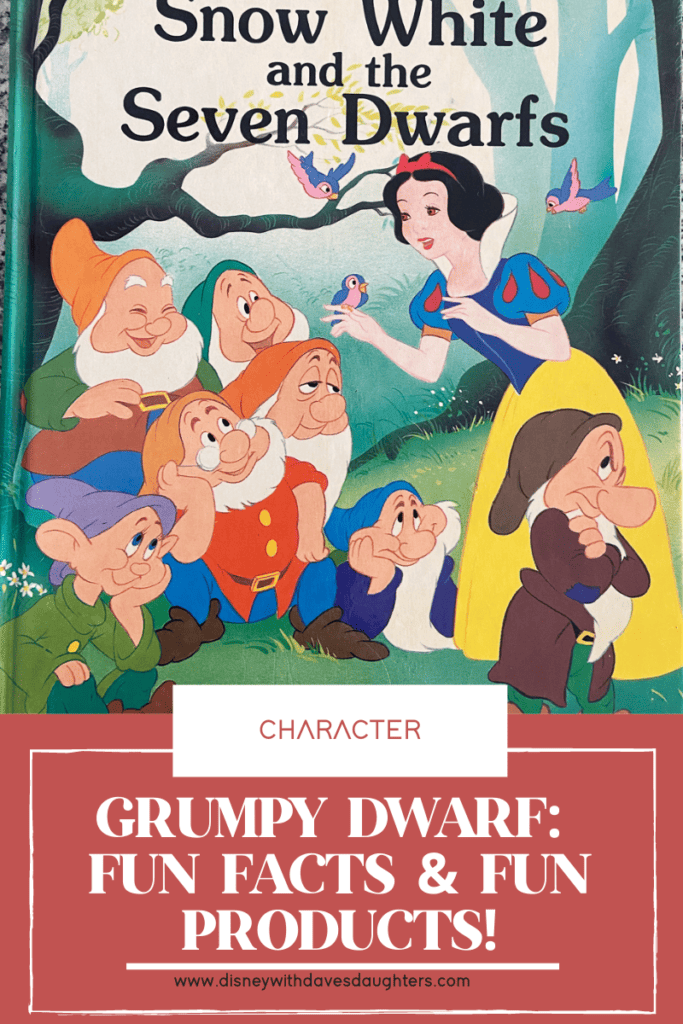 This post includes affiliate links.
Without the success of Snow White, it is unlikely that Walt would have gone ahead to make more feature length animated films. Can you even imagine not having animated movies such as Frozen, The Little Mermaid, Cars, or Toy Story? Thanks to the success of Snow White, we have these!
Now that we all have a better appreciation for Snow White and the Seven Dwarfs let's chat about Grumpy!
Time find out more about Grumpy! Grumpy is considered the second most popular dwarf – the first being Dopey.
Grumpy's Personality
Grumpy is often portrayed with a scowl and folding his arms together. He can become annoyed at the others very quickly. He tends to have a short fuse and gets upset very easily. Grumpy is often described as overbearing, rude, and arrogant.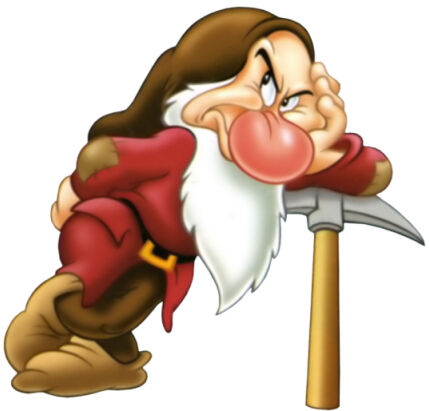 Even though he denied having a soft spot for Snow White, it was Grumpy that lead the others on the quest to rescue her. He clearly has a warm heart but often doesn't let it show. His heart for Snow White is especially notable because Grumpy has a strong distrust of women.
Walt Disney said this when introducing Grumpy:
"And old sourpuss here is Grumpy, the woman hater."
Grumpy and Doc seem to have a sort of rivalry going on. Grumpy is a very capable and competent dwarf and gets into disagreements with Doc.
Key Moments For Grumpy In the Seven Dwarfs
One of the best Grumpy scenes in the movie is when Snow White say, "Why Grumpy, you do care" and tries to kiss him. For a split second, his true heart shows through, but unfortunately he reverts back to his ornery self almost immediately. Other key moments that involve Grumpy are:
We meet him working in the mine
Grumpy is the first dwarf to talk to Snow White
Grumpy refuses to wash up after instructed to by Snow White. Eventually the other dwarfs get him all cleaned up.
Plays the organ during "The Silly Song"
The only dwarf who keeps his composure during Snow White's song "Someday My Prince Will Come"
Wished he had been nicer to Snow White after her death
Who Voiced Grumpy in Snow White and the Seven Dwarfs?
Grumpy was voiced by Pinto Colvig. Pinto Colvig was the original voice of Goofy from 1932-1938. He was also the voice of Sleepy Dwarf, Plus, and Practical Pig, and a number of other animated characters.
What does Grumpy Dwarf Wear?
In the movie, Grumpy wears a long red shirt with elbow patches and a dark brown hat.
In the Disney theme parks Grumpy wears a red shirt, purple hat, and green shoes.
Grumpy's Quotes in Snow White and the Seven Dwarfs
"Angel, ha! She's a female! And all females is poison! They're full of wicked wiles!"
"Hah! Next thing you know, she'll be tyin' your beards up in pink ribbons and smellin' ya up with that stuff called uh… perfoom!"
"There's dirty work afoot."
"Don't touch it, you fools! Might be poison. See? It's witch's brew."
"Now, I'm warnin' ya. Don't let nobody or nothin' in the house."
"The Queen will kill her! We, we gotta save her!"
Where to Find Grumpy in Walt Disney World
You can meet the seven dwarfs at the Not So Scary Halloween Party and Mickey's Very Merry Christmas Party. You can also see Grumpy at Story Book Dining at Artist Point.
These events have changed some over the years, so be sure to check with Disney to make sure that their character meet and greets will be available during these ticketed events.
Grumpy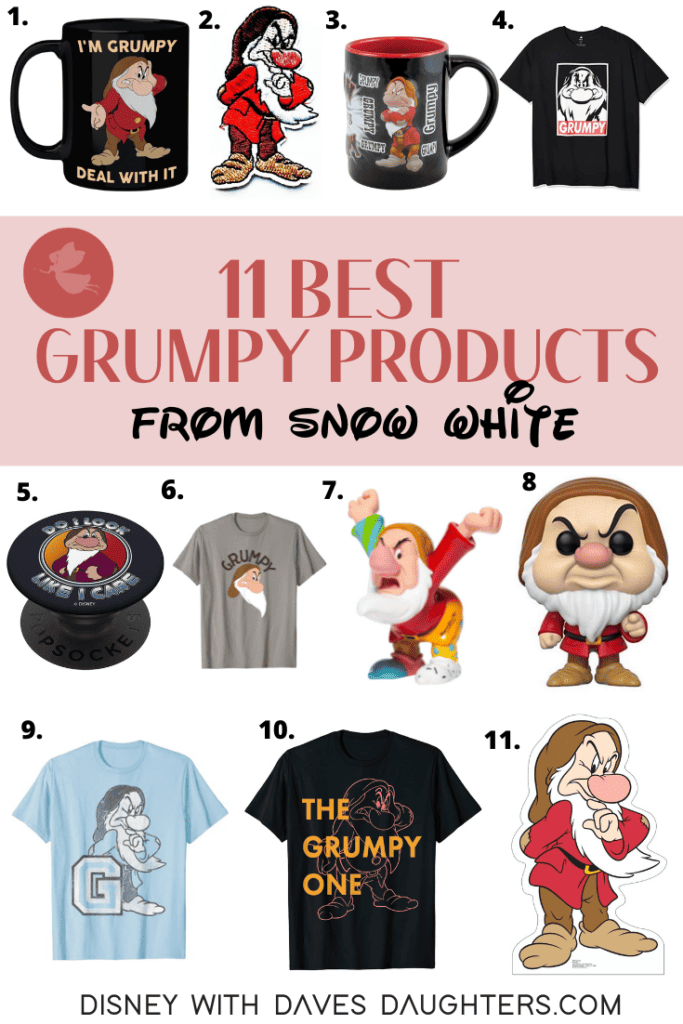 Maybe being grumpy is in your DNA or maybe you just are having a grumpy day. Whatever the reason, be sure to alert everyone around you with this perfect mug!
This iron patch is perfect to put on your Disney backpack for your next Disney vacation!
If you hate mornings this one is for you! This "born Grumpy" mug is officially licensed by Disney and is dishwasher and microwave safe!
This Grumpy t-shirt comes in three colors – black, gray, and blue. This would be a perfect shirt for wearing in the Magic Kingdom – or any day that you want to show off your Grumpy side!
For the phone lover who can be a bit grumpy or just has a deep love for Grumpy, this is the perfect addition! They'll never drop their phone and be able to show their love for Grumpy!
This is a fun t-shirt that comes in EIGHT different colors! It is available in women's mens, and youth sizes. This is a fun, whimsical shirt that has Grumpy's classic scowl.
This fun, colorful figurine would be perfect to display on a bookshelf or sit it on your desk by your computer! It is 4.7″ tall and is made of stone resin. The other dwarfs are also available!
Here is another fun figurine in a totally different style. This Funko Pop Grumpy is 3.7″ tall. Grumpy's cranky face will make you laugh!
This shirt has Grumpy's whole body as well as a letterman style "G." This shirt comes in six great colors and is perfect to wear in the Disney Parks!
Do you have a Grumpy family member? This shirt will help them own it! This shirt has the words "The Grumpy One" and Grumpy's whole self on it. Comes in five colors.
Grumpy Dwarf FAQs
Why does Grumpy not like Snow White?
While we don't know for certain, it is likely that Grumpy distrusts Snow White due to stories about the Evil Queen and her reputation of being a witch.
Why is Grumpy so Grumpy?
Walt never told us why Grumpy is so grumpy. The ABC show "Once Upon A Time" says that Grumpy was once in love and, after losing that love, is now Grumpy. Its an interesting theory!
Which dwarf has the longest nose?
Grumpy dwarf has the longest nose!
If you love the Seven Dwarfs, here's all our individual seven dwarfs articles!
Want to know even more about the Seven Dwarfs? Head to this post!