Dopey Dwarf is the most popular of the Seven Dwarfs from Disney's Snow White. Dopey is the youngest and the silliest of all the dwarfs!
How much do you know about Dopey? Today we're going to share some fun facts we bet you didn't know! But first, a bit of background.
The seven dwarfs are some of the most iconic Disney Characters of all time – did you know they have been around since Snow White was released in 1937? Snow White was America's first feature length animated film and is considered to be one of Walt Disney's greatest accomplishments!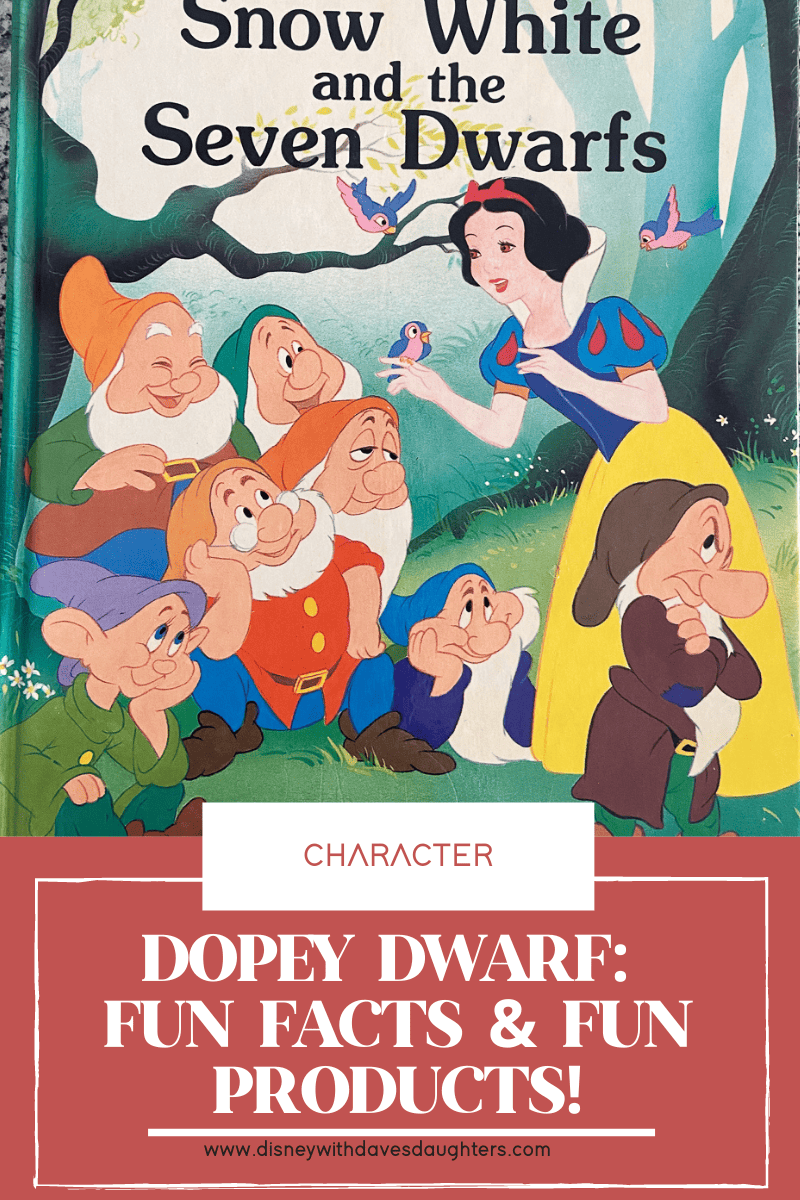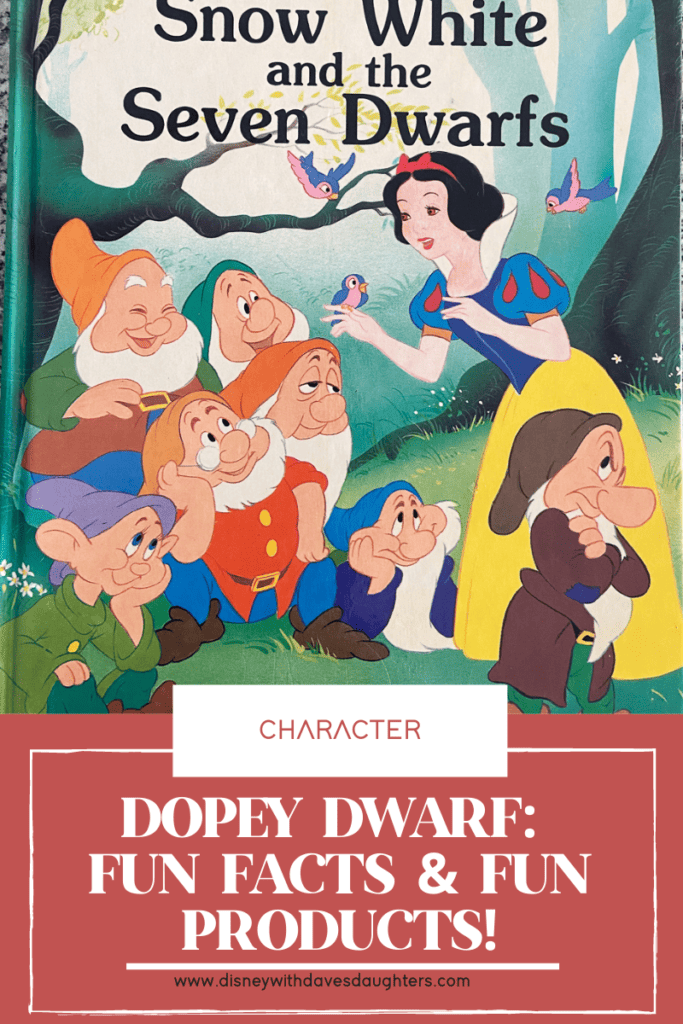 Disney With Dave's Daughters is a participant in the Amazon Services LLC Associates Program. This post may include affiliate links which means I may earn a small commission if you shop using the links below at no additional cost to you. 
This movie truly changed the course of animation as prior to 1937 animation had mostly been short cartoons. Now, animated films are a part of the culture of America. Can you imagine growing up without Belle, Ariel, Elsa, Lightning McQueen or Buzz Lightyear?
Now we know why Snow White was so important. Let's chat about Dopey!
Dopey's Personality
Dopey is the youngest dwarf and often seems to act like a toddler – or a puppy! He is silly and often is the brunt of the jokes. The dwarfs seem to expect – and accept – him to act goofy and funny.
Dopey seems to annoy Grumpy and Doc the most, but somehow he never really gets in trouble. Perhaps the more mature dwarfs view him as a child more than a peer – Dopey will sometimes get a bump on the head but that's about it!
One major distinction that Dopey has is that he does not speak. Happy informs Snow White that Dopey has never tried to speak, and nobody really knows if he can speak or not! Dopey will make sounds but never words.
Doc specifically seems to able to translate Dopey's sounds and actions into whatever message Dopey is trying to say.
Dopey's Physical Appearance
Dopey is the only dwarf to not have a beard! He is bald and has blue eyes. In the movie, Dopey wears an olive colored tunic and a purple hat.
In the Disney Parks Dopey wears a green tunic and a purple hat.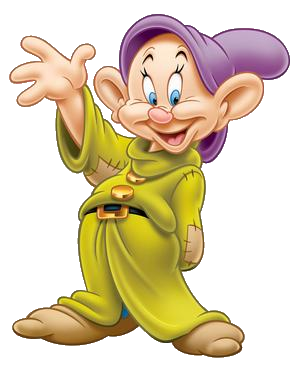 Key Moments for Dopey in the Seven Dwarfs
Even though Dopey doesn't talk, he has some great moments in the movie:
We meet him in the mine where he is sweeping up gems
He is the last dwarf in line while they walk home – we see him tripping while he walks as the other dwarfs sing "heigh-ho"
Dopey is elected to check out the house when the realize someone (Snow White) is there
Dopey accidentally swallows the soap while they are washing up!
Dopey plays the drums during "The Silly Song"
Who Voiced Dopey in Snow White and the Seven Dwarfs?
Mel Blanc was originally going to be the voice of Dopey. Mel is known for his work with Looney Tunes. It was then decided that Dopey would be mute, so a voice actor was not needed. Eddie Collins and Oliver Wallace took care of the needed sounds for Dopey's character.
Of course, since Dopey doesn't talk, he has no famous quotes!
11 Best Dopey Products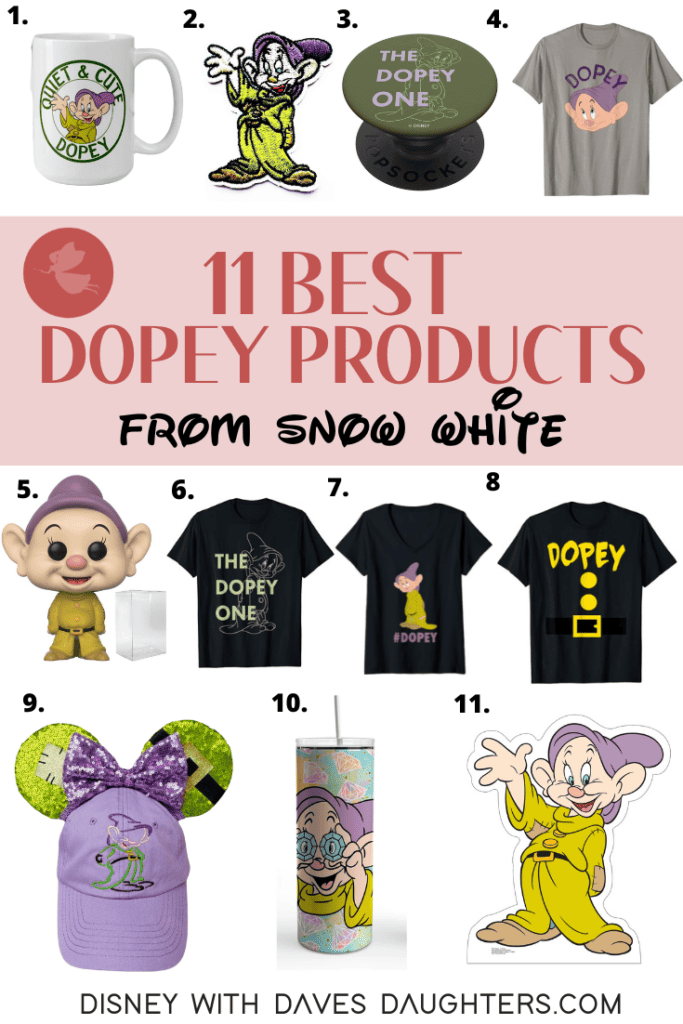 Disney With Dave's Daughters is a participant in the Amazon Services LLC Associates Program. This post may include affiliate links which means I may earn a small commission if you shop using the links below at no additional cost to you. 
There's no better way to start your morning than with Dopey! Pour your hot coffee in to this fun Dopey mug to bring a smile to your face and a pep to your step.
Show your Dopey love on your sleeve…or Disney backpack! 😉 This fun iron on patch can be put on your favorite denim jacket, the backpack your bringing on your Disney vacation or even your work or school bag!
Need a way to have a better handle on your phone? PopSockets are the best little addition to prevent you from dropping your cell phone. This Dopey one is so cute and will show off your love for the cutest dwarf of them all!
How can you resist that adorable face? You can't. 😉 This Dopey shirt is sure to bring a smile to your face and all those who see it.
Sometimes you just need to show your Disney love on your shelf whether that shelf is in your living room, office or baby's nursery!
The Dopey One? Better than being the grumpy one in my opinion. 😉 Pick this up before your next Disney vacation!
You can't have too many Dopey t-shirts and this one is so cute! Perfect for the social media queen or king in your life.
Halloween costume or perfect casual day shirt? Both work! This is even better when you get your besties involved to wear their own seven dwarf shirt!
Whether you're heading to Disney and want to look the part or just love the look of Dopey and want to show your love for Dopey at home, this Mickey ear hat will add some fun to any outfit!
Bring your coffee, tea or even water on the go and show your Disney love while you're at it! This Dopey tumbler is the best way to do so.
Having a Disney inspired party? Need some extra large decor for your office or home? Try out this fun Dopey cardboard cutout!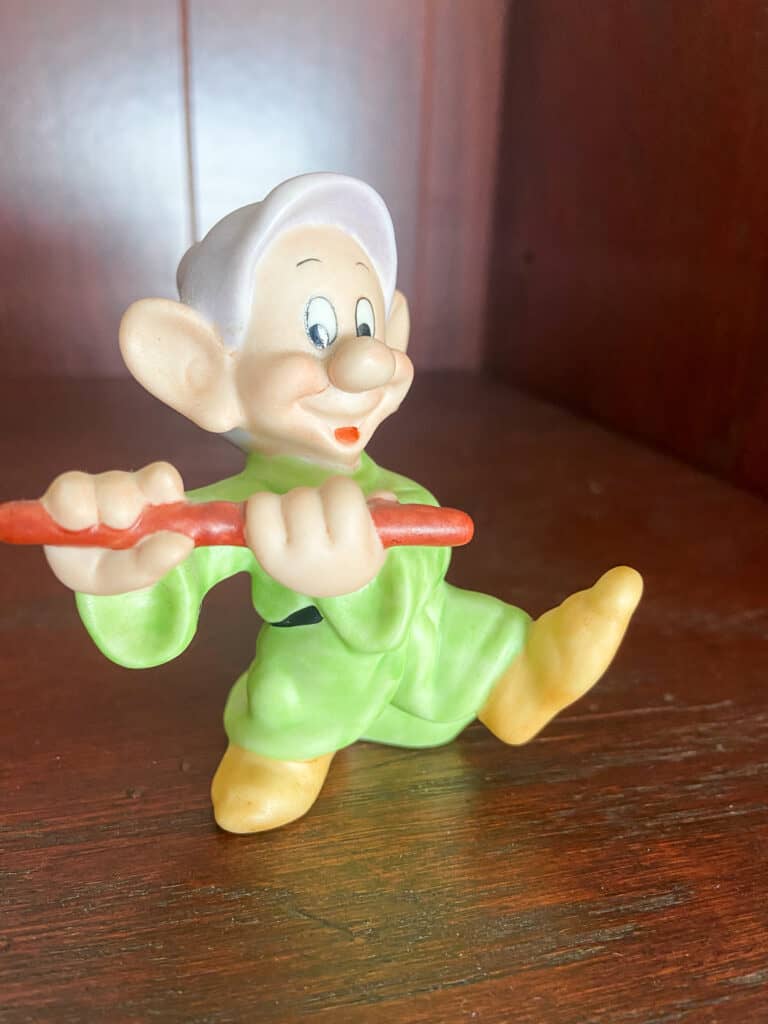 Dopey Dwarf FAQs
Why is Dopey different from the other dwarfs?
We don't know why Dopey is different, we just know he is! He is the only one who doesn't talk and is much more childish than the other six dwarfs
How did Dopey lose his voice?
Dopey didn't lose his voice – he has simply never tried talking!
Why is the dwarf named Dopey?
Dopey gets his name due to his silly, fun, goofy personality.
What dwarf did Snow White never refer to by name?
Dopey!
Where to Find Dopey in Walt Disney World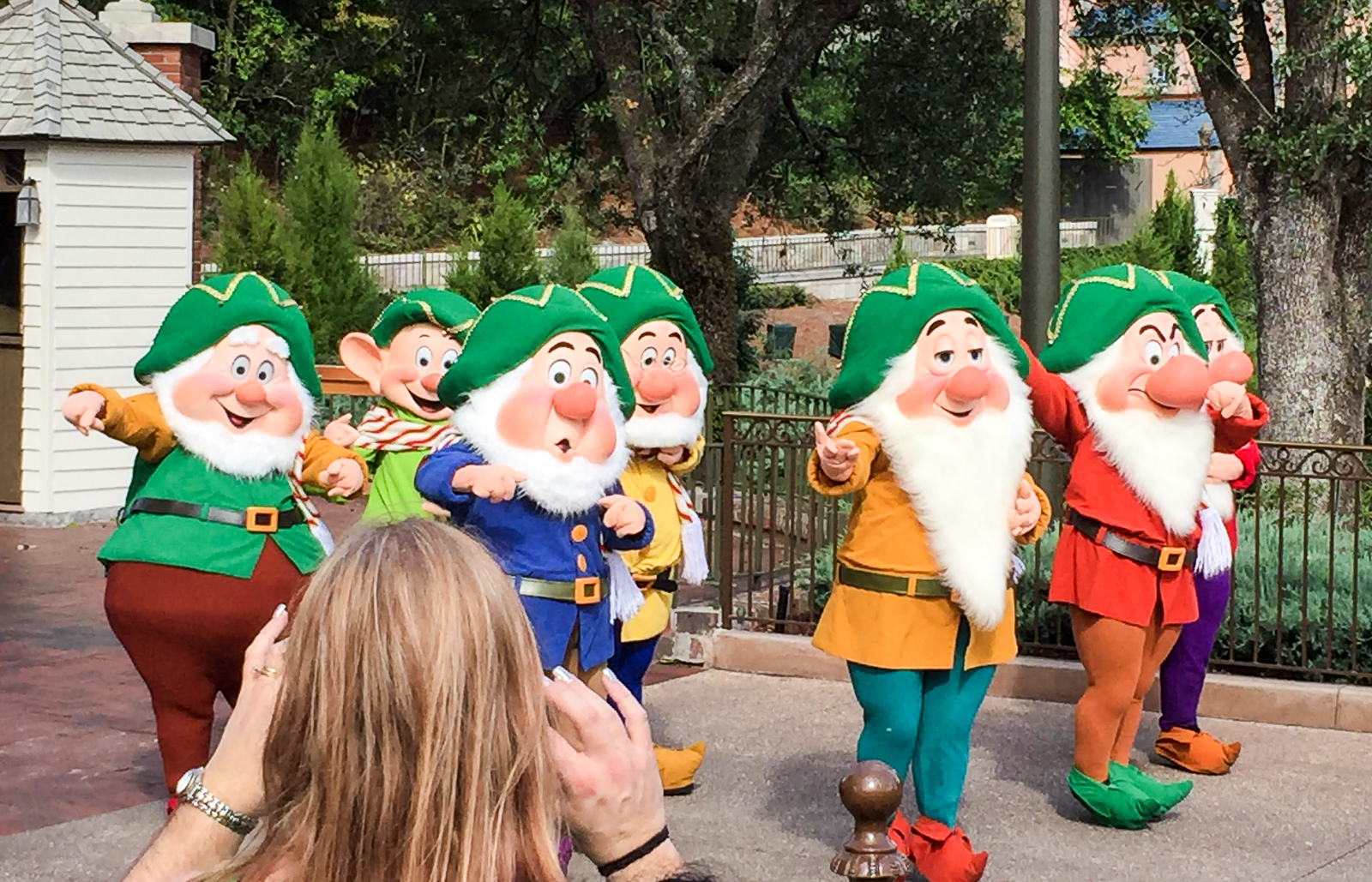 You can meet the seven dwarfs at the Not So Scary Halloween Party and Mickey's Very Merry Christmas Party. You can also meet Dopey at a character meal at Story Book Dining at Artist Point.
These events have changed some over the years, so be sure to check with Disney to make sure that their character meet and greets will be available during these ticketed events.
If you love the Seven Dwarfs, here's all our individual seven dwarfs articles!
If you want to know more about Disney's Seven Dwarfs, head here!