Doc Dwarf is the leader of the Seven Dwarfs from Disney's Snow White. He's a bit pompous, a bit panicky but always looking out for the dwarfs.
How much do you know about Doc? Today we're going to share some fun facts we bet you didn't know! But first, a bit of background.
The seven dwarfs are some of the most iconic Disney Characters of all time. Snow White was America's first feature length animated film and is considered to be one of Walt Disney's greatest accomplishments!
Snow White and the Seven Dwarfs was released by the Walt Disney Company in 1937 and those fun dwarfs have been with us ever since. This movie truly changed the course of animation as prior to 1937 animation had mostly been short cartoons.
Now, as you know, animated movies have been with us ever sense and have become an internal part of American culture. Can you imagine growing up without Belle, Ariel, Elsa, Lightning McQueen or Buzz Lightyear?
Ok now that we know that, here's a quick recap…
Who are the Seven Dwarfs?
Lets find out more about Doc!
Disney With Dave's Daughters is a participant in the Amazon Services LLC Associates Program. This post may include affiliate links which means I may earn a small commission if you shop using the links below at no additional cost to you. 
Doc's Personality
Doc is the leader of the seven dwarfs. He can be bossy but also absent minded and lovable! One notable characteristic of Doc is that he often stumbles and fumbles with his words. For example, he says "search every crook and nanny" instead of "nook and cranny."
Doc seems to have a bit of an ongoing rivalry with Grumpy. Grumpy tends to argue with Doc about his decisions, but ultimately ends up going along with them.
"This pompous-looking individual is Doc—the self-appointed leader of the group."

Walt Disney
Doc seems to be the kindest to Snow White and has the most rational thought processes of the seven. Doc also tends to be a bit of a caretaker or fatherly figure – for example, he reminds Snow White to not let anyone in the house when they head off to work.
At times Doc seems to show times of weakness. This shows up in high pressure moments where he seems to get extremely flustered and almost panicky. Overall, these moments pass and Doc will once again takes control.
One fun skill to note – Doc plays a stringed instrument! He uses a pick axe at work in the mines.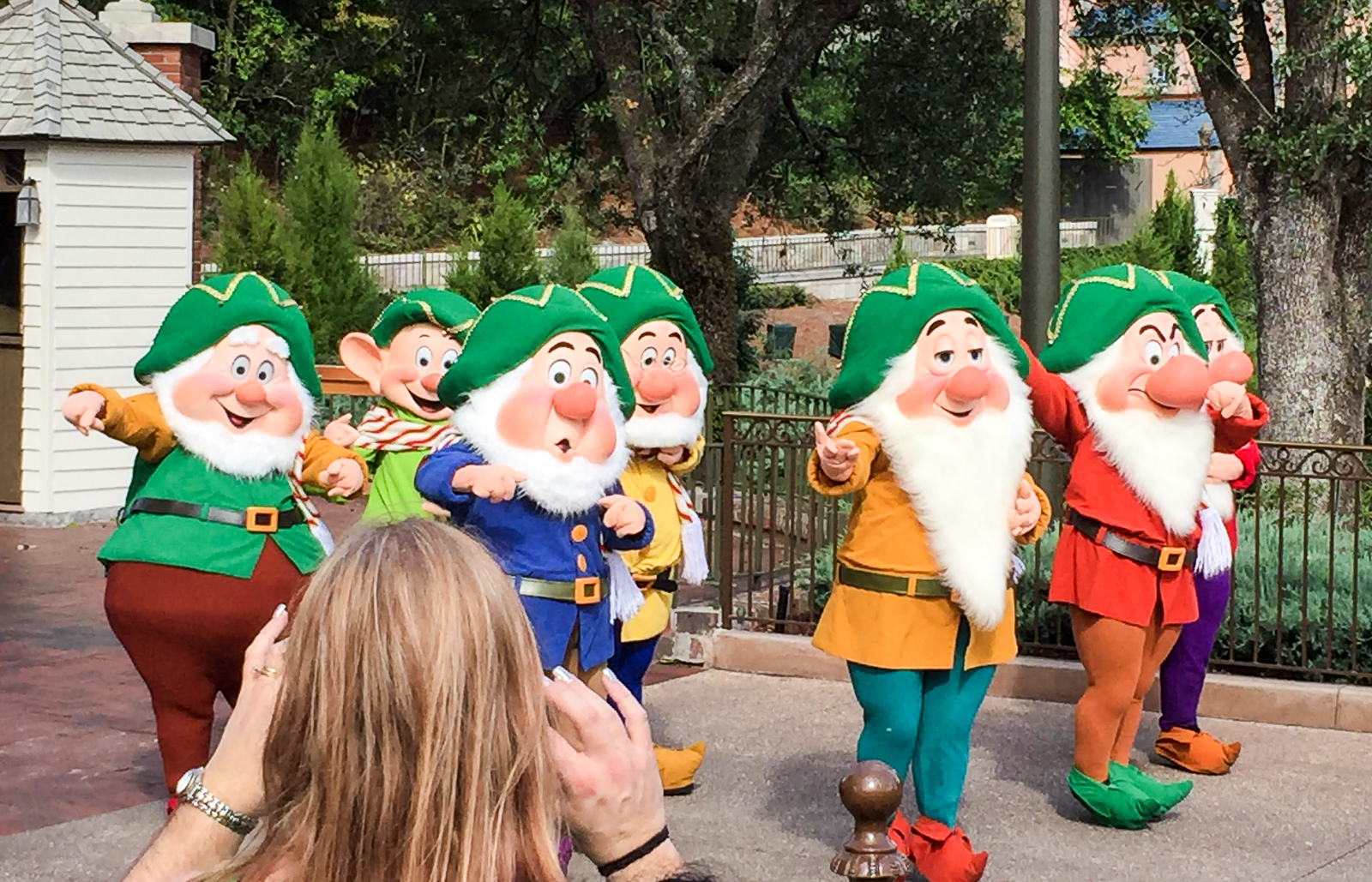 Key Moments For Doc in The Seven Dwarfs
We see many moments throughout the movie where Doc's leadership of the dwarfs is clear. For example:
Doc is the first dwarf that we meet in the movie, making it clear he is the leader
Doc is the one who alerts the other dwarfs that it is time to be done working
Doc leads the dwarfs in the songs "Heigh-Ho" and "Bluddle-Uddle-Um-Dum (The washing song)"
Doc leads all the dwarfs home from work
Leads the other dwarfs in getting Grumpy to bathe
Makes the decision that Snow White will sleep in the beds
Who voiced Doc in Snow White and the Seven Dwarfs?
Doc is voiced by Roy Atwell in the movie. Roy was a radio comedian who was well known for mixing up words and stammering in his act. This made him the perfect voice for Doc!
What Does Doc Dwarf Wear?
Doc wears a red shirt with buttons and a brown or tan hat. He always wears glasses.
In the Disney Parks, Doc wears a yellow shirt with an orange hat and glasses.
Doc's Quotes in Snow White and the Seven Dwarfs
"The lits light, uh, the light's lit."
"We're gonna go down and chase it up, uh uh uh, up…down. "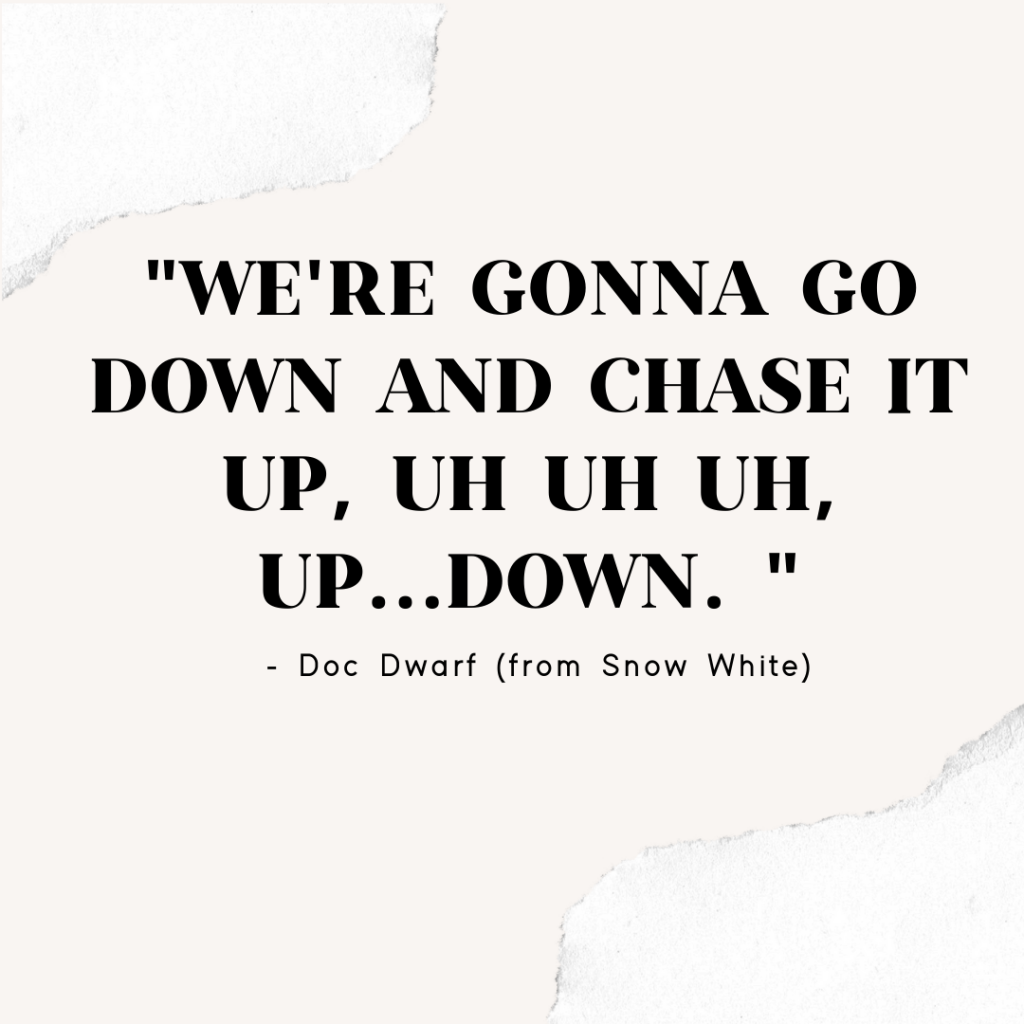 "Ah, yes. Now what are you, and who are you doin'?"

"Why, the whole place is clean."
Doc: Uh, can you make dapple lumplings? Er, lumple dapplings?
Grumpy & Sleepy: Apple dumplings.
Doc: Yes, crapple dumpkins.
Singing: Step up to the tub, ain't no disgrace. Just pull up your sleeves and get 'em in place. Then scoop up the water and rub it on your face and go "Bl-bl-bl, bl-bl-bl, bl-bl-bl!"
Where To Find Doc in Walt Disney World
Of course, you can see Doc on the Seven Dwarfs Mine Train! He is inside mining for gems with the other dwarfs and dancing with Snow White. You can also find Doc in the Festival of Fantasy parade.
You can meet the seven dwarfs at the Not So Scary Halloween Party and Mickey's Very Merry Christmas Party. These events have changed some over the years, so be sure to check with Disney to make sure that their character meet and greets will be available during these ticketed events.
Doc Dwarf FAQs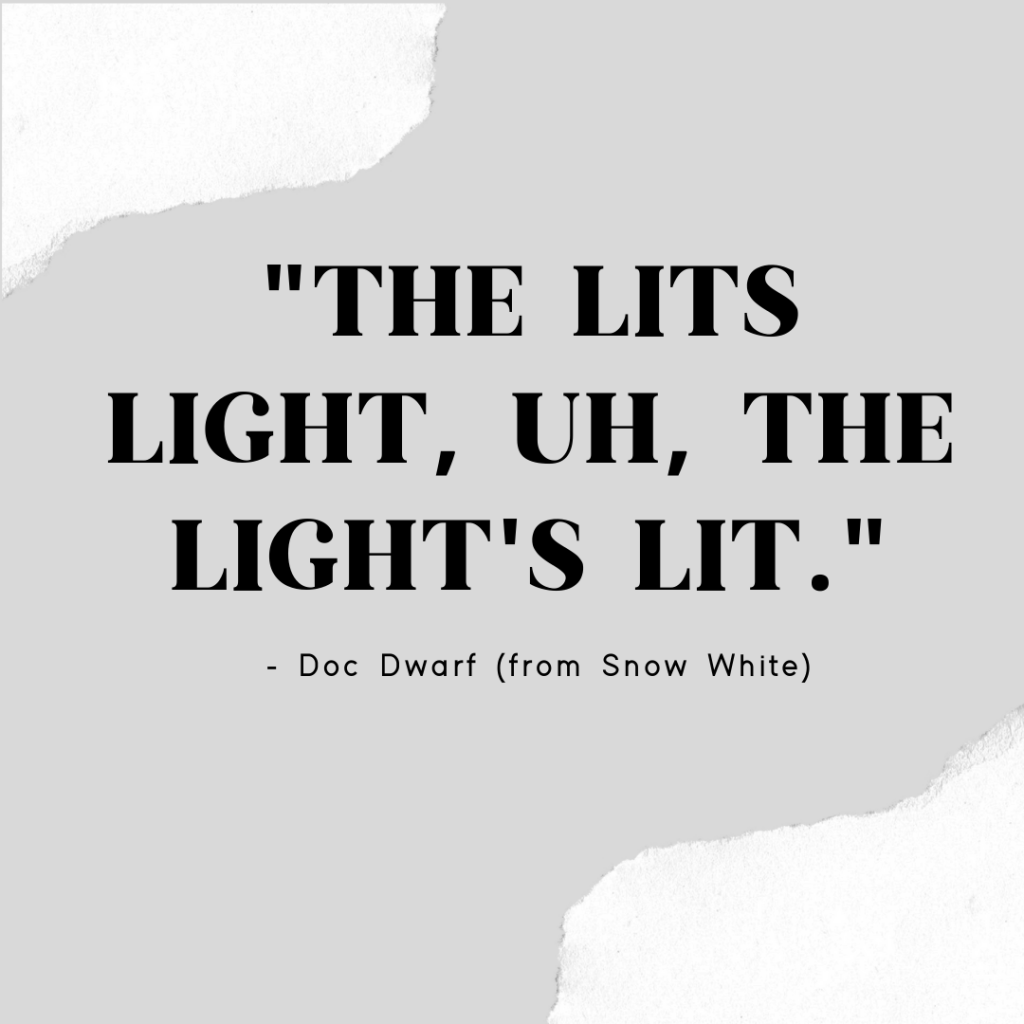 Why Is The Dwarf Called Doc?
Doc is the leader and spokesperson of the seven dwarfs. Although he is the leader, he often gets mixed up. He forgets what he was saying when interrupted and can get flustered at times.
However, he doesn't get fazed when little annoyances happen and rarely gets upset. He always regains control of himself and the group.
What Kind of Dwarf is Doc?
Doc is a pompous kind of dwarf. He's a leader who isn't' perfect and stammers his way through sentences at times.
Who is the Smartest Dwarf?
Doc, of course! Doc is the leader of the seven dwarfs because he has shown himself to be wise.
Why is Doc's name Doc in Snow White?
He is called Doc because they wanted the leader to have a special kind of personality. We read this quote from Woolie Reitherman, the animator for Snow White:
"For the leader we wanted a special kind of personality, a self-appointed bumbler who tries to take command but gets all tangled up. We called him Doc. It was a good handle for a per­son in authority, and it suited his personality. The strongly identifying names were a beautifully simple way of establishing character."
Our Favorite Doc Gear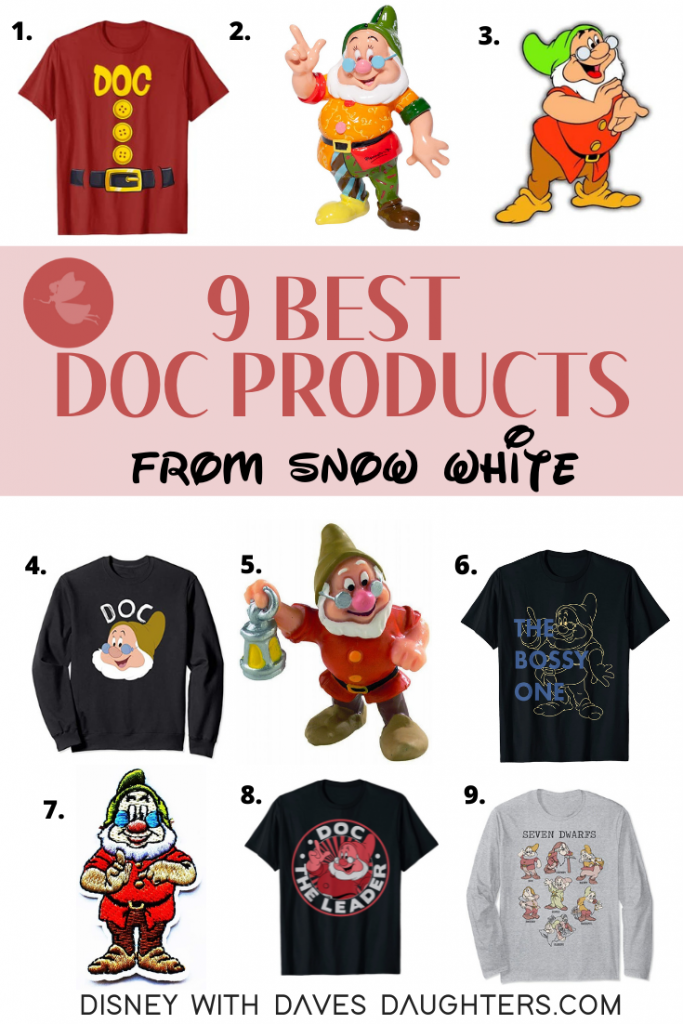 Whether you wear this for your next trip to Disney, dress up as Doc for Halloween or just wear it on any given Tuesday, you can show your love for Doc with this tee!
This handcrafted Doc figurine is perfect for your shelf or desk! It's fun, vibrant colors are sure to make you smile.
Love Doc? Love your car? Put this fun Doc decal on your car to your Disney and Doc love to anyone on the streets with you!
Cooler weather? No problem! This Doc long sleeve shirt will keep you cozy.
A classic depiction of a classic character. The perfect figurine for anyone who has a deep appreciation for the Disney classics!
Are you bossy? Or maybe you know someone who is? This is tee is perfect for the bossy girl or guy in your life!
Yes patches are still cool! Whether you put it on your Disney backpack or iron it on to your jean jacket, this is the cutes way to show your love for Doc (and Disney).
Whoever is leading the charge for your next Disney vacation (in our case, Dave our dad is always the leader!) needs this t-shirt!
Love Doc but can't leave the other 6 out? This cute long sleeve shirt has all the seven dwarfs together!
For more about the Seven Dwarfs, be sure to check out this post!