You may have heard of the Boardwalk at Disney but not know much about it. We are here to fill you in on what this quarter of a mile stroll along the water's edge is all about.
We are going to let you know if the Boardwalk is free, what there is to do, and all the extra information you need to know about Walt Disney's amazing Boardwalk.
What is the Walt Disney World Boardwalk?
Disney does so many things well, but one of the best things they do is transport you to a different place.
Using all their "trickery" of forced perspectives, smells, lighting, music, scenery, effects and the many other magical tools in their arsenal, they have a way of truly making you feel you are flying through space at Space Mountain or walking down a small town Main Street in the 1930s.
Who wasn't just a little bit uneasy walking into the Haunted Mansion for the first time or feeling that you might just be in Hollywood when you walk past the gates at Disney's Hollywood Studios? Isn't this why we love Disney?
You can probably ride a faster roller coaster or a scarier thrill ride at some amusement park but you are not going to get the same emotional connection as you do at Disney World.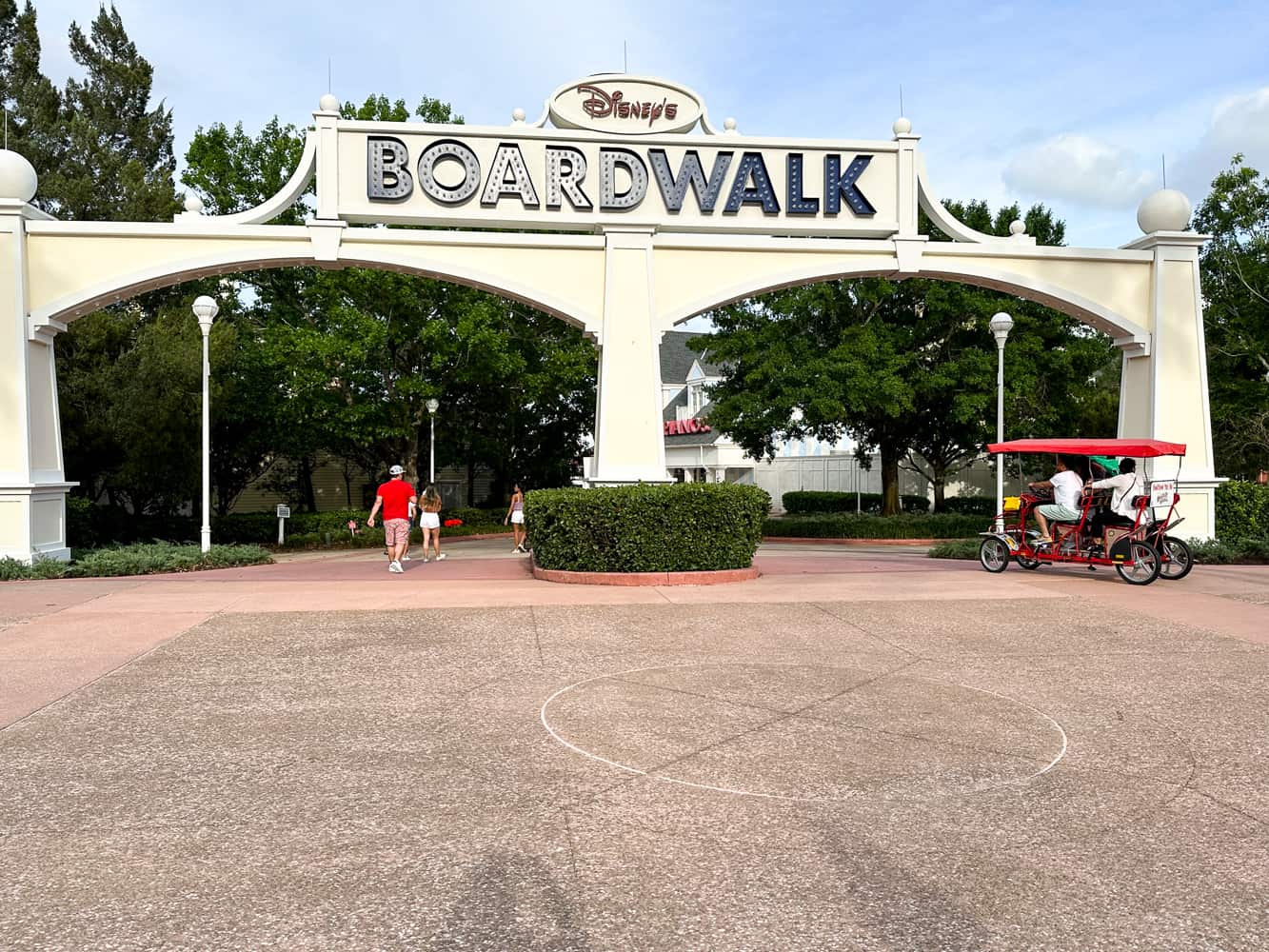 So taking that same idea, Disney World has transported us back to the 1920's, where we are walking on a boardwalk in Coney Island or Atlantic City.
The architecture, the sounds, the spectacular colors, the smells and the relaxing atmosphere will immerse you fully and take you to another place at another time. There is 90,000 square feet (a quarter mile) of shops, restaurants and nightclubs that overlooks beautiful Crescent lake.
Is the BoardWalk at Disney World free?
Disney's Boardwalk is absolutely free! Similar to Disney Springs, you do not need a Disney World park ticket or be staying at one of the Walt Disney World hotels in order to visit the Boardwalk. There is no entrance fee or any need for a magic band or dinner reservation. Just walk on and enjoy yourself.
What are the hours of operation for the Boardwalk?
The Boardwalk is open for shopping from around 8am until 11pm, Most of the entertainment is between 7pm and 2am.
Where is the Boardwalk located?
The Boardwalk is very accessible to many places around Disney World. It is located next to Hollywood Studios and Epcot. It is also very close to the Disney Yacht Club and Beach Club Resorts as well as the Walt Disney World Swan and Dolphin Hotels.
All of these Resorts are walking distance away from the Boardwalk. Finally, Disney's Boardwalk Inn is right in the middle of the action as it is situated on the Boardwalk itself.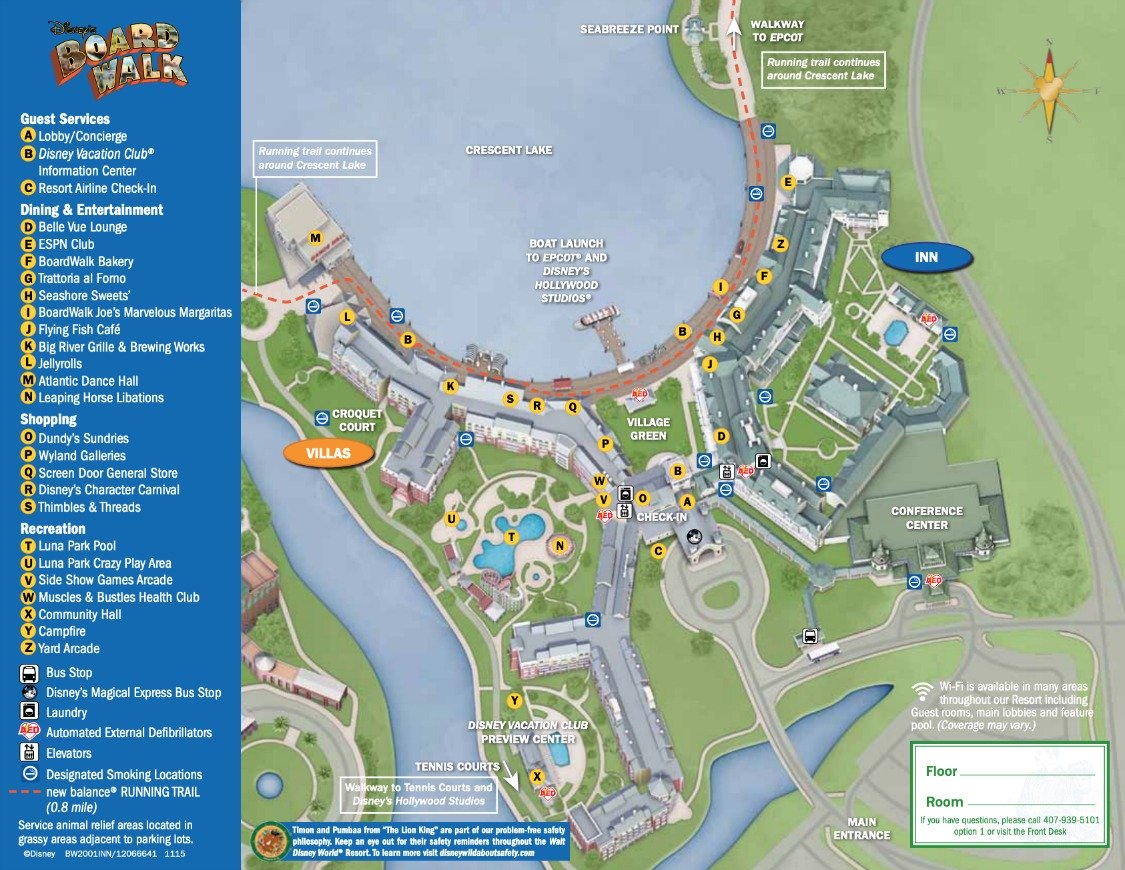 Is there free parking at Disney's BoardWalk?
There is free parking available at Disney's Boardwalk but it is very limited.
Parking at the Disney's Boardwalk Inn parking lot is available but can be a bit of a crap shoot. Depending on the day, the security folks, and how busy it is, you may be able to park free or they may charge you $25 for parking or $33 for Valet parking. If you have dining reservations you will be allowed to park free.
Of course if you are visiting the Boardwalk from another Disney Resort or Park you are already at, you can take a Disney bus, one of the the Friendship boats, or take the Disney Skyliner.
How do you access Disney's Boardwalk?
If you are visiting the Boardwalk from another Disney Resort or Park you are already at, you can take a Disney bus, one of the the Friendship boats, or take the Disney Skyliner. There are several ways to get to Disney's Boardwalk.
From Disney's Hollywood Studios: walk (15-20 minutes) or take a boat
From EPCOT to the Boardwalk: walk (10 minutes) or take a boat
If you are staying at Disney's Beach Club or Yacht Club resorts you can walk or take a boat to the Boardwalk.
From Magic Kingdom, EPCOT, Disney's Animal Kingdom or Disney's Hollywood Studios: Take the bus the Boardwalk Inn Hotel. Note: The Disney Skyliner station closest to the Disney BoardWalk is located just outside of the gates for EPCOT's International Gateway
Take the Disney Skyliner from Hollywood Studios or Skyliner Disney hotels
From your Disney World Resort: Take the bus transportation from your Disney World hotel to any Disney World park and transfer to the bus, boat, or Skyliner to the Boardwalk Inn.
For Reservations at the Boardwalk Inn: you will need to either take your Disney resort bus to Disney Springs, and then take the Boardwalk resort bus.
If you don't mind spending a few extra dollars you can take an Uber or taxi.
What is there to do at the Boardwalk?
There is so much to do at the Boardwalk! The main activities include dining options, entertainment and other activities, and shopping.
1. Restaurants, Bars, Snacks at Disney's BoardWalk
There are a number of incredible dining options on the BoardWalk that range from a pizza window to high end dining.
Atlantic Dance Hall
A wonderful and spacious dance venue that features DJ's spinning your favorites. This is for 21 and over only.
There are not many places in all of Walt Disney World where you can get a place with a full bar, larger than life videos, huge dance floor and cranking loud music, but Atlantic Dance Hall has just that!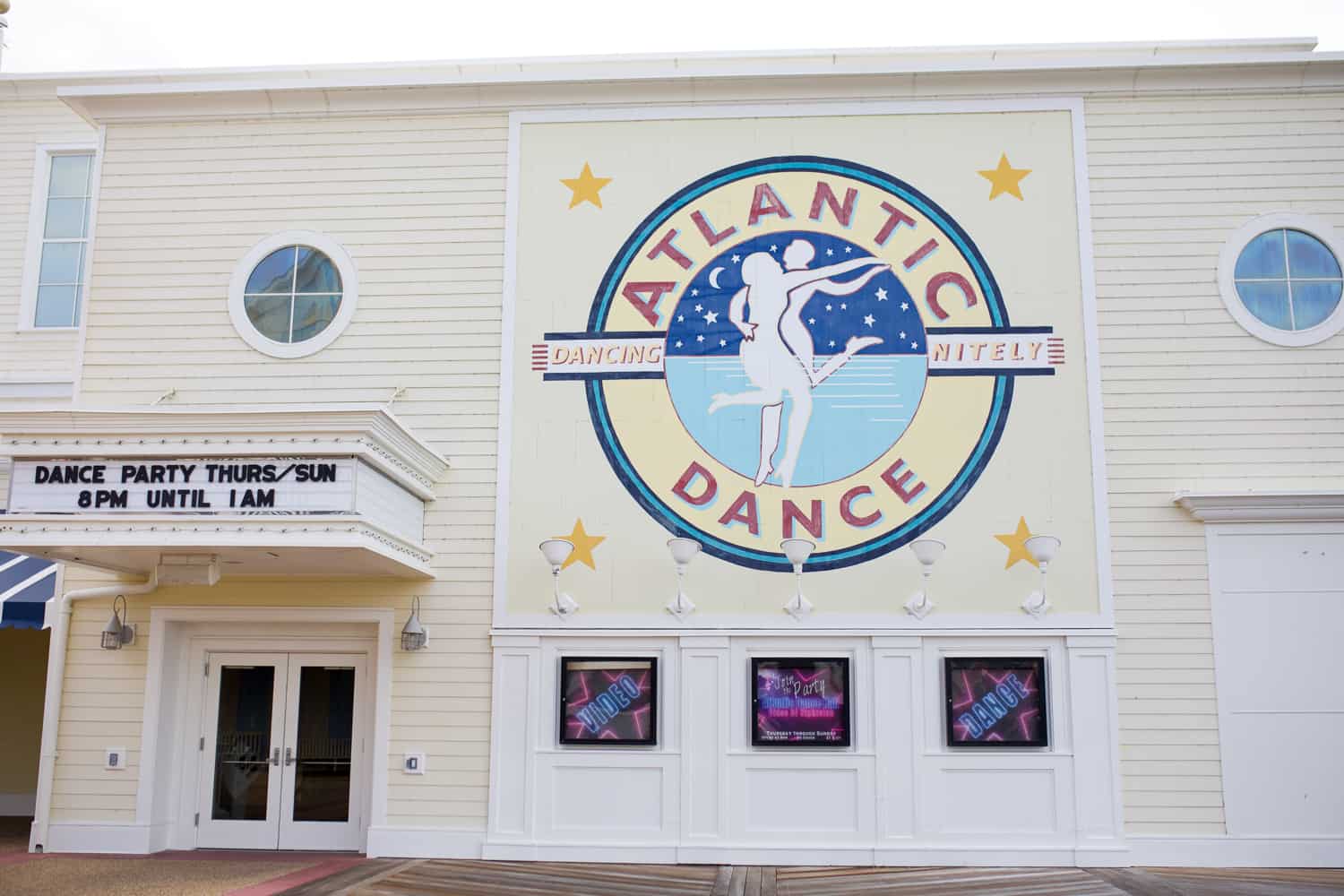 Abracadabar
Formerly the stomping grounds for famous magicians, local illusionists, and the loveliest of magician's assistants, AbracadaBar gives interested onlookers and aficionados of alcoholic beverages alike a glimpse—and perhaps a taste—of another time and place.
Cocktails – both mystically inspired sips and nostalgic favorites – are the highlights of the menu.
Jellyrolls
What do you get when you combine two pianos in a piano bar? Tons of fun and a place called Jellyrolls! Jellyrolls is a dueling piano bar where the two performers take requests, have you singing and will entertain and dazzle you.
You must be over 21 to visit Jellyrolls. There are lots of great drinks and baskets of popcorn are always flowing. This is an extremely popular place for Disney guests and Florida locals. We highly advise arriving early to get a table.
Big River Grille and Brewing Works
Family friendly casual table-service restaurant with lots of American pub favorites. Burgers, sandwiches, salads, apps and other grill options are available but what sets Big River Grille and Brewing Works apart is the microbrewery. Guest favorites include the Big River I.P.A and the seasonal Sweet Magnolia American Brown Ale.
This is Disney's only brewery on the Disney property. Reservations are recommended.
Belle Vue Lounge
Step into a quaint 1930's style sitting room where radios play programs from the era. Enjoy a cocktail on the verandah sitting on a comfy chair or enjoy coffee and pastries in the morning.
The bar does offer some appetizers like fries and pizza if you're hungry, but the headline here is the adult drink menu.
BoardWalk Deli
The BoardWalk bakery is now the BardWalk Deli! Inspired by delis of the American Northeast, the menu offers house-baked bagels, savory warm sandwiches and a variety of desserts. Try the overstuffed warm pastrami reuben or indulge in a hand-piped cannoli. Most of the entrees are under $15.
The BoardWalk Deli is open for breakfast, lunch, and dinner. If you have a resort refillable mug you can use it here!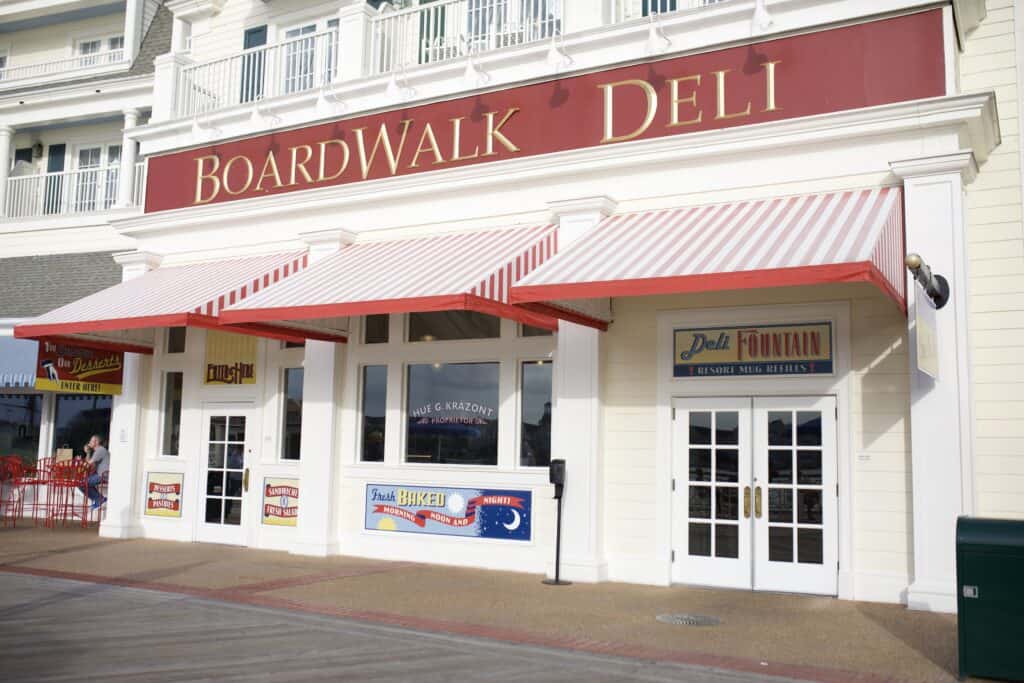 Boardwalk Ice Cream
Wonderful sweet treats and sundaes! You can amazing sundaes or 6 different flavors of milk shakes.
Be sure to check out the Mickey Kitchen Sink Sundae – Hand-scooped vanilla and chocolate ice cream topped with hot fudge, caramel, marshmallow topping, an ice cream cookie sandwich with sprinkles, whipped cream, white and dark chocolate curls, and a cherry. This is served in a souvenir Mickey Kitchen Sink and would be great for sharing.
Boardwalk Joe's Marvelous Margaritas
Frozen concoctions including margaritas, Pina coladas and their very own Captain's Seaside Sensation (a pineapple smoothie with a shot of Captain Morgan Spiced Rum). A few snacks are available as well.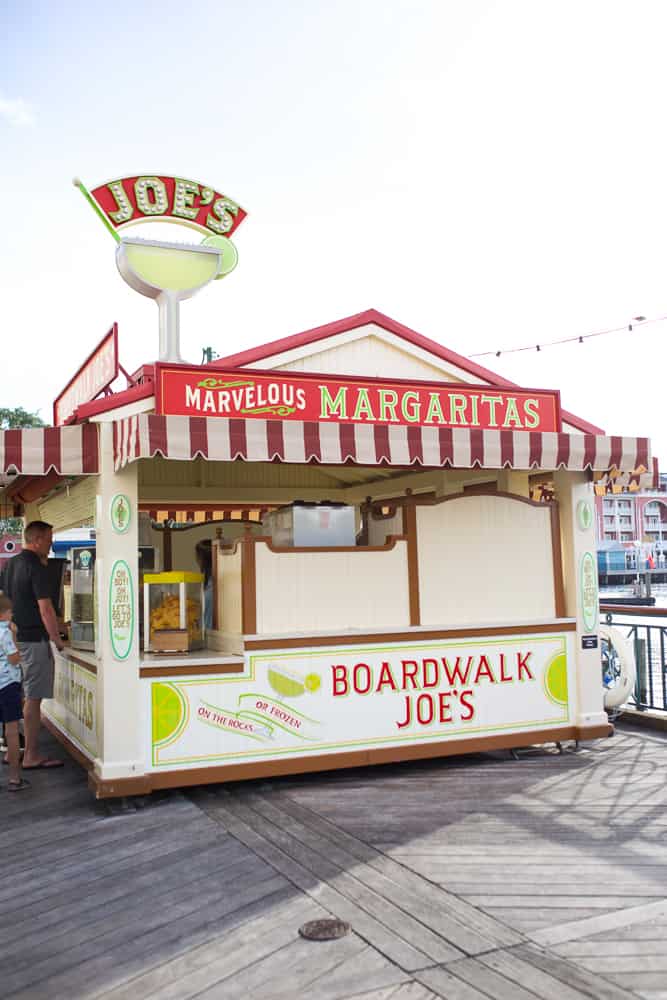 Cake Bake Shop
The ESPN Club has been closed, however there is a new restaurant opening up in 2023 to take it's place called the Cake Bake Shop. You can keep an eye on up to date information here.
Flying Fish
Classic seaside dishes with a modern twist. Serving lunch and dinner. At Flying Fish you will find premium sustainable seafood and oak grilled steaks that will impress. Amazing appetizers are available, such as slow roasted pork belly, Prince Edward mussels, and artisan cheeses.
While this is a family friendly restaurant you should be aware that this is an upscale dining location. Entrees range from $40-$60 and kids meals range rom $14-$24. Specialty cocktails and coffee are also available. Flying Fish is only open for dinner and reservations are highly recommended.
Funnel Cake Cart
Come on, you're going to a seaside beach boardwalk and not getting a funnel cake? Who are you?
Seriously, these funnel cakes as well as their fried ice cream and cotton candy will make your Boardwalk visit complete. They also sell funnel cake kits that are fun to bring home and make your own.
Leaping Horse Libations
Enjoy specialty cocktails, beer, wine and sangria at a colorful and whimsical carousel-themed bar by the Luna Park pool. You can also get sandwiches, salads, and Mickey pretzels.
Pizza Window
Grab a slice of pizza form the Pizza Window for a quick and easy lunch or dinner! Cheese or pepperoni slices are available for under $10 and a side salad is under $5. Don't forget to get mini cannolis for dessert! Wash it all down with a cold beer, sangria, or soda.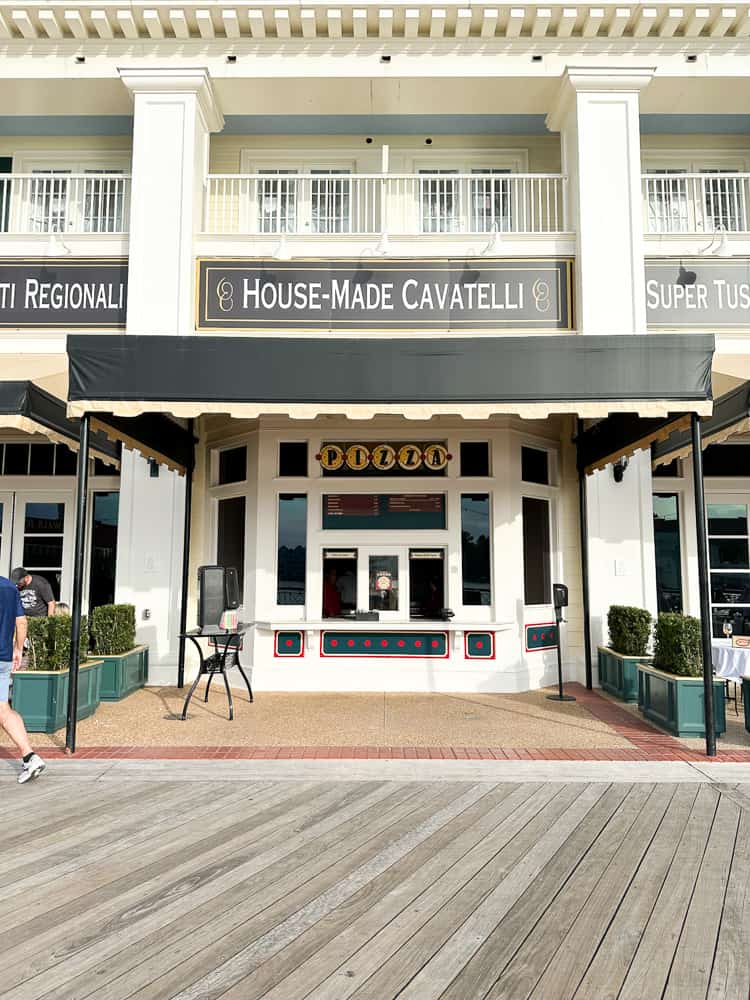 The To-Go Cart
American classics like Mac and cheese, hot dogs, corn dogs, grilled cheese, burgers, pulled pork sandwiches and other delicious fare.
Trattoria al Forno
Table service Italian restaurant that serves up wonderful pasta – as well as steak, chicken, and pizza! You can get dinner here from 5:00-10:00.
Breakfast is served from 7:30-11:30. This wonderful place turns into the Bon Voyage Adventure Breakfast starring Ariel and Prince Eric from the Little Mermaid and Rapunzel and Flynn Rider from Tangled. At this time the character breakfast is not happening, but we anticipate its return soon! Disney has not removed the breakfast from the webpage yet. Keep up to date here.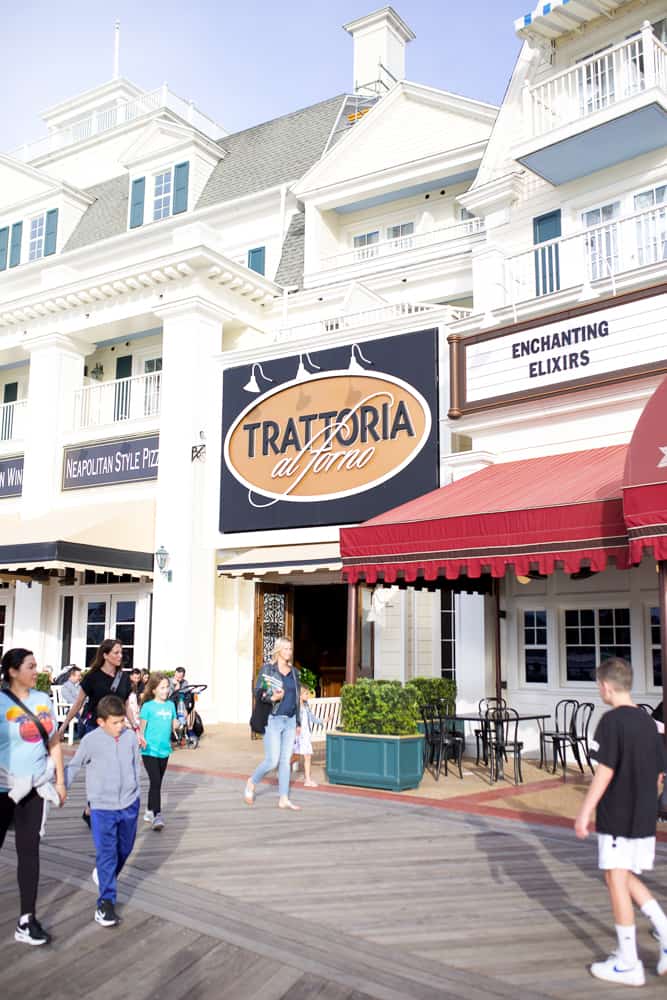 2. Disney's BoardWalk Entertainment and Activities
We love checking out the activities on the BoardWalk. Some are free (street entertainment) and some cost money (fishing) but there is something for everyone!
Fishing
You can rent a fishing boat or a pontoon and book a 2 or 4 hour fishing excursion with all the gear included. It is catch and release and kids 13 and under must wear a life jacket at all times.
Interested? Call 407-WDW-BASS to make reservations or further inquiry.
Midway Games
Part of the fun of going to a boardwalk is eating fun food and playing crazy midway games. At Disney's Boardwalk, they have you covered for both things.
The Boardwalk games are not free and like typical midway games, there is a good chance you will not win anything but if you have some spare money and want to have some fun, give it a go.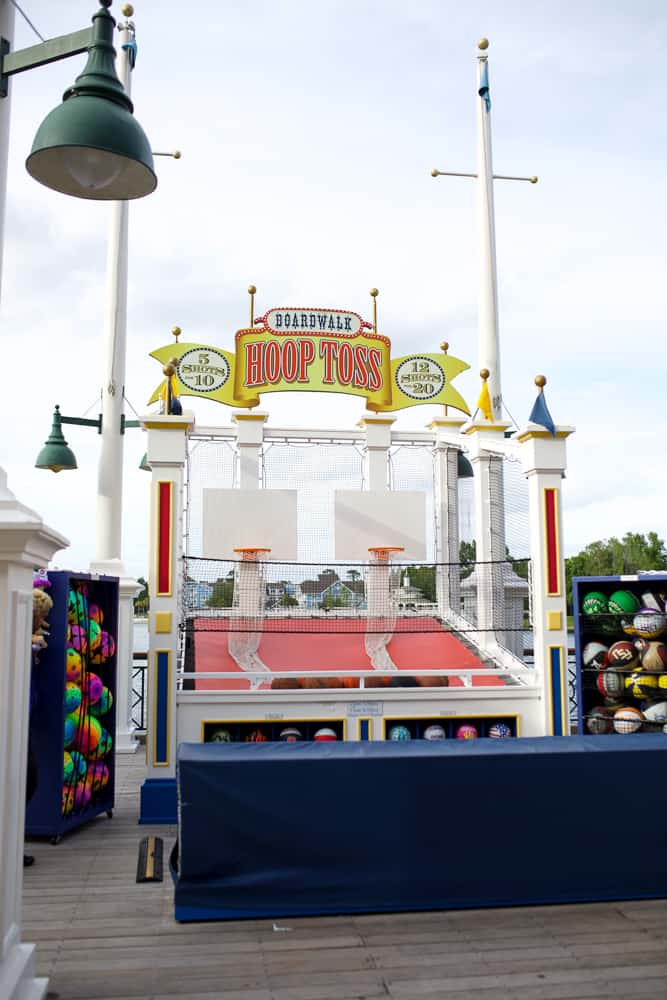 Miniature Golf
Though technically not in the Boardwalk area, if you take a short walk you can make your way over to Disney's Fantasia Gardens Miniature Golf Course and play a super fun round with the family.
Golf digest has named the course the longest most challenging miniature golf courses in the world. Though it is difficult, you will have an enjoyable time.
Street Performers
There is no formal schedule but from time to time the Boardwalk will have fantastic street performers singing, juggling, doing tricks or other dazzling things that will entertain you free of charge.
Movie Under the Stars
Guests staying at the Disney Boardwalk Inn are served up a movie under the stars most nights. Even though you are not a guest at the Boardwalk Inn, you can walk over, find yourself a nice patch of grass and take advantage of this complimentary experience.
No MagicBands are required. Simply sit down and enjoy the movie when it starts.
Surrey Bikes
A wonderful thing to do while you are visiting the Boardwalk is to rent a Surrey bike. You can bike as much or as little as you want.
You can go up and down the boardwalk or you can take a mile-long circle around Crescent Lake. If you choose the mile ride it will take you past the Beach Club Resort, Disney's Yacht Club Resort, The Walt Disney World Dolphin and Swan Resorts in addition to the Boardwalk. Rentals can be found by the Boardwalk Inn and Villas back lobby.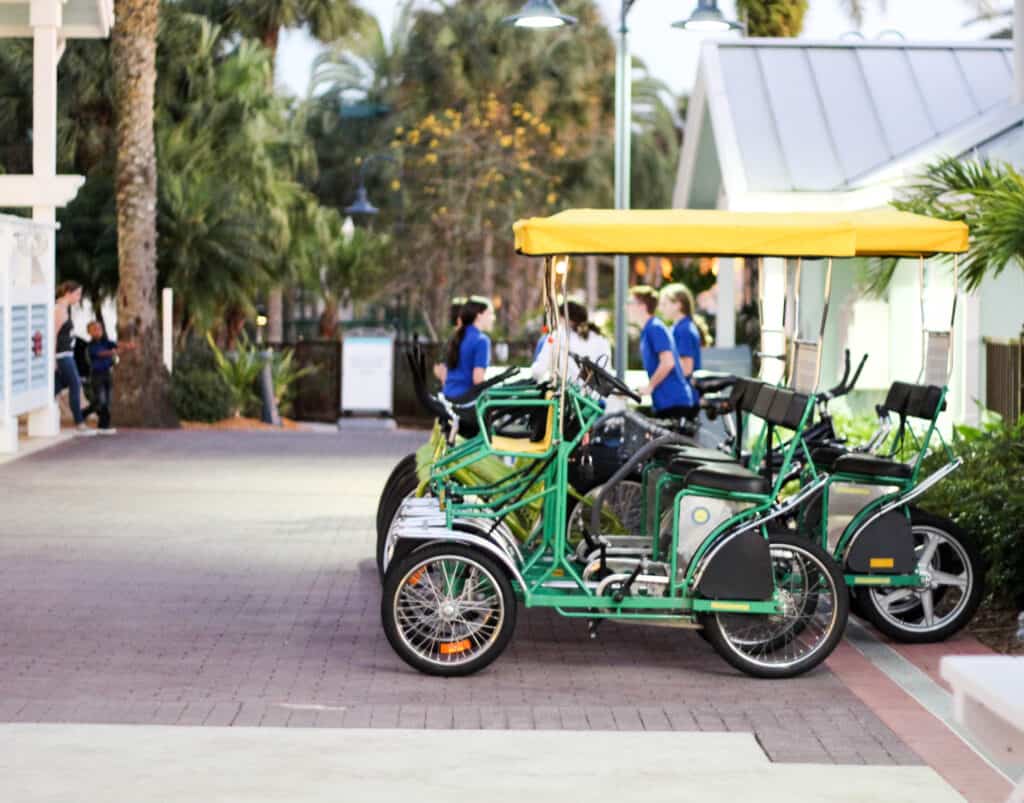 3. Disney's BoardWalk Shops
There is plenty of shopping on the BoardWalk! Check out the options below.
Disney's Character Carnival
This store is about everything Disney when it comes to apparel. Plushies, sports gear, housewares with emblazoned Disney Characters, children's clothing and much much more.
Screen Door General Store
Can you tell what this is from the title? You got it, its an old time general store…well at least from the outside. Form the inside its more of a convenience store where you can pick up supplies you might need as well as a cold drink or a snack to go. Open 8:30am – 11:00pm.
Thimbles and Threads
A cute merchandise and Disney trinket store for your Disney gift and shirt purchases. In addition to the clothing selection, Thimbles and Threads prides itself in having a wonderful Pin Trading Station where you can buy some new pins for your collection.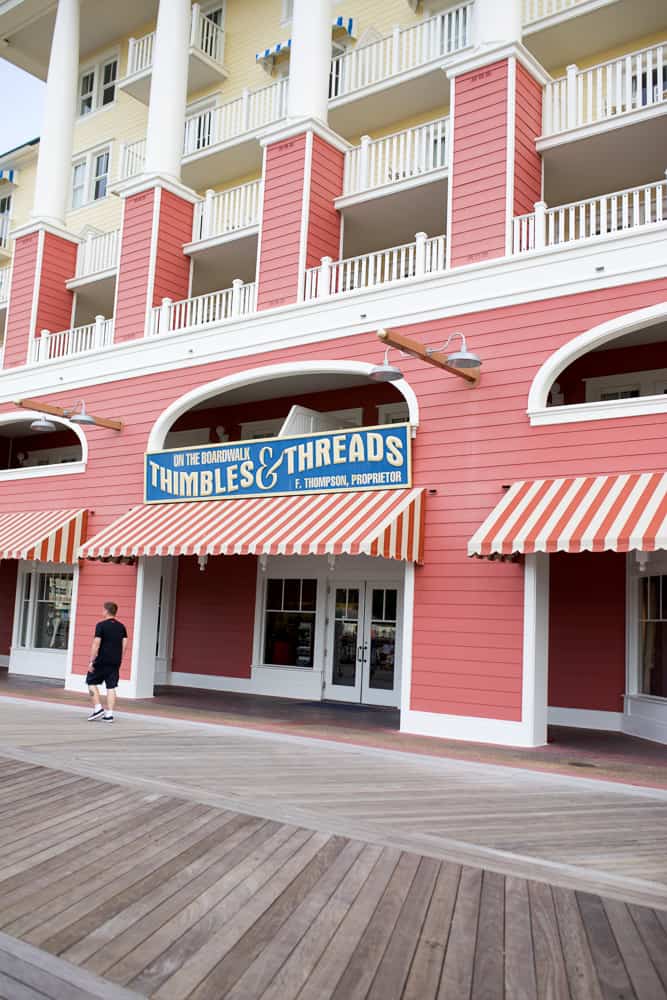 Wyland Galleries
Wyland Galleries are famous world wide but you can take in a gallery right on the Boardwalk! Open from 9:30am to 9:00pm this wonderful gallery is located right not he boardwalk level on the right hand side of the Screen Door General Store.
Inside, you will see Wyland classic artworks as well as never before seen originals. Much of Wyland's art is inspired by Marine wildlife photos and sea explorations. His up-close study of the habitats make his creations very life like. You will want to take time to visit this exquisite gallery.
Is Disney's Boardwalk worth it?
As great as the Boardwalk is, if you are on a tight schedule – for example, you are at Disney for 4 full days and want to hit each of the parks – our recommendation is that you should not take time from one of the Disney parks to visit the Boardwalk. We feel your time would be better spent at the park.
If you have a rest day or if you are staying at one of the resorts near the Boardwalk, then it should be checked out! You could also consider visiting the Boardwalk on your arrival or departure day.
Try to go in the evening when the Boardwalk has more activity happening. The Boardwalk is particularly enjoyable for adults which may make this more of a destination if you are visiting Disney without small children.
We hope this helps you figure out if Disney's Boardwalk should be on your itinerary! For help planning your trip to Disney to make the most of your time, be sure to check out our planning guide.