We know all too well that planning a trip to Walt Disney World can be a daunting task. When do you start? How do you do it? Well today, we're going to help take the fear out of planning your next trip with exact tips to plan a trip to Disney World with a Disney World Timeline!
We say it over and over again – in order to have a magical time at Walt Disney World you must do an extensive amount of planning. Disney can be ruined for you if you spend hours standing in line and if you spend obscene amounts of money on food all because you decided to fly by the seat of your pants. Don't do that. Put in the work to plan. Trust us, your future self will thank you.
Planning your trip to Walt Disney World doesn't have to be a terrible experience if you start early and space it out. Starting early and following this plan will make your preparation go smoothly and keep your blood pressure in check.
So roll up your sleeves and get ready to dive in.
How to Plan a Trip to Disney World – Everything you need to know
First things first. We are assuming that you have already made the decision to go to Walt Disney World. Before you do anything else, find a time to go. Use our handy tools to figure out low crowd sizes and budget considerations.
Next, download the free app, My Disney Experience, and familiarize yourself with it.
Now that you have your dates figured out and the app downloaded…now let's get going.
How to Plan a Walt Disney World Vacation: Step By Step Guide
Book Your Hotel
Up To 499 days out.
499 days out, you are kidding, right? Accommodations at a Disney World Resort can be made starting 499 days before you arrive by calling (407) 939-1936. This is for a resort only booking. You are able to upgrade this to a vacation package or take advantage of special offers at a later date.
Too early you say?  Yeah, we agree, but if you are absolutely sure you are going on a particular date, you can book it at that time.  You may want to consider using the Disney Payment Plan to help pay for your vacation.
7 – 9 months out
If you didn't book your hotel 499 days out you need to do it during this time. We strongly suggest finding a good Disney travel agent to help you with your booking. If you are staying in Orlando, off site, book your hotel at this time.
Picking your hotel is the first task that is super difficult! So many hotels to choose from and so many things to consider…price, location, amenities, themes, food and comfort.
If you are trying to decide if you should stay at a Walt Disney World Resort or at an off site hotel be sure to read this. If you are trying to decide which Disney Hotel to stay at, this will be helpful to read. After you pick your hotel, take a second to celebrate the wonderful job you did!
Photo Credit Alexis Larcy
Transportation
Immediately after you are done celebrating finding a hotel and locking it down, get your transportation figured out.
This is the time to figure out your airline tickets and more than likely purchase them. If you are driving, figure out that plan as well. This will be your next hurdle to nail down.
Disney no longer offers a free Magical Express, so you will need to figure out how you are getting to your hotel or Airbnb. You will either need to rent a car, use Mears Transportation, or Uber/Lyft.
Think Through Your Itinerary
There are two different ways you can think through your itinerary. The first way is planning your park days before you plan your meals. The second option is getting dining reservations first and then planning park days off of that.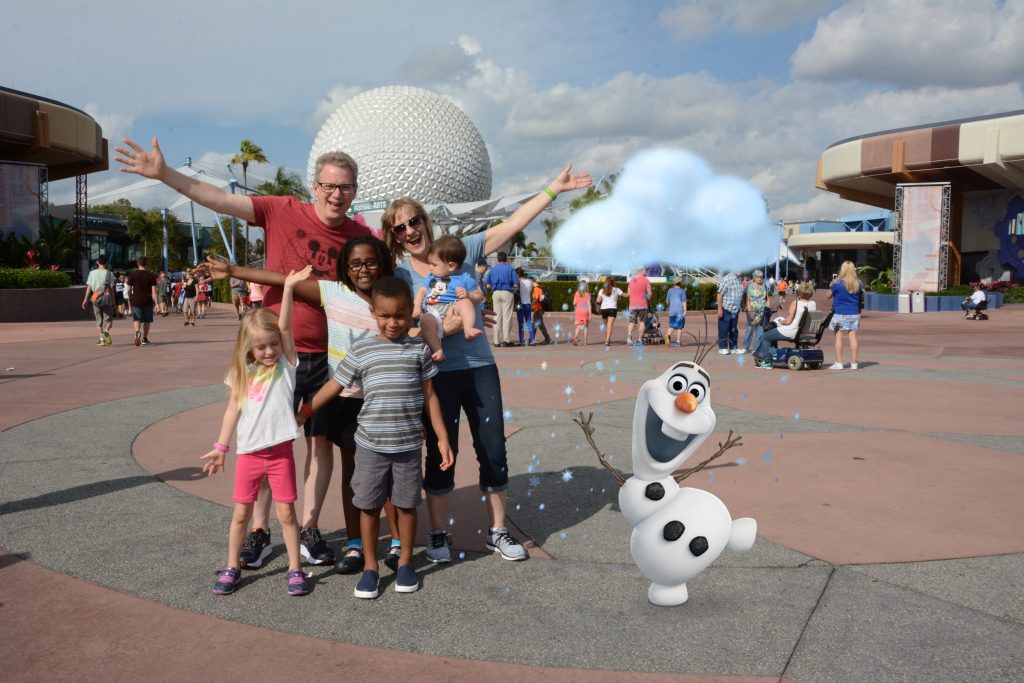 Park Priority
For option one, you will be planning your park days on your calendar and then making park reservations as soon as possible. You may book your park reservation WELL in advance.
Why you might pick option one:
You are staying at a Deluxe resort and you want to plan your park days to coincide with Extended Evening Magic Hours.
Restaurant and dining reservations are not a huge priority for you. You can take or leave it.
You want to get your park reservations as soon as possible for peace of mind.
You are planning on getting a Park Hopper so you have much more flexibility.
Park reservations do fill up! You will especially want to be aware of this during busy times such as Christmas and New Years.
Dining Priority
We will dive into dining reservations more in depth later, but if it is very important to you to have a meal in one of the restaurants in the Disney Parks you must have park reservations for that park.
For example, if you are eating at Cinderella's Royal Table you must have a Magic Kingdom park reservation for the same day.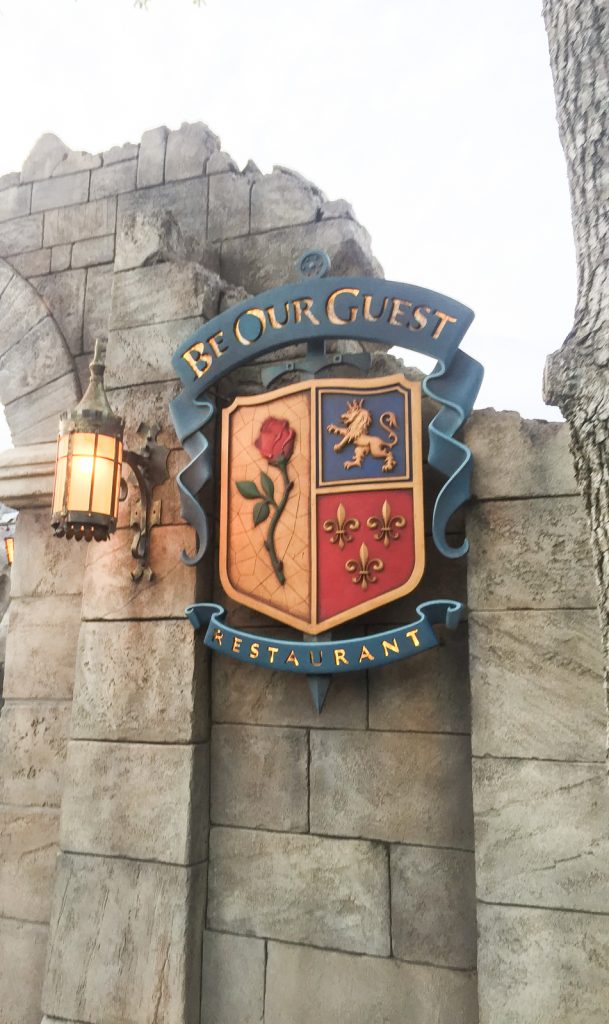 Photo Credit Alexis Larcy
If dining reservations is your priority, you will need to make dining reservations first and then book your park reservations. You may make dining reservations 60 days out. It can be hard to secure dinner reservations, so we suggest you do not rely on a park hopper pass. If your heart is set on Be Our Guest, you might end up with a lunch reservation and you'll have to do lunch (even if you would have preferred dinner).
The other option you have is to book your park reservations and then change them as needed after you get your dining reservations. This can be tricky, especially during the busy months. Be sure that there are openings in the parks you want BEORE you cancel your current reservation.
Is this confusing? Yes. We highly recommend getting a travel agent to help you.
Disney Springs, Typhoon Lagoon, Blizzard Beach
As you are thinking through your days at the parks, don't forget to factor in a day (or days) to go to Disney Springs or the water parks. Many people will go to Disney Springs on their arrival or departure days.
Disney Springs has a ton of entertainment and dining options and many people enjoy a "rest day" there!
Dining Reservations
Now we start looking at restaurants. Did you know there are 200 places to get food in Walt Disney World? There are 90 full service restaurants! The options are plentiful. You will need to understand the difference between quick service and table service restaurants. Table Service will require reservations.
Make your dining reservations for your trip. You are eligible exactly 60 days before you go. This can be a bit of a stressful situation. You can make your dining reservations beginning at 6am Eastern Standard Time. We recommend using a travel agent to help you secure dining reservations.
If you are staying at a Walt Disney World Resort you will be able to make dining reservations for your entire trip 60 days out from the first day of your Disney stay. If you are staying off site you will need to make reservations each day.
If you are unable to get the reservations you want we suggest you keep checking. People are constantly cancelling their reservations, especially 24 hours prior to their meal. There is always the chance something will open up!
Genie Plus
After you have secured park reservations and dining we recommend you start familiarizing yourself with Genie+, Disney's new fast pass system. This can feel very overwhelming because you are unable to plan ahead – and it costs a significant amount of money. We have the whole thing broken down for you here so you can decide if this is right for your family.
At this point all the heavy lifting is done! Give yourself one last celebration! From here on out it is just little things. Way to go!
Packing
You will also want to begin figuring out what bag you will be bringing into the park each day. Be sure to purchase the essential items you need for your trip before you go in order to save money and time!
We recommend you begin thinking through Disney shirts at least two months prior to your trip. If you are wanting something personalized this will give you enough time to get it ordered.
Last Minute Items
Print maps, reservation details, itinerary plans, and any quick information you may need to get your hands on.
Purchase Disney World's Memory Maker photo service and get a discount for ordering early.
Start your packing. Make sure you review what you need to bring for the parks so you don't need to buy anything there. We have a complete packing list here.
You did it! Now the big celebration is at hand…Walt Disney World with those you love! Because of the hard work you put in, rest assured all the people in your party will have a simply magical time because your trip will be smooth sailing!
Congratulations!