The Epcot Ball, better know as Spaceship Earth at Walt Disney World, is one of the most classic symbols of Disney.
When people think of Epcot at Walt Disney World, they will very often site the "Big Ball" at the front of the park. It is a wonderful structure, massive in size and it's unique geodesic sphere design makes it stand out over everything else in the park.
We wanted to share some amazing facts and stories around this gigantic silver ball (similar to a giant golf ball) that is called Spaceship Earth.
History of Spaceship Earth and the Epcot Ball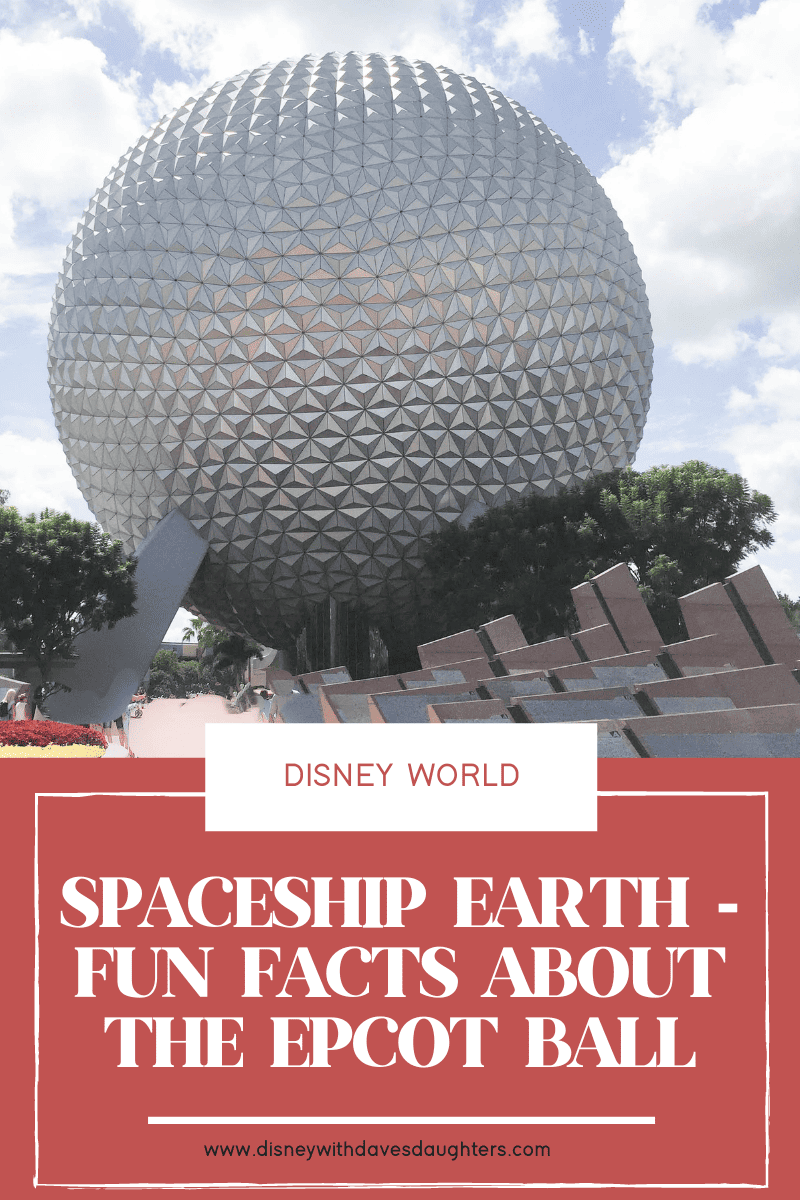 Disney With Dave's Daughters is a participant in the Amazon Services LLC Associates Program. This post may include affiliate links which means I may earn a small commission if you shop using the links below at no additional cost to you. 
In the beginning…
Walt Disney had a dream of making a real working city of the future. This city was going to always be on the cutting edge of technology and would be a working example of how people could live.
He called it EPCOT… Epcot stands for Experimental Prototype Community of Tomorrow. When Walt died before the idea of a working future city was scrapped and a theme park of the future was born.
*Find more about the history of Epcot here!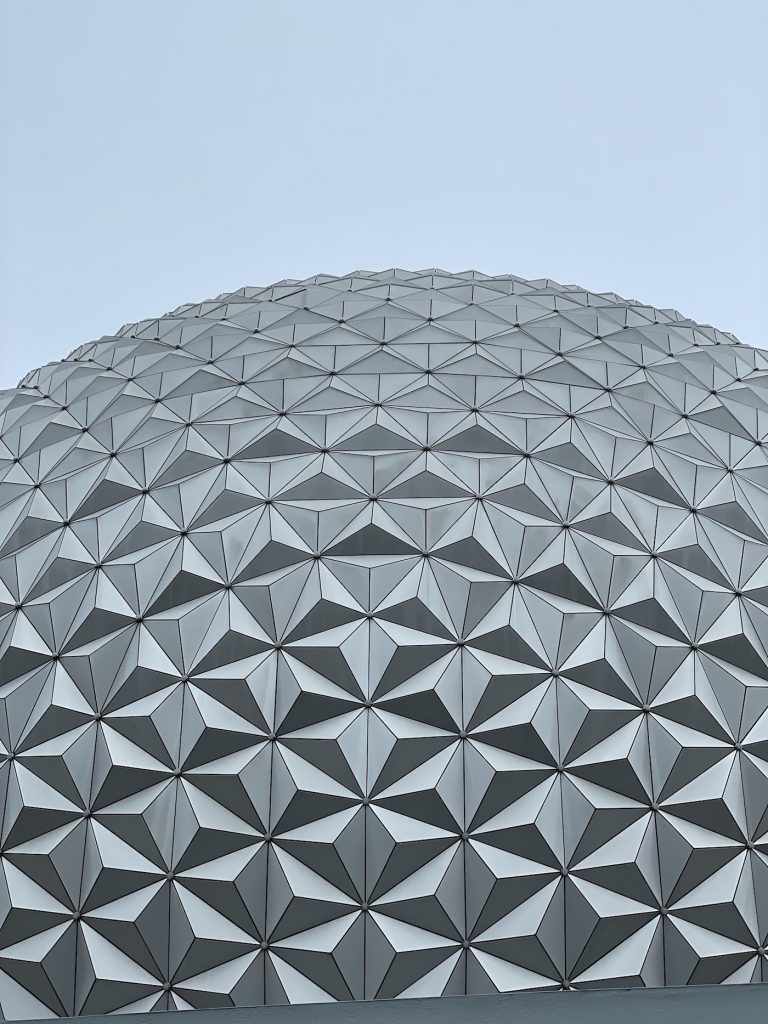 The theme park would still work towards the future and showcase new technology and science but it would not have a community of people living in a future city.
So when Epcot, the theme park was being imagined, the Imagineers wanted a landmark that had technology, science and industry written all over it and quite frankly, a castle just wouldn't work. They needed something that would be the icon of Epcot.
They brought in a large design team to get the design and layout exactly right. This included science fiction writer Ray Bradbury, MIT engineers along with the Imagineers all contributed during the process.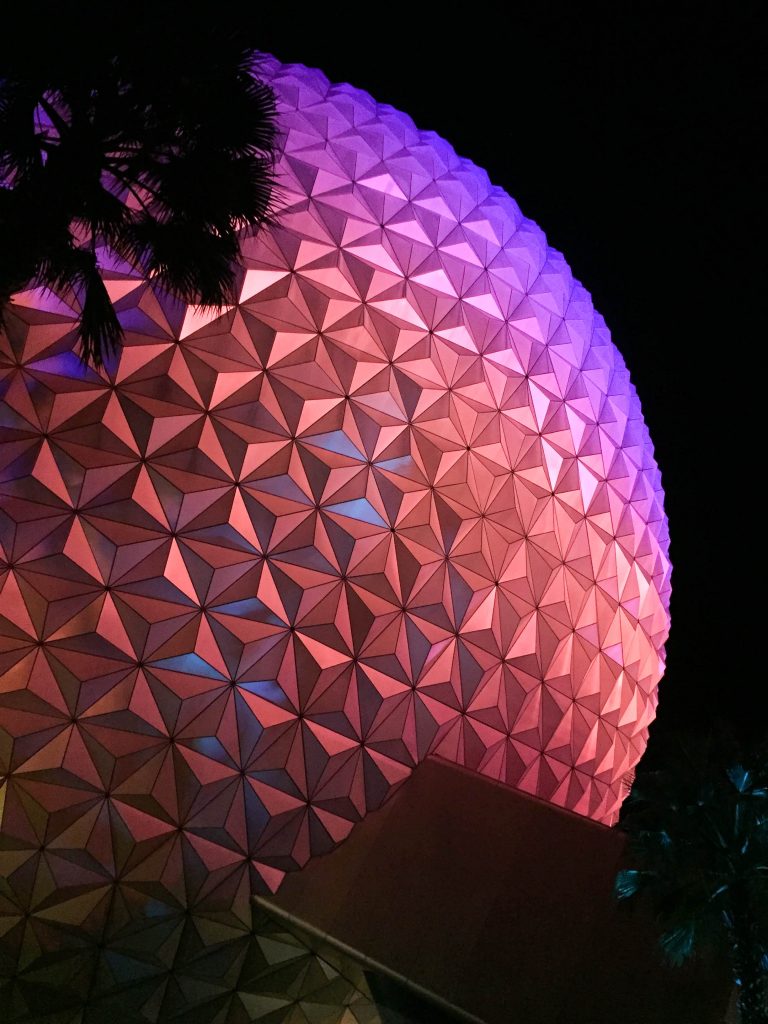 They took similar designs of Buckminster Fuller's geodesic dome which was inspired by the Expo 67 dome in Montreal and created a magnificent structure which not only capsulated the spirit of what Epcot is all about visually, but it also is a technology marvel in it's own right.
Finally, in 1982, after 26 months of building, Spaceship Earth, a name given by Buckminster Fuller, became reality.
Can You Go In the Epcot Ball?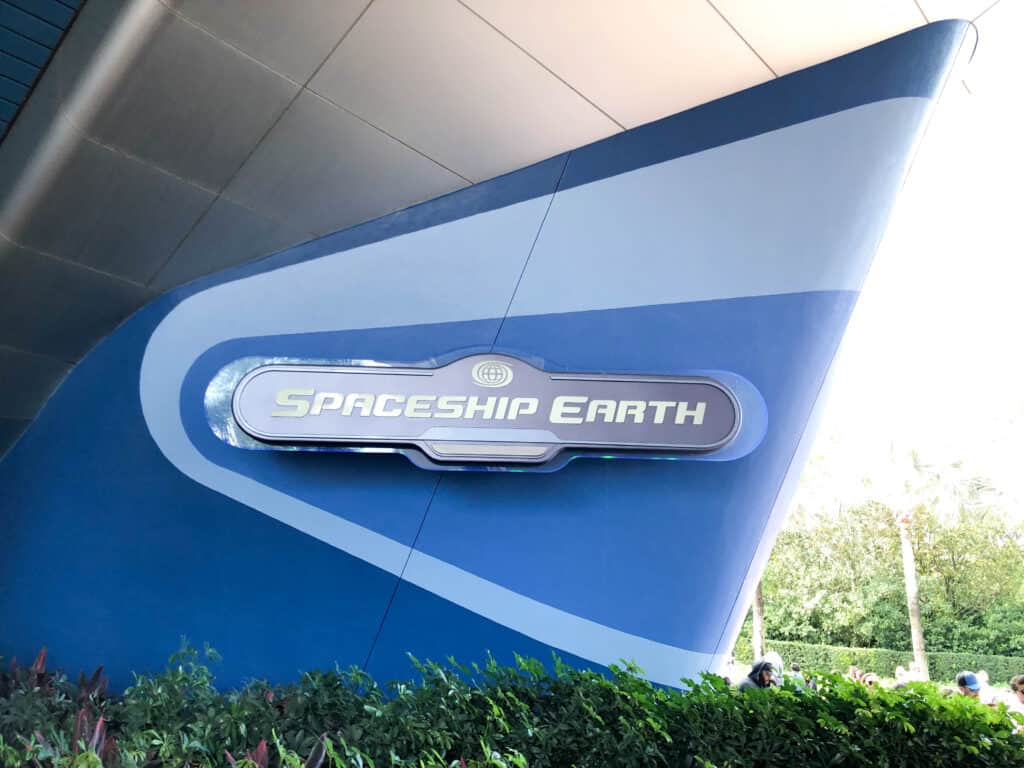 A ride through history…
We failed to mention that when they designed Spaceship Earth, they created it so you could go into it, and you can take a ride in it. This is a dark ride which is one of the longest rides in all of Disney World weighing in at about 15 minutes.
The ride vehicle is an "Omnimover" (similar to the PeopleMover and Haunted Mansion rides in the Magic Kingdom) that take you throughout the dome on an historical documentary in human communication. The track spirals up and down the sphere and uses scenes depicting important breakthroughs in history.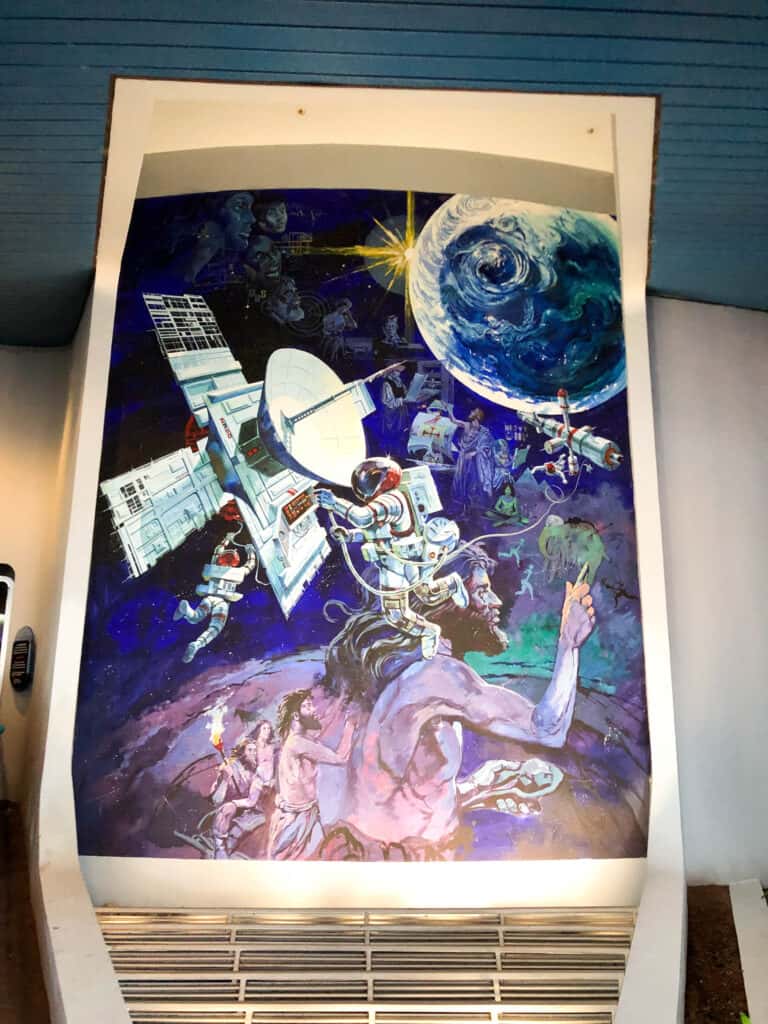 Photo Credit Alexis Larcy
The beginning of the Spaceship Earth ride shows cave paintings and moves through hieroglyphs, the alphabet, printing press, the industrial revolution and moves to our present day of mass communication. This is all done with narration which was written by the Disney Imagineers and Ray Bradbury as well as a musical score.
Over the years Spaceship Earth has changed. New scenes have been added, new narration and other refurbishments to keep the iconic ride fresh and new.
From time to time you can expect the entire ride to be shut down for a major refurbishment. However, the heart of the story including the basic show scenes, story light, ride length and general theme have not changed.
Narrators of Spaceship Earth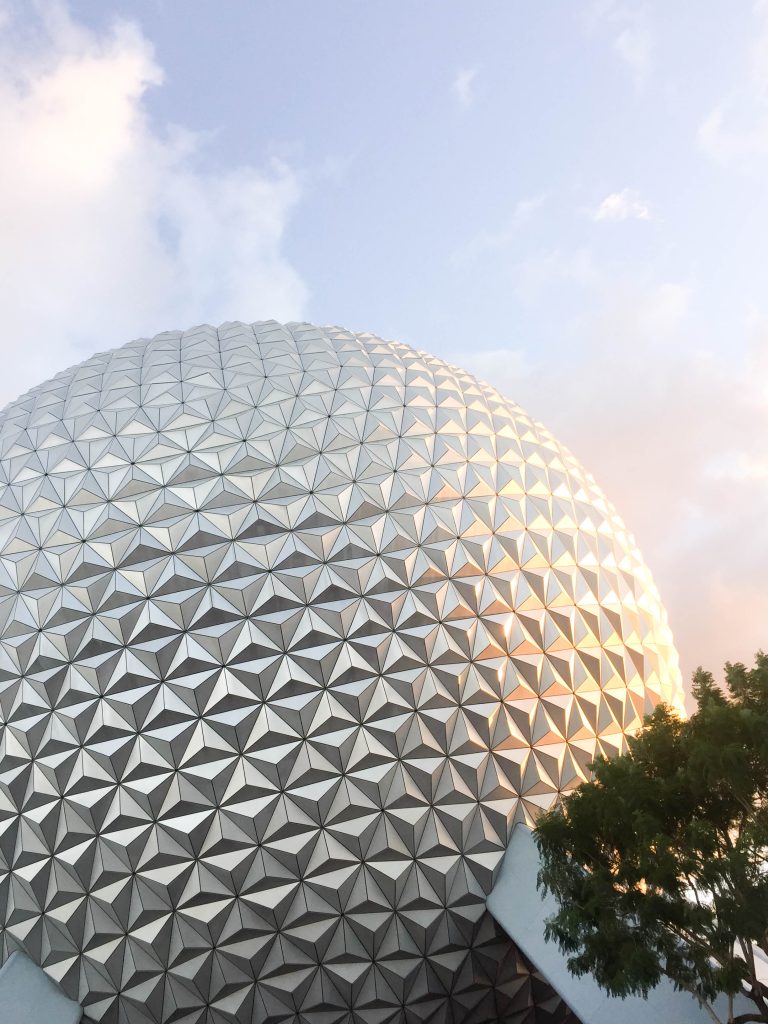 There have been four narrators over it's lifespan.
1. Vic Perrin: 1982 – 1986
Vic was an American radio, film and television actor best remembered as doing the "Control Voice" in the television series The Outer Limits.
2. Walter Cronkite: 1986 – 1994
Cronkite was best known for anchoring The CBS Evening News for 19 years.
3. Jeremy Irons: 1994 – 2007
Irons was no stranger to Disney. You will remember him as Scar in the Lion King but beyond that he has had an extensive career in film, television and theatre.
4. Dame Judi Dench: 2008 – present
Regarded as one of Britain's best actresses, Dench has won eight academy awards along with six decades of television and film work.
Project Tomorrow…
Photo Credit Alexis Larcy
At the end of the ride and when exiting Spaceship Earth, guests are led through a pathway into Project Tomorrow. There are interactive games, simulators and different fun activities that you may take some time to explore.
One interesting thing is guests can find their picture and hometown on a map. There are kiosks in the room where you can actually send a postcard of this to yourself or a friend.
13 Fun Facts about Spaceship Earth
Here are some fun facts about Spaceship Earth…
1. The Epcot Ball is Huge!
It stands at 180 feet tall. It's weight is 15,500,000 pounds and it is 518 feet around.
2. There's 11,324 tiles on the outside
There are also 11,324 tiles on the outer layer of the dome. These tiles are made from alucobond panels, which is a sheet of polyethylene plastic sandwiched between two layers of aluminum.
This material is important because it is light but strong. It can withstand great winds (hurricanes) and repel the frequent rains pounding the outer shell.
3. It's not really a full sphere
It's Deceiving. Spaceship Earth looks like a full sphere but as Disney is so great at doing, it is a trick. It is really two structural domes with one a the bottom and one at the top.
4. It's had corporate sponsors
Since it's beginning, Spaceship Earth has had three sponsors: Bell Systems from 1982 – 1984, AT&T from 1984 – 2004, and Siemens from 2005 – 2017. Currently it does not have a sponsor.
5. It has a secret lounge.
Directly above the post-show area there is a VIP lounge that has been used over the years for the sponsors to relax and have meetings. Since no sponsors are currently involved the space is used for weddings and conventions.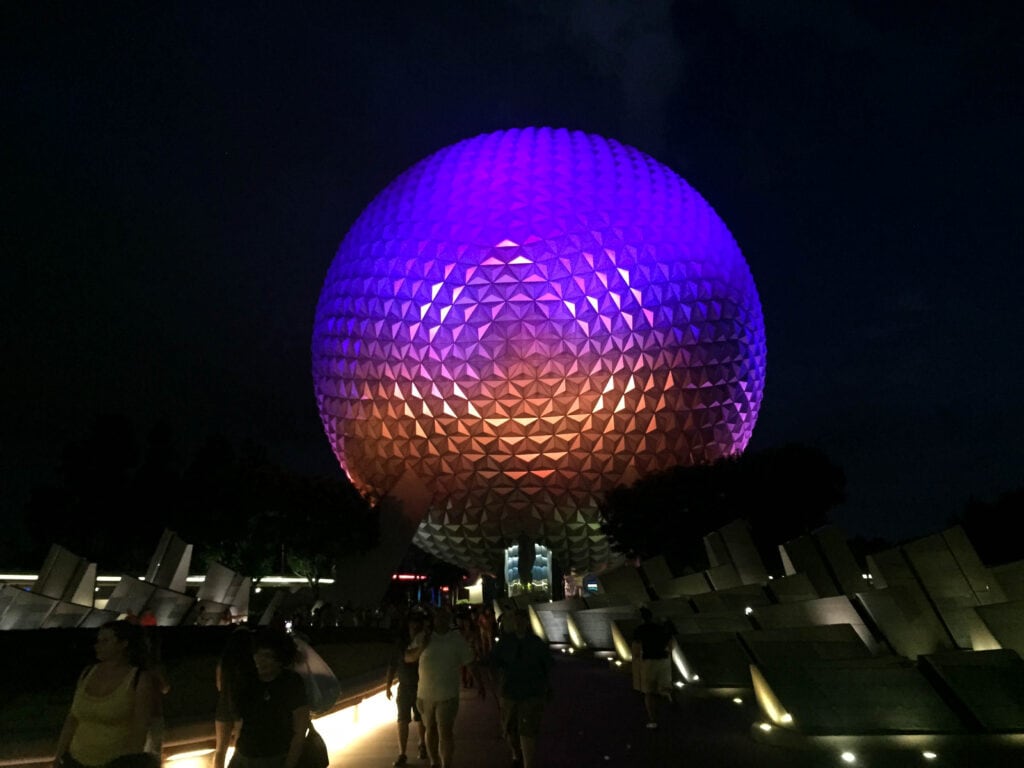 Photo Credit Alexis Larcy
6. There's a crazy drainage system.
Here's something cool. If you stand under the dome when it's raining, you won't get wet. The reason is, there is a gutter system in the sphere that takes the rain water off the shell and transports it to Epcot's World Showcase Lagoon. Now that's a novel concept!
7. It had a visit from a 25 story Mickey arm
It had a visit from Mickey Mouse. In the year 2000, in order to celebrate the new millennium, Disney created a huge 25 – story Mickey arm holding a magic wand going up the side of the dome. Disney kept it there until 2007.
8. It has Presidents in it.
There are a lot of animatronics used in Spaceship Earth for the different scenes. To save time and money, Disney repurposed some of the molds used for other attractions including Hall of Presidents.
Can you spot any of the past presidents when looking at the cave men? (no political humor was intended) Here are a few to spot.
Andrew Jackson is Gutenberg's assistant. Teddy Roosevelt is a Roman Senator. John Adams is a Monk. Dwight D. Eisenhower is a mandolin player. A real wacky one…The Lira da Braccio Player is the daughter from Carousel of Progress.
9. Cast Members Use to Have to Turn the Cars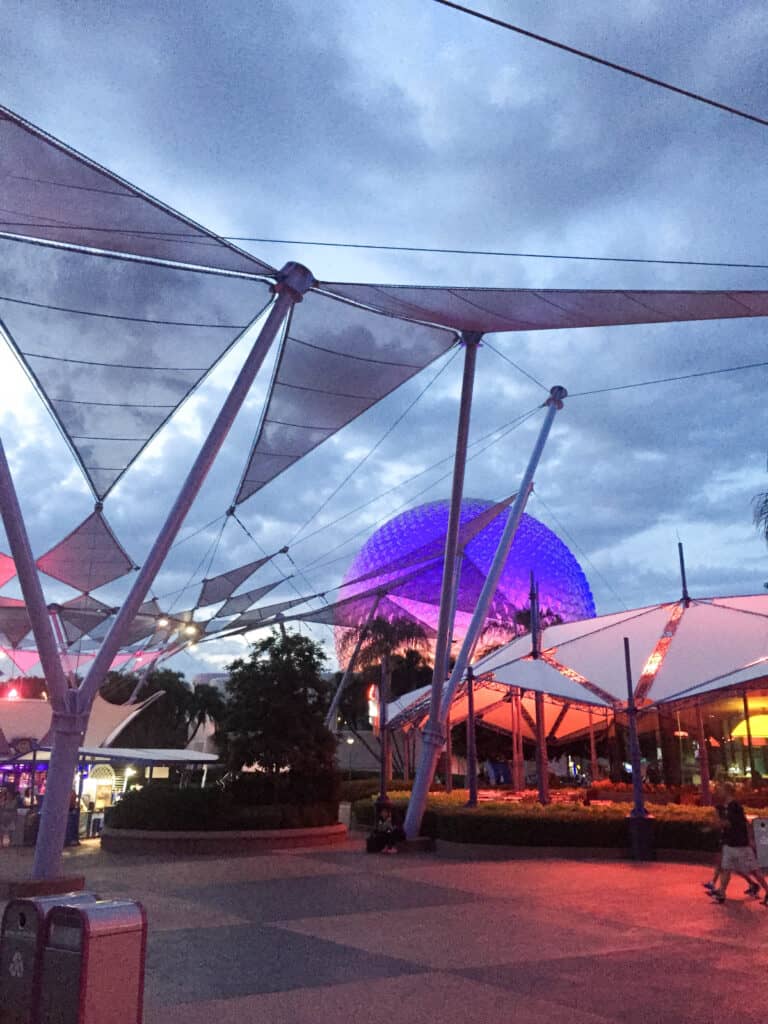 Photo Credit Alexis Larcy
Spaceship Earth used to have a personal touch. When Spaceship Earth originally opened, when the car reached the top a Cast Member had to physically turn the cars. Now it is all automated and the cars turn themselves.
10. It is big but not in comparison.
The body of water in The Seas is so big that Spaceship Earth could actually be submerged in it.
11. It has hidden Mickeys.
Hidden Mickeys are everywhere throughout Walt Disney World and the Epcot theme park and Spaceship Earth is no different.
One fun one for you to watch for is in the Renaissance scene. You will see an Artist painting a bowl of fruit and if you look closely you will see a hidden Mickey with the three grapes in the picture.
Photo Credit Alexis Larcy
12. It has great music.
Bruce Boughton, who is a 10-time Emmy winner composed the score with a 63-piece orchestra and 24-voice choir. Listen closely when coming into a new era during the attraction because you will hear styles and instruments appropriate to that era.
13. It has a secret trap door.
At the top of the dome there is a trap door that leads up to the roof in order to do maintenance on the outside. Can you imagine the fantastic view of all of Walt Disney World from up on top?
What to Know Before Riding Spaceship Earth
Some important information if you are headed to Disney World to ride Epcot's Spaceship Earth.
There is no height requirement
It is a part of the Early Entry at Epcot
There is a Lightning Lane that is a part of Genie+
It does not offer rider switch
And there you have it! Everything you've always wanted to know about the history of the Epcot Ball and Spaceship Earth and some fun facts and this Disney attraction!
Love Epcot? Us too! Head here to find every Epcot ride ranked, the best snacks at Epcot and the best restaurants at Epcot.