Snacking your way through Walt Disney World is almost as fun as hopping on your favorite attraction. Disney does everything well, and the snacks are no exception!
One fun thing about snacks at the Disney Parks is they are often themed to the location you are in. You will find Star Wars themed food in Star Wars (Darth Vader Cupcakes) and more Mickey Mouse themed food in Magic Kingdom!
Of course Disney is constantly changing up their menus making getting food a fun adventure each time you visit. Be sure to keep an eye out for seasonal treats – it is not uncommon to find different flavors of snacks or new seasonal treats during Halloween or Christmas.
If your heart is set on on of the snacks listed below be sure to check the menu online before you head to the park. Sometimes snacks are temporarily unavailable or have moved to a different location.
17 Best Snacks in Hollywood Studios
Please note: Several of the items on our list are not considered official Disney "snacks" on the menu – they are listed as entrees. We have noted that on the applicable items. Because the Disney Dining Plan is currently not being offered we have made the choice to leave them on our "snack" list, as they are snack-sized items we think you should try! When the Disney Dining Plan comes back our list will change.
Let's jump in!
1. Cold Brew Black Caf Kat Saka's Kettle
We know its a little weird to start out our snack list with a drink, but there is no tired like Disney tired so you better get caffeinated. This is a cold brew Joffery's coffee topped with sweet cream cheese and chocolate puffs. If you are in the mood for a fun coffee drink as you start your day in Hollywood Studios, check this out! ($5.49)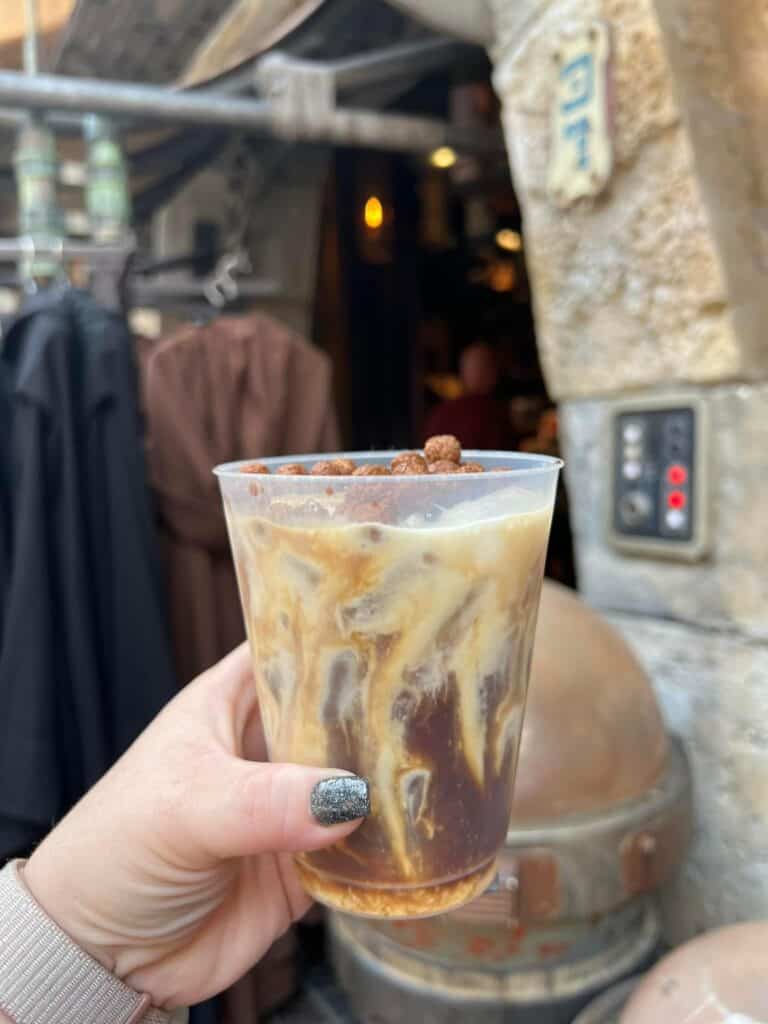 A spiked version of this drink is available, but be prepared to pay $15.
2. Totchos Woody's Lunch Box
Technically these are listed as an entree, but you should consider these a snack food. These are nachos, but instead of chips the base is made of tater tots! Thus the name "totchos!" The tots are covered with a delicious chili and queso sauce. Disney shared their recipe so you can make this at home! Check it out here. ($9.99)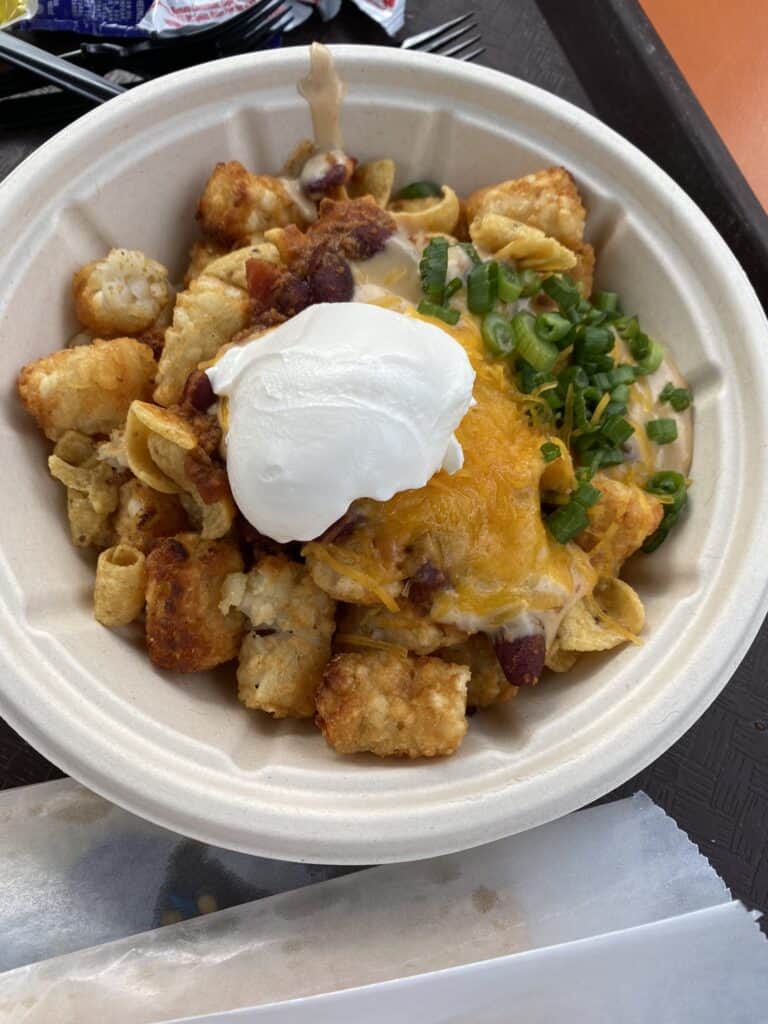 3. Brownie Sundae Hollywood Scoops
Sometimes you just want something predictable, classic, and delicious. Head over to Hollywood Scoops and order a delectable brownie sundae to satisfy that sweet tooth! You will get a house-made brownie and old-fashioned vanilla ice cream with hot fudge and whipped cream! ($7.49)
4. Bavarian Pretzel Baseline Tap House
Head to the Baseline Tap House and order a delicious soft pretzels served with beer cheese fondue and spicy mustard! Many people say this is one of the best pretzels in all of Disney World – even better than the Mickey ones you can get in the Magic Kingdom! ($9.50)
5. Chocolate Chestnut Pinecone Trolley Car Cafe
A few of our favorites of our original list are no longer available, so we are adding this snack that comes around at Christmas to replace the grapefruit cake! Truth be told, we have never had this treat, but people seem to love this chocolate mousse dessert – AND its super cute!
If you are visiting Disney's Hollywood Studios at other times of the year, be sure to check for seasonal foods and drinks!
6. PB Crunch Cupcake Rosie's All American Cafe
This amazing cupcake used to be called the Butterfinger Cupcake and was originally found at the Trolley Car Cafe. now called the PB Crunch Cupcake and can be found at Rosies All American Cafe. This treat is a chocolate cupcake topped with peanut butter butter cream. This is all then given a peanut butter candy shell and of course, two Mickey ears! This cupcake is on the expensive side but most people think it is worth the price.
We have been unable to locate the PB Crunch Cupcake on Rosie's All American Cafe menu as it seems to have been replaced with Disney's Hollywood Studios 50th Celebration Sandwich Cookie. This special cupcake has come and gone several times, so we are leaving it on our list as it is a fan favorite and we anticipate it likely being back after the celebration ends.
7. Lunch Box Tarts Woody's Lunch Box
A homemade pop tart with fruit flavored fillings that is completely worth the price. The fillings change seasonally. You will find fillings such as banana-peanut butter, lemon-blueberry, chocolate-hazelnut, and raspberry! Some of the flavors get better reviews than others, so do a quick search for reviews of current filling offerings before ordering. ($4.49)
8. PB and J Milkshake 50's Prime Time Café
Head over to the Tune-in Lounge (the bar at the 50s Prime Time Cafe) and order this on a hot day. A peanut butter and grape jelly milkshake will absolutely hit the spot! Truly a perfect combination. And of course, 50's restaurants make the best, thick milkshakes. Consider adding chocolate – you'll love it! ($9.00)
9. Outpost Mix Popcorn, Kat Saka's Kettle
Sure, you've had popcorn before, but this is truly out of this world. This popcorn is pink and purple and tastes like lemon pound cake and chili lime! Yes, it sounds weird. But yes, you WILL like it! ($6.49) For a bit more of a basic option, try the buttered blue grains ($6.49)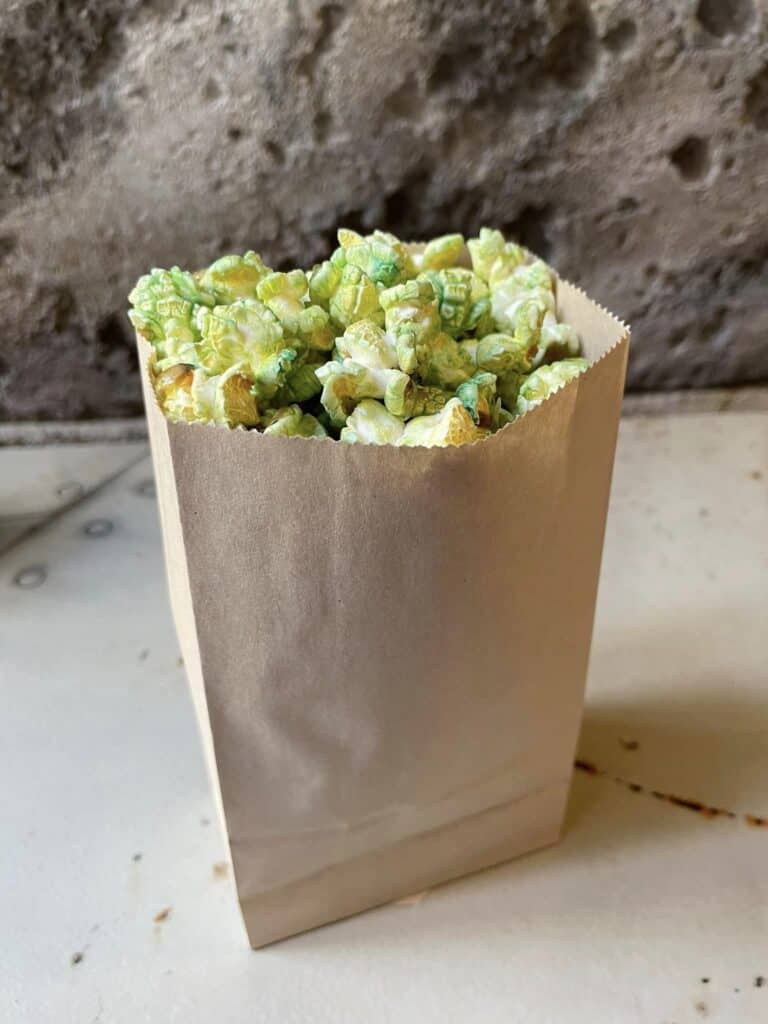 For information about Disney's refillable popcorn buckets, go here.
10. Carrot Cake Cookie Trolley Car Café
Two carrot cake cookies filled with a heaping amount of cream cheese frosting. Somehow Disney has gotten the cream cheese to cookie ratio exactly right. This is truly one of the best snacks in Hollywood Studios. It has been around for a long time and we hope it doesn't leave the menu anytime soon! ($4.99)
Photo Credit Alexis Larcy
11. Wookie Cookie, Backlot Express
Everyone loves Chewbacca! You will probably love this delicious snack named after our favorite wookie. The Wookie Cookie is more or less an oatmeal cream pie. You will get two oatmeal cookies filled with vanilla cream. The top of this snack is decorated with Chewy's belt! ($6.29)
12. Funnel Cakes Epic Eats, Near Indiana Jones
You will smell these on your way to see Indiana Jones! Epic Eats has funnel cakes with toppings – enjoy a variety of great options! For example, the Glimmer and Shimmer funnel cake is topped with cookies and cream and vanilla ice cream, and then sprinkled with sprinkles and cookies! Don't worry, you can get classic funnel cakes with powdered sugar here too. (pricing starts at $7.29)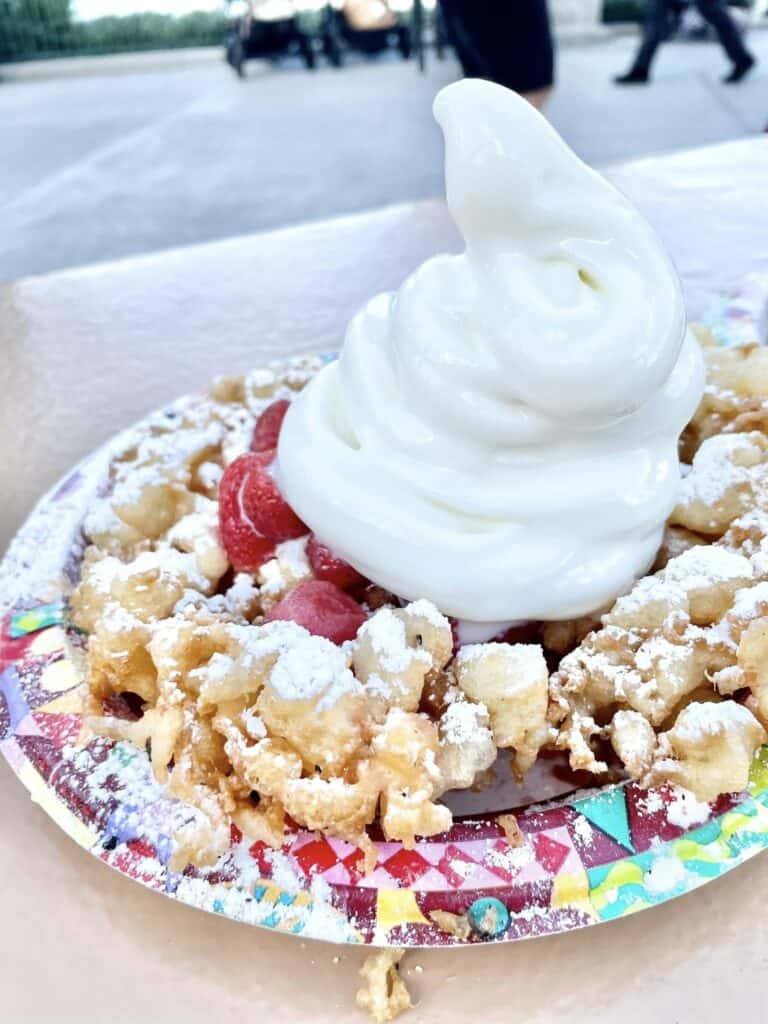 13. Glimmer and Shimmer Blondie Backlot Express
These are a newer addition to the treats in Hollywood studios! These sweet snacks are blondies made of gooey toffee and toasted coconut topped with salted caramel buttercream and festive gold nuggets.
14. Ronto Wrap Ronto Roasters, Galaxy's Edge
Ronto Wraps come in a few different flavors. The Ronto Morning Wrap is a pita filled with scrambled eggs, grilled pork sausage, cheddar cheese, and peppercorn sauce. This would be a great breakfast option! A regular Ronto Wrap is a pita filled with roasted pork, cheese, and peppercorn sauce. Both of these are very good!
This menu offering is considered an "entree," but you should probably consider it a snack, especially if you plan on sharing it with your family.($12.99)
15. Num Num Cookie Market, Pixar Place
A giant chocolate chip cookie that is served warm! Inspired by Jack Jack from The Incredibles. This is a delicious warm cooke that you can easily share with one or two other people. We will say, if you are trying to decide between this and the carrot cake – go with the carrot cake cookie. ($6.19)
*This cookie was originally found at Neighborhood Cafe, which is temporarily closed.
16. Oga's Obsession Oga's Cantina
This is perhaps one of the most unique things you can order in Walt Disney World. Oga's Obsession is a gelatin "drink" featuring lemonade, cotton candy flavoring, and pop rocks will give spark your taste buds. Give it a try! ($7.50)
Oga's Cantina does require reservations. We think it is absolutely worth trying to grab a provision here if you can, as the atmosphere is so unique. Oga's Cantina consists of mostly standing dining options with very limited seating. Dining is limited to 45 minutes.
While Oga's Cantina does have a bar atmosphere (low light, high activity), there are plenty of non-alcoholic options. That being said, this is probably not the best option for families with very young children.
17. Blue Milk or Green Milk, Milk Stand
Ok, we know this is a drink, not food, but it is so unique to Galaxy's Edge that we wanted to include it. Disney does have blue milk under their official "snack" menu. This "milk" is a plant blend of coconut and rice milk. The blue milk is flavored with fruity characteristics, while the green milk has a citrus/tropical flavor to it! ($8.49)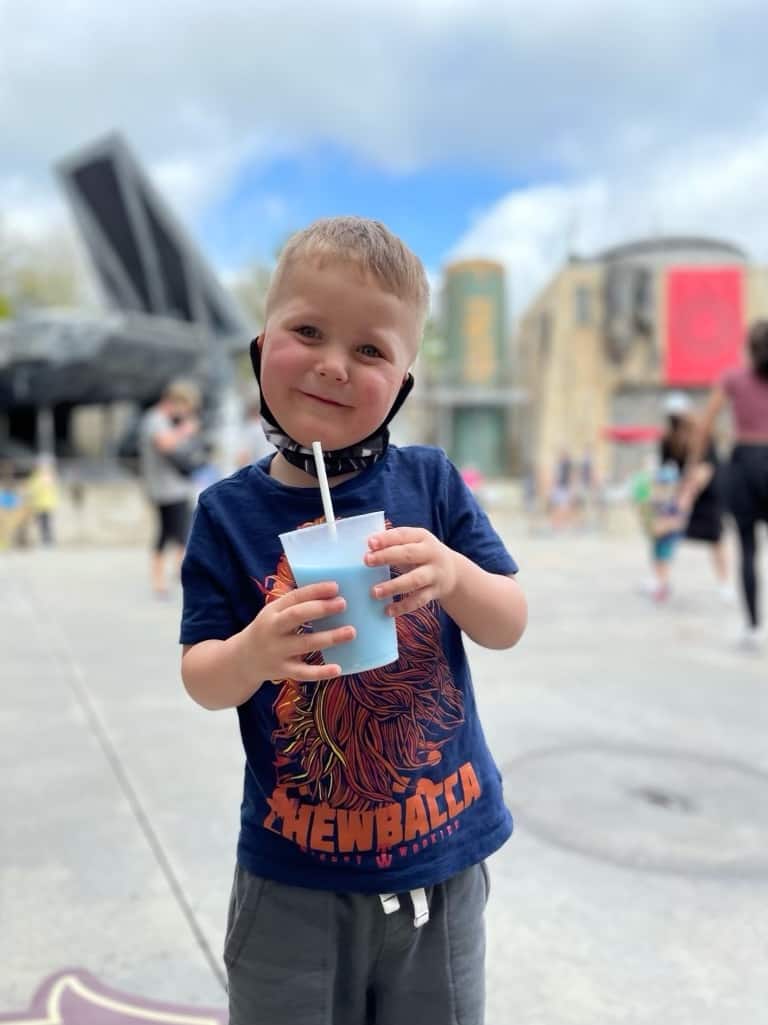 Every Star Wars fan knows about blue milk! Here's everything to know about blue milk at Disney World!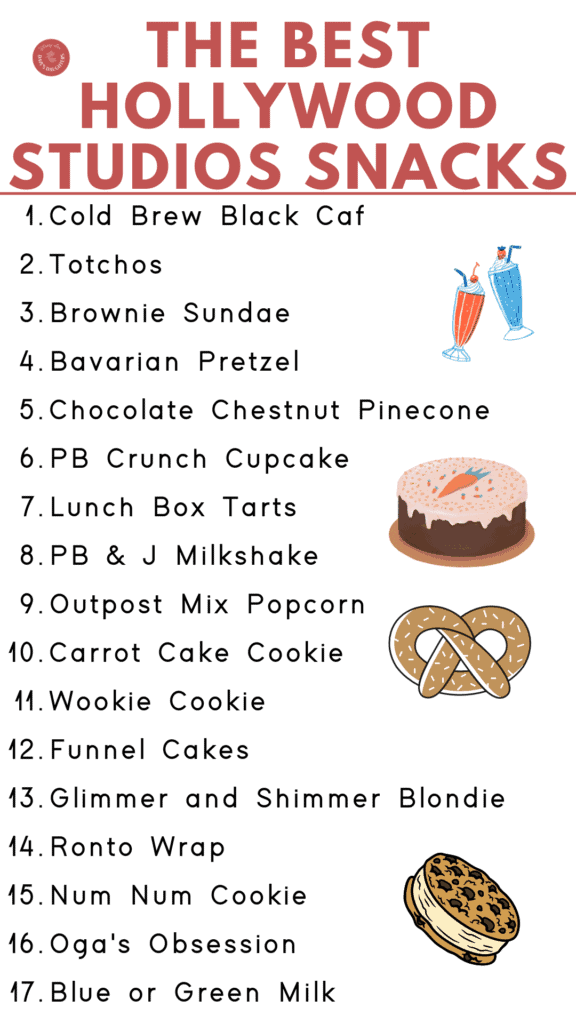 These are all the best snacks in Disney's Hollywood Studios! Be sure to check out our favorite snacks in Disney's Animal Kingdom, Magic Kingdom, and EPCOT.
If you are wanting more than a snack you can see the full list of quick service restaurants in Hollywood Studios here. You will be able to get a fast meal and head on with the rest of your day! For a table service dining experience check out Roundup Rodeo BBQ!