Going to Walt Disney World on vacation takes a lot of planning. One of our goals for this blog is to help make that planning simpler and less stressful!
To that end, today we have a list of items that we think you should consider buying before you get on the plane or load up the car.
Purchasing these items prior to going to Disney World will help save you money and give you peace of mind throughout your days at Disney! These are items you may not have thought of packing.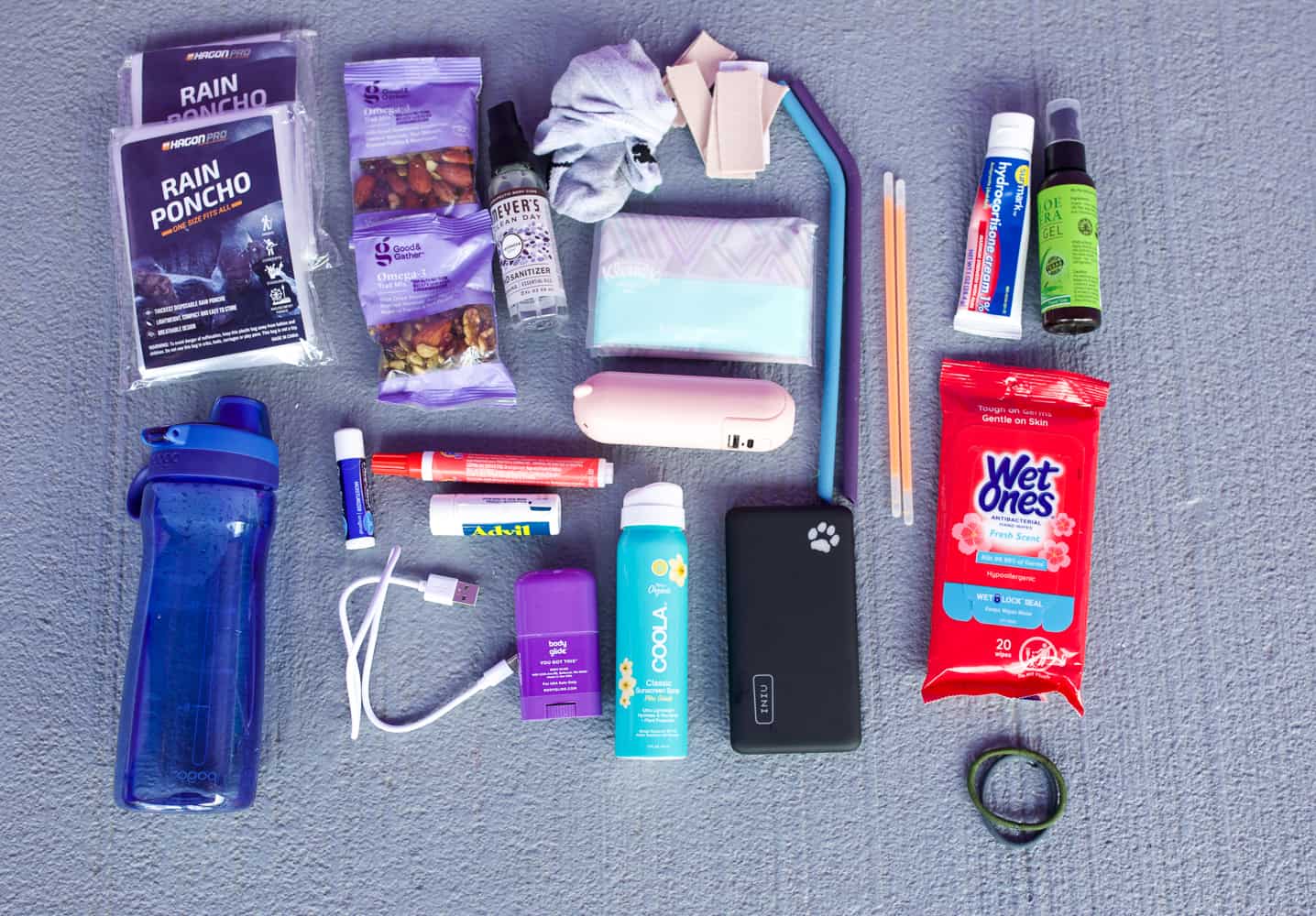 While you may not need all the essentials on this list, we definitely think you should strongly consider if they would be helpful for you to have a successful, stress free Disney Vacation!
15 Disney World Essentials to Buy Before Your Disney World Vacation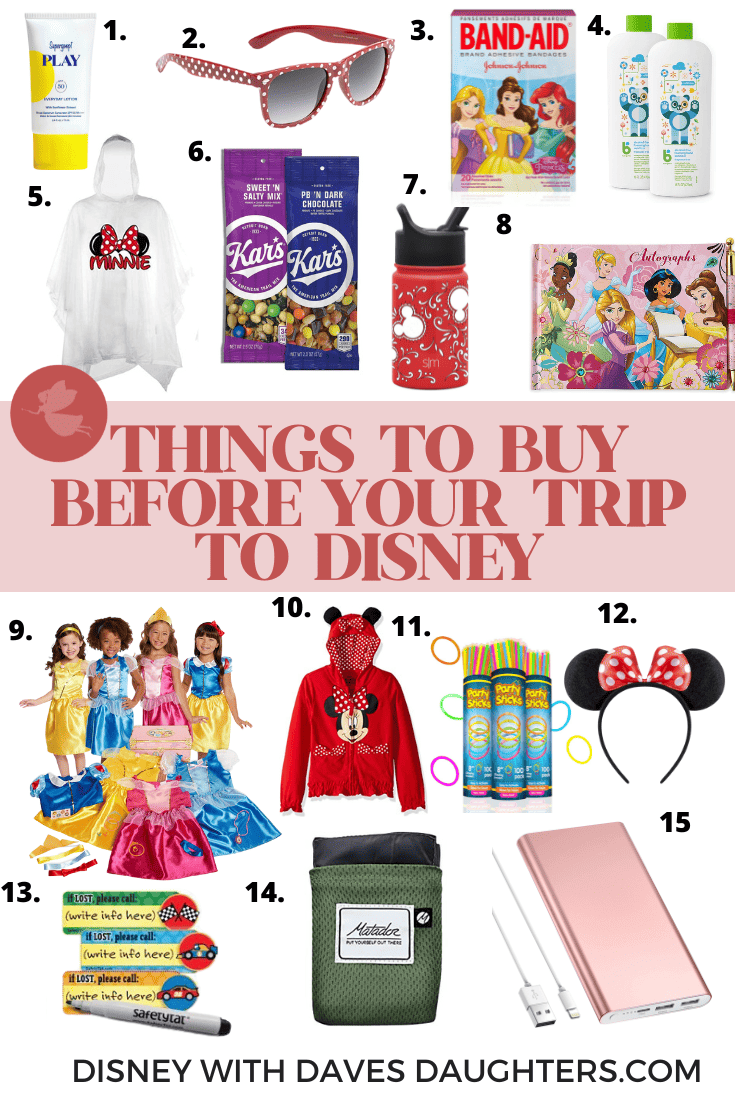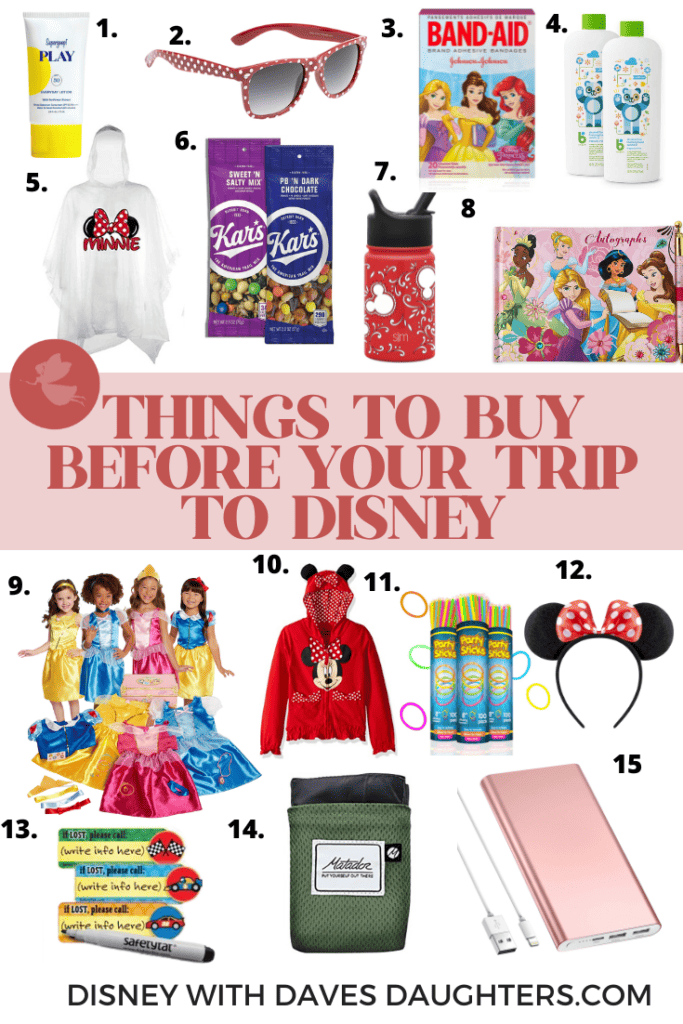 This post may include affiliate links which means we may earn a small commission if you shop using the links below at no additional cost to you. Thanks so much for supporting me and this blog!
1. Sunscreen
We earn a commission if you make a purchase, at no additional cost to you.
We have to start this Disney essentials list with sunscreen! You definitely need to buy sunscreen before you go to Disney. Sunscreen on site will be very, very expensive compared to what you can get at your local Target, Walmart, or Dollar store.
You also want to make sure you and your kids are fully protected from the sun before you head into Disney World. Nobody wants burnt skin on the first day of your vacation because you forgot sunscreen!
We like the stick style sunscreen for faces and the spray for everywhere else!
Our best packing tip is to purchase several smaller sunscreen containers. You will easily be able to throw one in your backpack that you take into Disney World. You don't want your sunscreen to take up too much room!
Having several also helps you not have to keep track of one thing of sunscreen for your entire vacation! Pack one with your swim stuff, one in each backpack, and pack an extra couple in your suitcase and you are good to go!
2. Hat/Sunglasses
We earn a commission if you make a purchase, at no additional cost to you.
The sun in Florida can be brutal, especially in the summer months. Some essentials you can't forget is sunglasses and/or a hat. You may want to consider purchasing an inexpensive, yet cute pair of sunglasses to bring on your trip.
You won't worry about losing your expensive pair of Ray Bans (click here to find out how many pairs of sunglasses are lost each day in Disney!) and you will be able to enjoy your trip a bit more!
3. BandAids
We earn a commission if you make a purchase, at no additional cost to you.
When talking about essentials, Bandaids are definitely on the list! BandAids are easy to throw into your day pack or fanny pack and can bring much needed relief in case of a blister or other mishap.
These are super easy to slide into your wallet to ensure you always have one on hand. Be sure to pack Disney themed band aids! They will add extra fun and make you smile while protecting your skin.
4. Hand Sanitizer
We earn a commission if you make a purchase, at no additional cost to you.
Disney World is upping the hand sanitizer throughout the park but it never hurts to have some extra on hand. Pick up a couple small travel hand sanitizers to stash in at least one person's bag.
You may want to consider the sanitizing wipes, as you will be able to use those to wipe down a picnic table or bench before you sit down! These also come in handy on airplanes and in your hotel room.
5. Poncho
We earn a commission if you make a purchase, at no additional cost to you.
We definitely recommend buying a cheap poncho from Amazon or the dollar store or even a Disney one from Amazon (we promise even those are cheaper than at Disney!) and throwing it in your bag.
Orlando is known for quick but strong afternoon showers, and a poncho can help you plow through to the next attraction without having to find cover! We recommend ponchos over rain jackets because you can easily throw it over your backpack and keep your backpack dry.
Just think – while everyone else is waiting for the rain to pass, you are DOING DISNEY! Be sure to check out our post with all the best rain gear for your trip – we even feature the best shoes for bad weather!
6. Snacks
We earn a commission if you make a purchase, at no additional cost to you.
Did you know you can bring snacks into the Disney Parks? It is one of our money saving tips! Bring some snacks in your suitcase and throw a couple in you backpack each day before you head into the Disney park.
This is the perfect way to save some money throughout your vacation especially if you have little children. Nobody likes a hangry toddler (or adult) which is why we think snacks are essentials!
Snacks are also helpful if you had a long day at the parks and you are wanting something to munch on before bed. Granola bars, fruit snacks, microwave popcorn, trail mix and cliff bars are great options.
Keep in mind – anything you bring with you to Disney might melt, so stay away from trail mix and other chocolate in your day bag. (But for sure have some chocolate in the hotel for later!)
7. Water Bottle
A water bottle is one Disney essential you can't leave at home. If you are not getting the Disney Dining Plan you want to consider bringing a water bottle in with you to the park.
You do not want your day to be derailed by dehydration and you can get your water bottle filled at quick service place! (This is another one of our money saving tips!)
8. Disney Autograph Book
We earn a commission if you make a purchase, at no additional cost to you.
A Disney autograph book is one essential you want to buy before you get to the park if you have little kids. You do NOT want your kid begging you for an autograph book while at the Magic Kingdom where you will be paying 3x as much as you will via Amazon.
If you forget this, it may be something you want to splurge on, but if you can purchase this book ahead of time you'll be happy you did.
(Not a fan of princesses? Check out this autograph book featuring Mickey Mouse and his friends!)
9. Disney Costume
We earn a commission if you make a purchase, at no additional cost to you.
This is also something to consider purchasing before you go on a Disney World vacation if you have toddlers and elementary kids. Disney costumes are super fun to wear in the park – but parents will only be happy about if they paid a reasonable amount for them.
You can justify the cost of this by telling your child that this is their Halloween costume, too!
We love these Disney costumes from Amazon – we have favorites for every single princess!
10. Disney Apparel
We love Disney apparel. We love it so much, we have many posts dedicated to this topic – clothes for kids, adults, teens, and family! However, we only buy Disney apparel before going to Disney. We never buy Disney clothes at the parks.
Our favorite thing to do is purchase Disney t-shirts for the kids from Amazon, Target, or the Disney Store clearance section, sneak the clothes into the kids' suitcases, and when we arrive at our Disney World Resort and the kids open their bags they see brand new Disney clothes!
Katie's daughter was convinced for a long time that Disney Magic put the shirts in her bag!
You can find some of our favorite Disney apparel here:
11. Light up toys/Glow sticks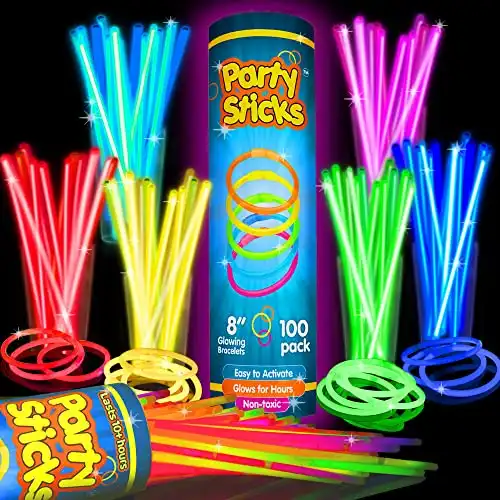 We earn a commission if you make a purchase, at no additional cost to you.
Glow sticks and glow toys are a great find on Amazon! These are easy to pack in your suitcase or backpack and pull out for the evening Magic Kingdom fireworks or just for having in the hotel room. This is a fun way to add some magic to your trip on the cheap!
12. Mickey + Minnie Disney Ears
We earn a commission if you make a purchase, at no additional cost to you.
You have to have Mickey and Minnie ears when you go to Disney World – but you don't have to pay an astronomical price for them! Look for a pack of ears on Amazon and buy them – you will have extra and you won't feel bad if they get lost or ruined.
Let the kids have fun! Jen bought a whole pack of ears and handed them out to everyone at the airport and we wore them all week long!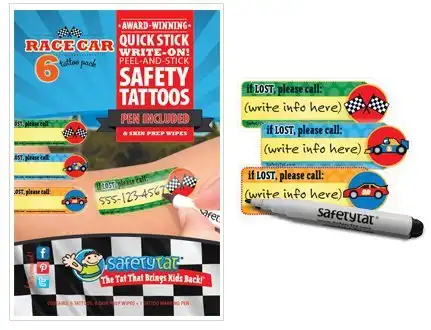 We earn a commission if you make a purchase, at no additional cost to you.
Keep your kids safe and have some peace of mind with ID Tattoos! These are perfect if you have small kids that don't know their parents phone number.
Disney is a pretty safe place but it is very busy, and these ID tattoos will be fun for the kids to wear! Be sure you point out to your kids who the Disney cast members are in the off chance you get separated from your child.
14. Small, foldable blanket
We earn a commission if you make a purchase, at no additional cost to you.
These are great for watching parades or taking a break! This Matdor is perfect for Disney! If you have smaller kids and anticipate extra sitting you may want to consider a blanket like this.
You may also want to consider this if you are visiting Disney in the winter months when it can be quite chilly – especially in the mornings and evenings.
Anker Portable Charger
Superior durability and scratch resistance
One of the slimmest and lightest 10,000mAh portable chargers on the market.
Anker's exclusive PowerIQ and VoltageBoost technology combine to detect and deliver a tailored charge up to 12W
MultiProtect safety system includes overcharge protection, short circuit protection, temperature control, and more.
What You Get: PowerCore Slim 10000 portable charger, Micro USB cable (to charge the power bank, USB-C cable and Lightning cable not included), welcome guide, 18-month warranty, and friendly customer service
We earn a commission if you make a purchase, at no additional cost to you.
There is so much at Disney that you need your phone for. You need your phone for the Disney app and to access things like park maps, ride times and Genie+.
We also guarantee you're going to want to take a million photos at Disney so you
Purchasing these items before you leave on your trip will save you money and stress. We hope this helps you as you make your packing list for what to bring on your trip!
You will likely want to bring many of these items into Disney with you in a backpack. The trick is to stay organized and pick a comfortable bag.
We have a roundup with the best backpacks for your trip to Walt Disney World here! You will even find a backpack cooler and a backpack diaper bag – there is something for everyone.
Not a backpack kinda person? Don't worry, we have a post with Disney fanny packs too!