Planning your Disney World Vacation? We're so excited for you! To help you have the best time, we wanted to share 7 things not to do at Disney World!
Disney World is full of wonderful, amazing and beautiful experiences! That being said, we wanted to give you a few ideas to insure success by not falling for these Disney World no no's! Tuck these away to avoid on your next trip.
7 Things Not To Do At Disney World
*this post may contain affiliate links. Thanks for supporting our family!
1. Don't Wing It
You have heard us say this over and over and we will continue to beat the drum…You really need to plan your trip ahead of time and follow our step by step guide in order for your Disney experience to be stellar! There is just no getting around it.
You can't "wing" Disney World! There's no "spur of the moment" Disney World! You can't "last minute" Disney World! We have found the common denominator with everyone who has had a bad experience at Disney is the fact that they did not plan well…or in many cases….did not plan at all!
For the rest of our list we aren't going to talk about anything related to planning. We are assuming you are getting your hotel reservations, restaurant reservations, lightning lanes, etc…
2. Don't Buy New Shoes
You and your crew are going to walk and walk and walk! Best estimates is you will walk 10 – 12 miles each day in the Disney Parks. This doesn't include getting there and your time around the hotel.
Don't buy new shoes with Disney Characters on them and wear them for the first time when you get to the parks. That's fine if you want to wear cute Disney inspired shoes but try them out well before your trip! Go to the mall and walk around for the afternoon and take the kids on a long walk in them. If they work, great! If not, stick to your trusty sneakers.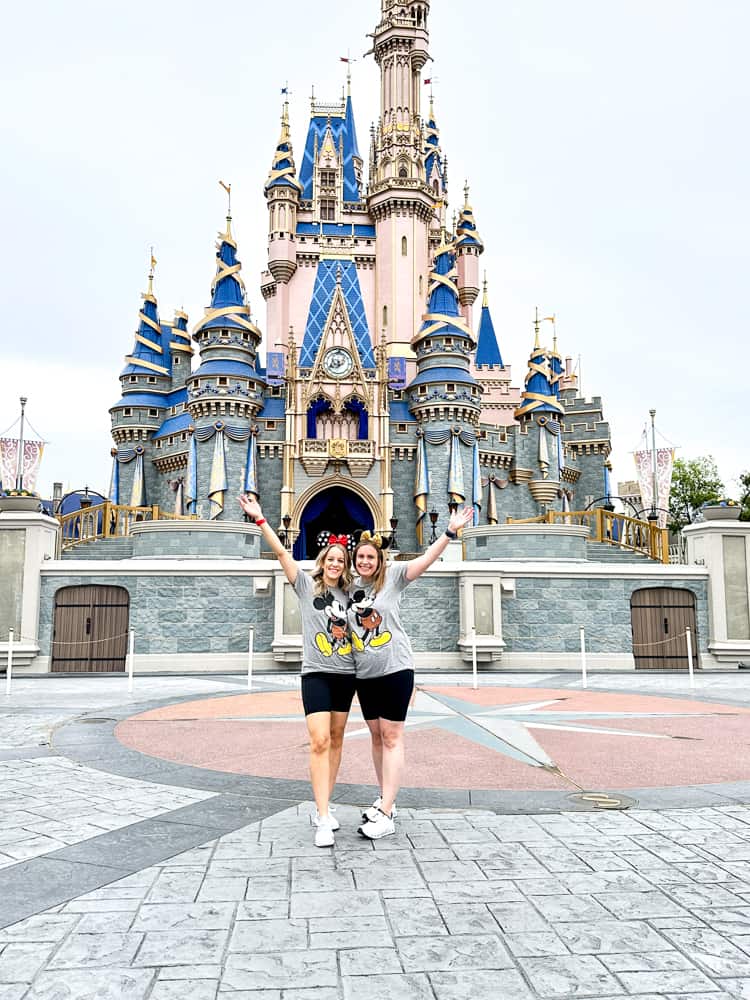 Wear comfortable and dependable walking shoes! Make sure your children have shoes that fit well and do not buy them new shoes right before your trip either. We have an entire post dedicated to the best walking shoes for your Walt Disney World vacation that may be helpful to you.
3. Don't be out of shape
You and your family need to be able to sustain those miles for every day you are at Disney. On one of our trips we walked 40 miles in three and a half days! That means you need to be in somewhat decent walking shape.
For some of us, that might mean we need to start a walking program well in advance of our trip to work up the miles so our endurance is up to the task. We have tips to help you increase your daily steps here!
Finally, you need to think through your day in the eyes of your legs (this goes back to planning, dang, I said I wouldn't say anymore about that). Think through where you can find a meal or snack break to sit and get off your feet. A head back to the hotel for a couple of hours break. A watch the parade break.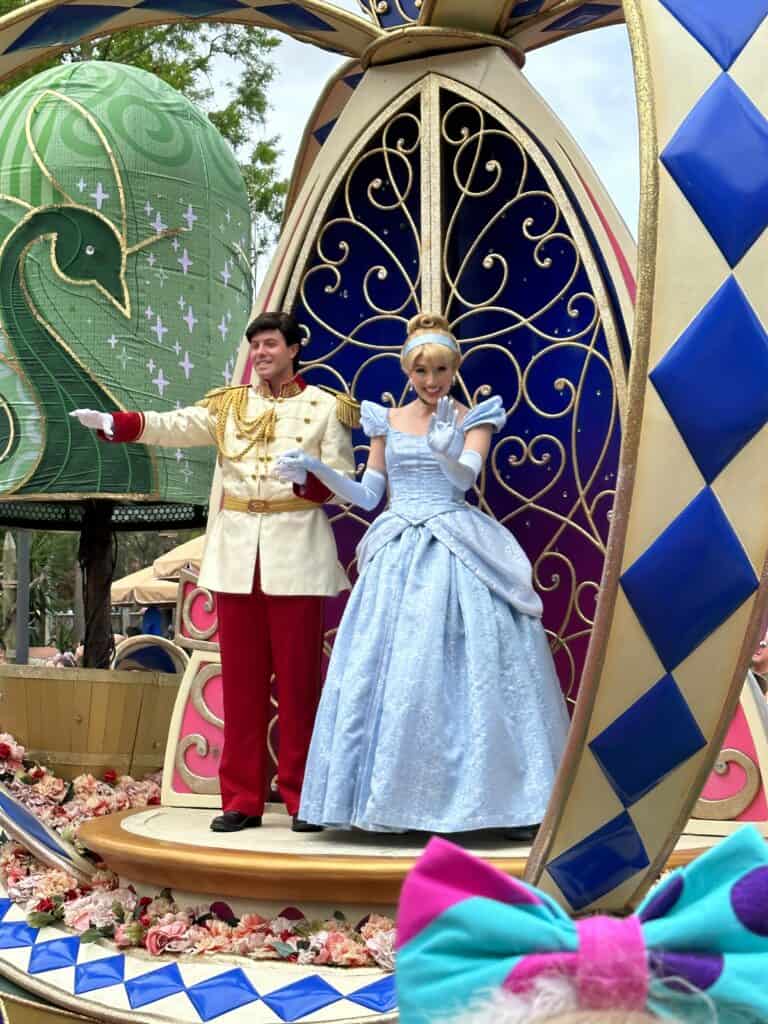 Obviously, the kids are going to be the most susceptible to fatigue. If you are wondering if you should bring a stroller to Disney World…bring it. You can also rent a stroller if needed!
There's actually something called "Disney Rash"! According to Healthline, "the medical name for Disney rash is exercise-induced vasculitis (EIV). This condition is also called golfer's rash, hiker's rash, and golfer's vasculitis. A combination of hot weather, sunlight exposure, and sudden, prolonged periods of walking or exercising outdoors causes this condition."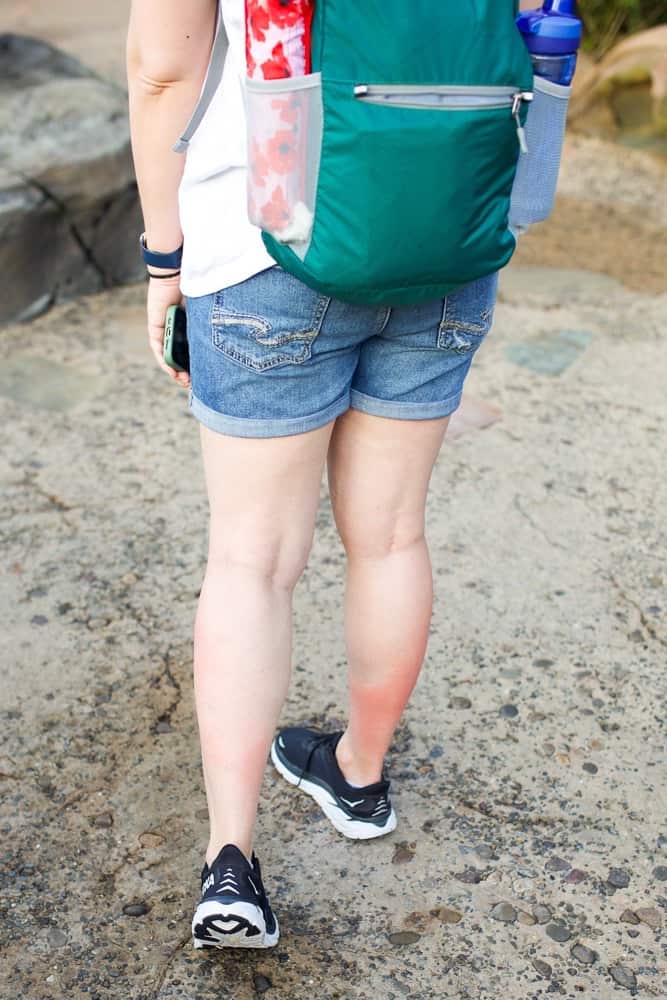 Katie got the Disney rash on our last trip….luckily we knew how to take care of it and she was able to get rid of it in 48 hours! Getting in shape can help prevent this rash.
4. Don't forget to plan for the heat
Florida in the summer can get a bit warm. Let me rephrase that…Florida in the summer can almost be unbearable! Summer is a time when most people go with their kids to Disney World because they are out of school and it's more convenient, however, if you are going during those months, please don't do these mistakes:
Don't forget the sunscreen. You will need to pack and apply sunscreen liberally to every person in your family. A good hat is also advisable.
Be sure to drink enough water. You need to think through keeping yourself and your crew hydrated. Remember that quick service restaurants provide water free of charge even if you are not purchasing a meal. There is no reason to not stay hydrated!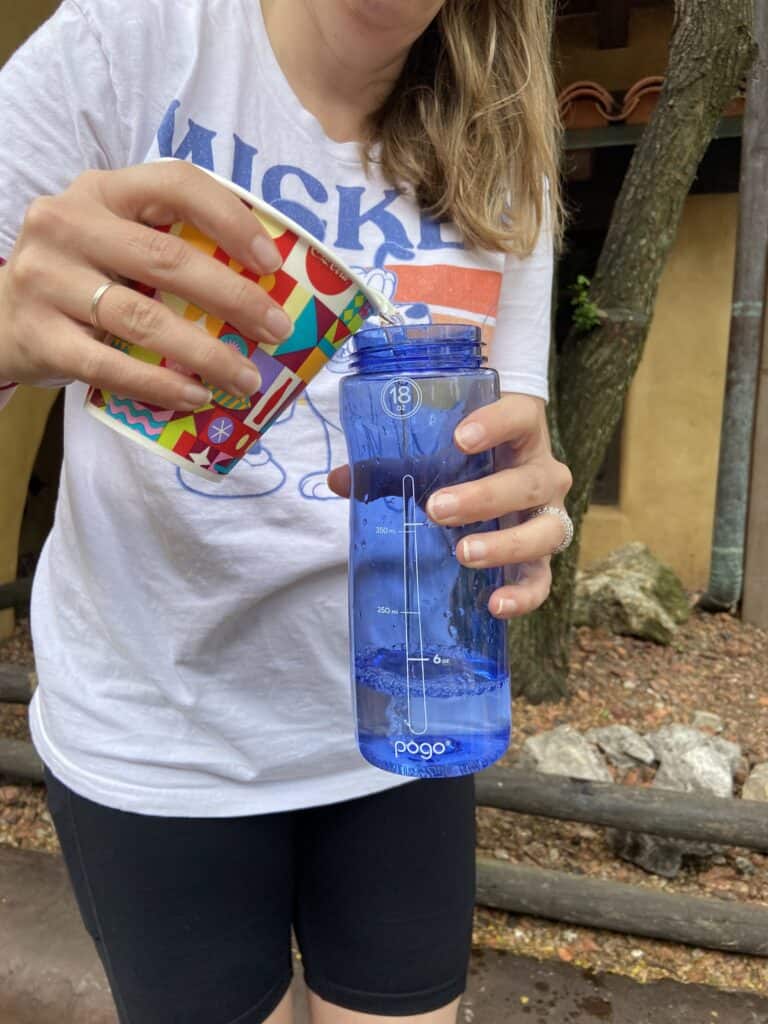 We recommend bringing a water bottle into the parks to help you stay hydrated and save money on bottled water. Our favorites are here, along with a list of water refill stations. You can also ask for a cup of water from any quick service restaurant and they will gladly give you some!
5. Don't Forget to Plan for Rest
Don't run out of energy. If you are going in the hottest days of the year it will be extremely hard to keep a hard core Disney pace, especially with the little ones. You will need to pace yourself better than if you were going on a not so hot day. This will mean more stops for Dole Whips!
If you are staying in a Walt Disney World resort you may even consider heading back to your hotel for a couple hours in the afternoon. Many people plan a "rest day" into their Disney World vacation itinerary. There really is no tired like "Disney tired," so plan in ways to conserve energy.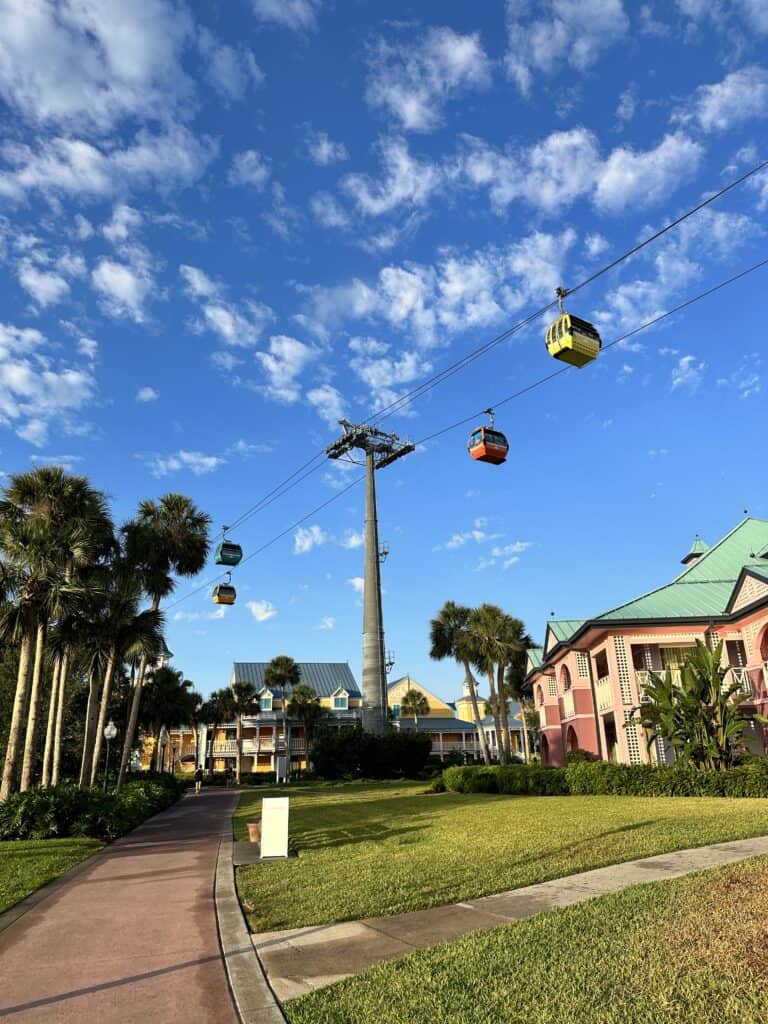 6. Don't Make Promises You Can't Keep
We want our kids to have the greatest experience ever at Disney World! Heck, WE want to have the greatest experience ever at Disney World! The problem is, in our zeal to "want it all" we sometimes create expectations that simply can't be fulfilled.
It is much better to temper our expectations and what we say to our children to avoid disappointment. When something great happens unexpectedly, we will be even more joyful over the experience.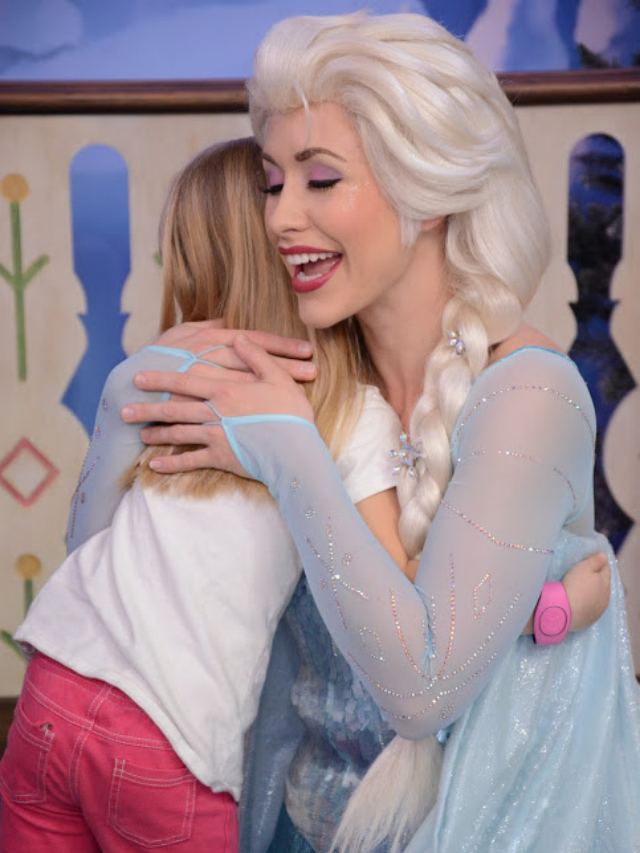 For example, instead of saying, "you are going to love this attraction!" Or "You will be able to hang out with Mickey Mouse" it might be better to say, "I wonder what this attraction will be like?" and "Wouldn't it be great if we could meet Mickey Mouse?" Of course, do your best to actually meet Mickey – for example, make those reservations at Chef Mickey's!
7. Don't Sleep In
Don't sleep in! Please, please, please don't sleep in! (Dang, this goes back to planning again…oh well…I give up). You need to be disciplined enough to get up early and get your crew to the rope drop at least 20 minutes before it happens! You also need to be ready to make Genie+ reservations by 7am. If you wake up at 8:30 and walk into the park at 10:00 am, you are probably not going to have a good Disney experience.
You might say, "but we stayed up late last night watching the fireworks, got back to the hotel and had a pizza and got to bed so late we couldn't wake up early!"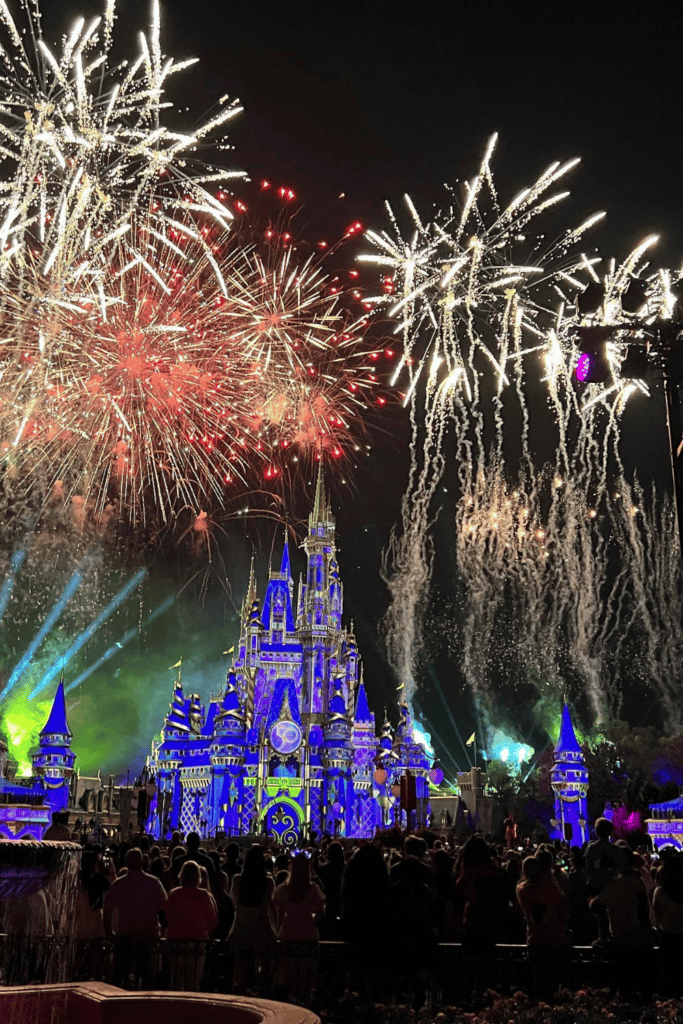 Here's a sneaky tip that we like to do: The fireworks at Disney are spectacular but we forgo them UNTIL the last night of our trip. We are leaving the next morning. Our flight isn't until 12:00 so we can stay out late the last night and sleep in a bit before we have to check out and get to the airport.
There you have it! We have found you can never have enough good "must dos" on making your Disney World trip the best it can be. Hopefully these things to avoid help as well!
Now that you know 7 things to not do at Disney World, let's chat about 15 tips for planning your Disney World vacation on a budget! One of the best ways to save money is to go off season! So is going to the parks more days and using a travel agent. Want to know the rest of our tips or more in depth look at one of these? Keep reading on this post for more!