What to wear to Walt Disney World is the ever important question!
You will have dozens and dozens of pictures taken so it is smart to put a little bit of thought into what to wear. You want to look back at photos and love your photos – not be annoyed by your outfits!
We want to help you figure out what to pack for your trip to Walt Disney World. Our goal is to help you simplify your clothing so you can focus on other things!
This post is dedicated to what to wear (and pack) to Walt Disney World in October.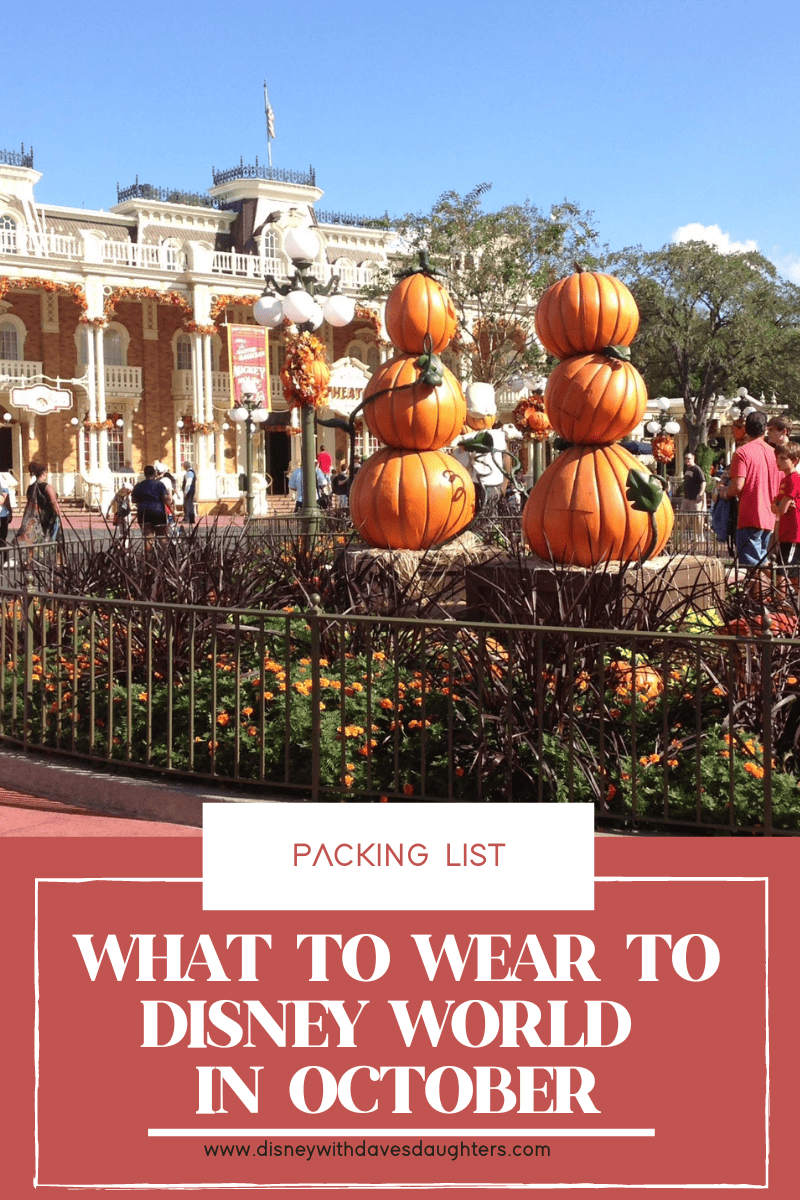 What Is The Weather at Disney World in October?
The weather in Disney World in October is still pretty warm. High temperatures are in the mid 80s and the lows but the evenings get down to the upper 60s. It really is a pleasant time to be in Florida!
The amount of rain in Orlando drastically drops from 6.5″ in September to 3″ in October. This is good news if you don't want to haul around tons of extra rain gear!
You will want to keep an eye on the weather leading up to your trip as October is hurricane season.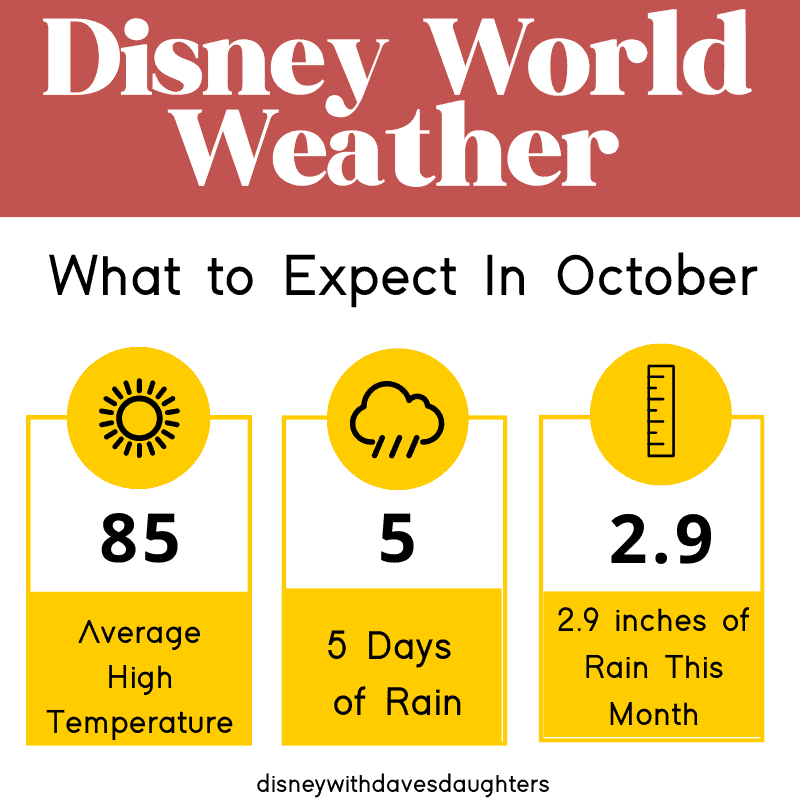 Clothing Packing List – October
October is a pleasant time of year to visit Disney World. It will be more humid earlier in the month, so keep that in mind as you pack. Moisture wicking shirts and shorts will always be your friend in Walt Disney World!
We recommend packing the following:
Short sleeve shirts
Shorts or skorts
Sneakers – good walking shoes
Sandals or flip flops
Swimsuit
Lightweight long sleeve shirt or pants for air conditioned spaces or evenings outside
Other Considerations (see #7 below)
1. Tee Shirts
Pack at least one t-shirt per day that you will be at the Disney Parks. We always bring at least one Disney themed t-shirt because we love adding to the Disney Magic!

Many, many people wear Disney themed shirts at Disney World! It is fun to match your shirt to the park you will be in. Wear Star Wars and Toy Story in Hollywood Studios and your classic princess shirts in the Magic Kingdom!
October is Halloween month, and Mickey's Not So Scary Halloween Party is going on. We HIGHLY recommend jumping in the fun by wearing Halloween themed shirts – even if you are not getting tickets to the party itself! We have a round up of our favorite Halloween themed Disney shirts here.
We earn a commission if you make a purchase, at no additional cost to you.
Because we love Disney t-shirts so much, and we really think you should bring at least one to the park, we have posts dedicated to all our favorite Disney shirts.
2. Shorts or Skirts
Shorts for Women for Disney World
Choose whatever pair of shorts are the most comfortable for you to walk in. Do not wear shorts that cause chaffing or ride up no matter how cute they are – you 100% will regret this choice.
Biker shorts have become a really popular and comfortable option to wear in the parks. We actually really love these biker shorts that come in a variety of lengths and have a cell phone pocket!
Jen and Katie personally own and wear these shorts throughout the summer. We recommend wearing a less fitted shirt when wearing biker shorts
We earn a commission if you make a purchase, at no additional cost to you.
Skirts or Skorts for Women for Disney World
If you love skirts, we have great news! There are some amazing options out there! We love skorts for Disney World because you don't have to worry about how you are sitting.
Skorts give you the super cute skirt look while also helping to prevent any chaffing!
We love this option – it has incredible reviews and comes in 37 different color and pattern options!
We earn a commission if you make a purchase, at no additional cost to you.
Bought this for our family Disney trip and ended up ordering two more! Covers enough, super flattering and cute with your Disney t-shirts!

Amazon review from Stacy Collins
Bought these for a trip to Disney world. They were awesome. Very breathable. I've got thick thighs so I was worried about the shorts riding up but they were fine. I bought these in two more colors I like them so much.

Amazon review from Chris
Shorts for Men for Disney World
We have similar tips for men that we do for women.
Make sure men wear shorts that are comfortable. If you can find comfortable shorts that have zipper pockets we recommend packing those – it will help keep things from falling out and getting lost. These athletic shorts are super comfortable, have zippers, AND are quick drying.
3. Comfortable Walking Shoes
Our biggest tip is this: do not wear new shoes to Disney World! We cannot emphasize enough the importance of comfortable walking shoes. You will be doing a lot of walking every single day. Sore feet can really ruin your day.
We have an entire post dedicated to walking shoes. We have recommendations for the best shoes for men, women, toddlers, and kids.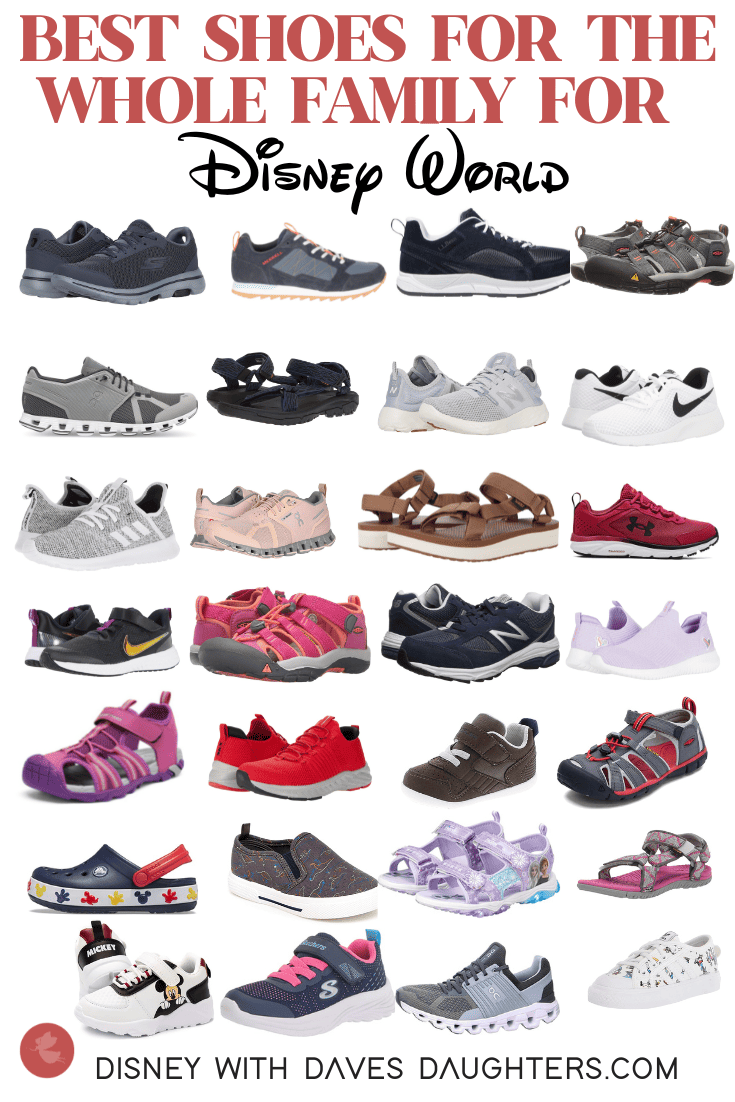 Having the wrong shoes can ruin your vacation. You will be walking 8-9 miles per day and bad shoes can also contribute to getting the Disney Rash. If you are going to splurge on anything for your trip, make it be comfortable shoes.
4. Sandals
While we don't recommend wearing sandals while walking around the parks, they are perfect for hanging at your Walt Disney World Resort or going to the pool or water park. Switching to a different pair of shoes while at your hotel gives your feet a change from from the pressure points in your sneakers.
Choose whatever your favorite sandals are – flip flops, chaos, crocs, or Birkenstocks! Your feet will thank you for a break from your sneakers. If possible, consider bringing a good pair of walking sandals in case your sneakers get wet or if you find yourself having pain from your shoes.
5. Swimming Suit
Even if you think you won't be swimming much you need to pack at least one swimsuit. If you are bringing kids with you on your Disney trip they will definitely want to swim in one of Disney's amazing swimming pools.
If you are spending time at Blizzard Beach or Typhoon Lagoon, Disney's Water Parks, you may want to bring a couple of swimsuits. Don't forget a cover up! This post has some great options for women.
6. Long Sleeve Shirt and Pants
Yes, it is going to be hot outside. That being said, restaurants and your hotel room can be quite chilly. We recommend bringing at least one pair of pants and one lightweight, long sleeve shirt. If you are going to Disney World later in the month, you may want to bring a couple of each.
You will likely only wear these for short periods of time so there is not a need to bring a ton of long sleeve and long pants.
These pants are Athleta dupes and are a great option:
We earn a commission if you make a purchase, at no additional cost to you.
We also love this classic Mickey long sleeve shirt:
We earn a commission if you make a purchase, at no additional cost to you.
For more long sleeve shirt options, check out this post.
7. Additional Things To Consider
Rain Gear – while the amount of rain in October is not very high, you may want to consider grabbing a poncho to throw in your backpack in case you get caught in an afternoon storm (or if there happens to be bad weather from a tropical storm or hurricane)
Dressy clothes – some dining locations have a dress code, so please keep that in mind. If you are planning a nicer date night at Disney Springs or the Boardwalk out make sure you have appropriate clothes!
Halloween Costumes – Definitely pack these for kids! Adults can wear costumes to the Not So Scary Halloween Party. We have family Halloween costumes here, as well as princess costumes for kids and villain costumes for adults.
Is October A Good Time To Go To Disney World?
Generally speaking, October is a great time to visit Walt Disney World, especially in the middle of the month! The weather is warm but not sweltering making it much more enjoyable to be in the parks.
There are a few busy stretches due to holidays and school breaks but also some quieter times – be sure to check the October crowd calendar.
Be aware that the end of the month is very busy due to Halloween. 22% of people who go to Disney World choose to visit during Halloween! (Check out these visitor statistics for more information)
Other Disney Packing Tips
Of course, we didn't cover packing a hat, sunscreen, pajamas and other personal items! We have other packing tips to help you plan your October vacation to Disney World.
If you are looking for an overview of what clothes to pack for Disney World check out our month by month guide!