24 hours is just not enough time in a day when it comes to Disney World! We want to enjoy and savor every moment! If you can shave off a few minutes here and a few minutes there, it can add up to give you extra time to experience more of the magic. If you're looking how to make the most of Disney World, here are 11 time saving tips!
We are not going to discuss tips like staying on the Disney property so you can take advantage of extra hours or making sure you have Genie+ to skip long lines. Those are great, but they cost quite a bit of money!
Refer to some of our other blogs for great ways to save time (and money). In this post we are giving simple but practical advice to zip through the parks to give you ample time to do all you want to do!
11 Time Saving Tips to Make the Most of Disney World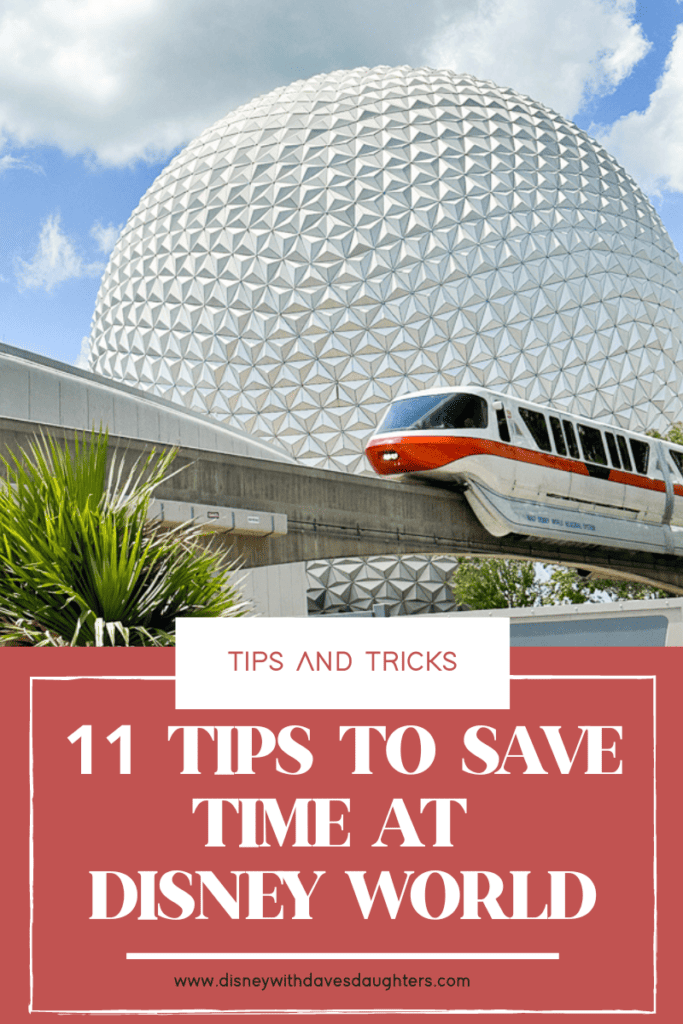 1. Pack and Prep The Night Before
Pack Park Clothes. Lay out what your kids (and you) will wear the night before. This will speed up the morning process so you can get going faster.
We love Disney inspired gear to wear while in Disney World! Plan ahead and purchase Disney gear before you head out on vacation. We have a roundup of Disney clothes for little girls, graphic tees for women, gear for teens, and even Disney inspired shoes!
2. Plan a quick breakfast
Breakfast On the Run. Depending what your breakfast routine is, consider packing food items in your backpack the night before and grabbing cold food out of the fridge the morning of. You can easily get groceries delivered to your hotel. This will help you save not only time, but also money!
If your crew is into juice, yogurt and bagels, you can have them in your bag and distribute them on the bus ride to the parks or as you are standing in line. You can always grab a coffee somewhere in the parks for you to enjoy!
3. Pick the left line when you have a choice
When you are in an attraction queue and you see see it split into two lines, head to the left one and you almost always save some time. It is human nature to stay to the right side so go against your instincts.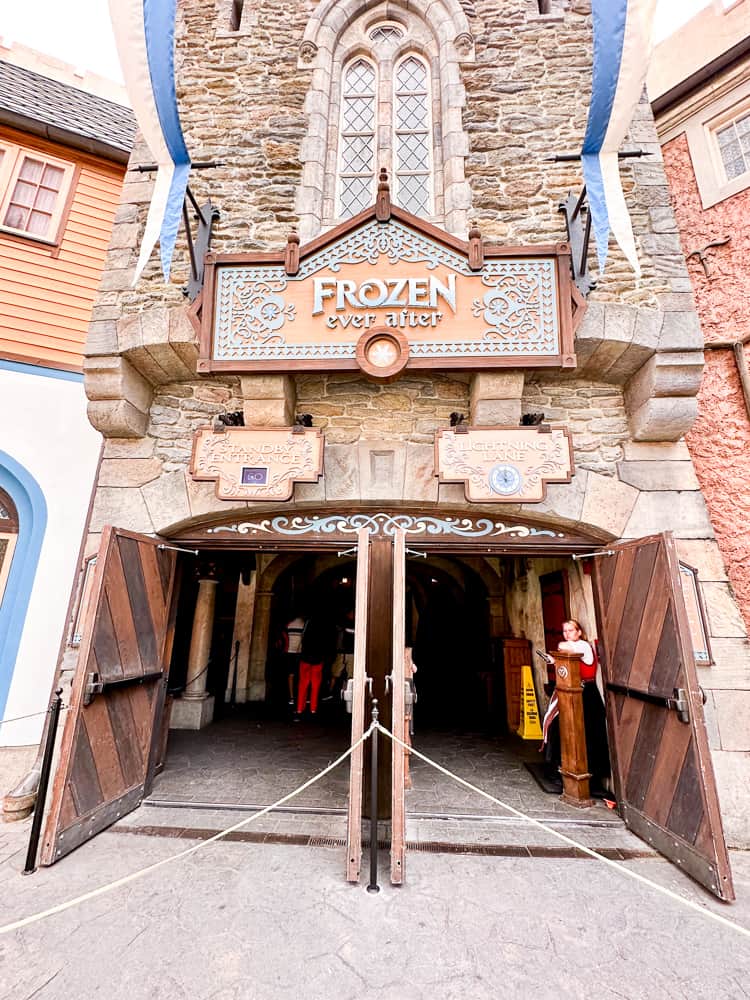 4. Eat meals early – or late.
Eat Off Times. We know, you always eat lunch at noon and dinner at 6:00. Well, not at Disney World! You are going to live on the wild side and eat lunch at 11:00 and dinner at 4:00.
Why would you do that? We have two reasons. First, it will be much easier to get that 4:00 reservation over a 6:00. If you are doing quick service, you will have an easier time finding a table.
Second, at 6:00 everyone is trying to get into restaurants and you are hoping on popular rides because the wait times have dropped!
Eating at non peak times is a simple way to save time in the parks.
5. Get through security early
Arrive at the Park Early. If you can arrive at the park 45 minutes to an hour before it officially opens, you can get through the bag check and turnstile and be ready to go when the rope actually drops. This way you will be kicking through some popular attractions early. This is a great way to start your day!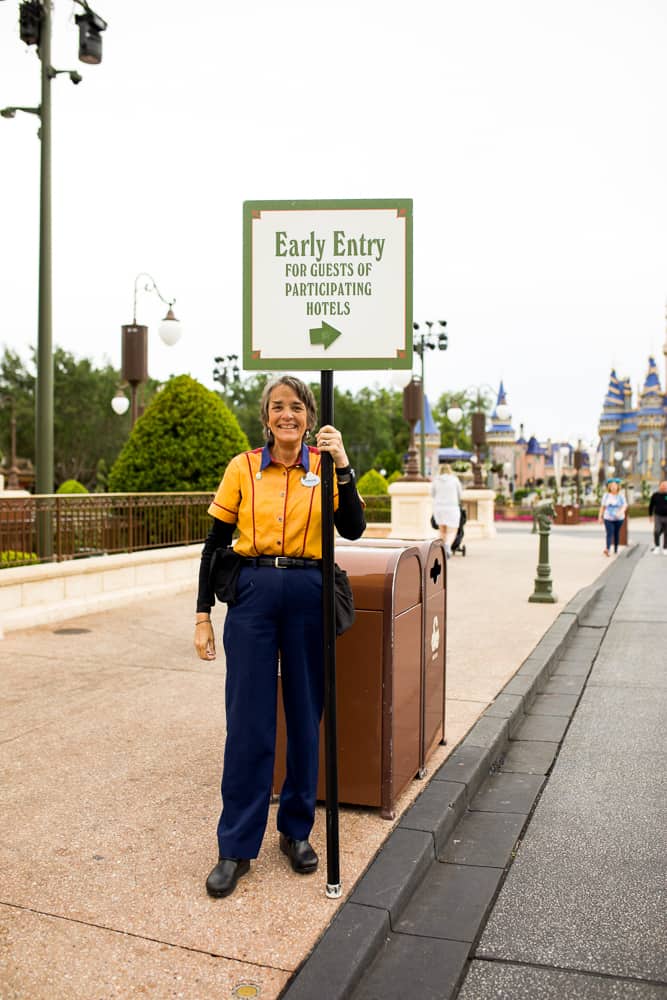 6. Choose quick service dining options
A table service meal takes about an hour and a half to get in, order, eat, pay and leave. This is a great way to enjoy time in air conditioning and give your feet a break, but it is NOT a great way to save time.
Consider only doing quick service meals! The benefits are twofold, quick meals and less money. You don't have to do burgers every time. There are plenty of options for better nutritional food.
Some snacks can be substantial enough to be a light meal, so you may consider that! The snack options can be overwhelming, so this is a good starting point.
7. Order food online
Many quick service restaurants have mobile ordering available. When you do your quick service meal, order it before hand with the mobile order option. This will cut some minutes off as you won't be standing in line to order. It is helpful to know where you want to eat prior to your Disney vacation so you aren't spending time researching restaurants in the park.
8. Know about alternative transportation
The bus service is convenient and free, but if you have ever been walking up to the bus stop just in time to see it leaving and have to wait 15 minutes for the next bus, you will understand why frustration can set in.
Sometimes the Disney Skyliner isn't running, and you may not have the option of jumping on the monorail to get to where you want to go.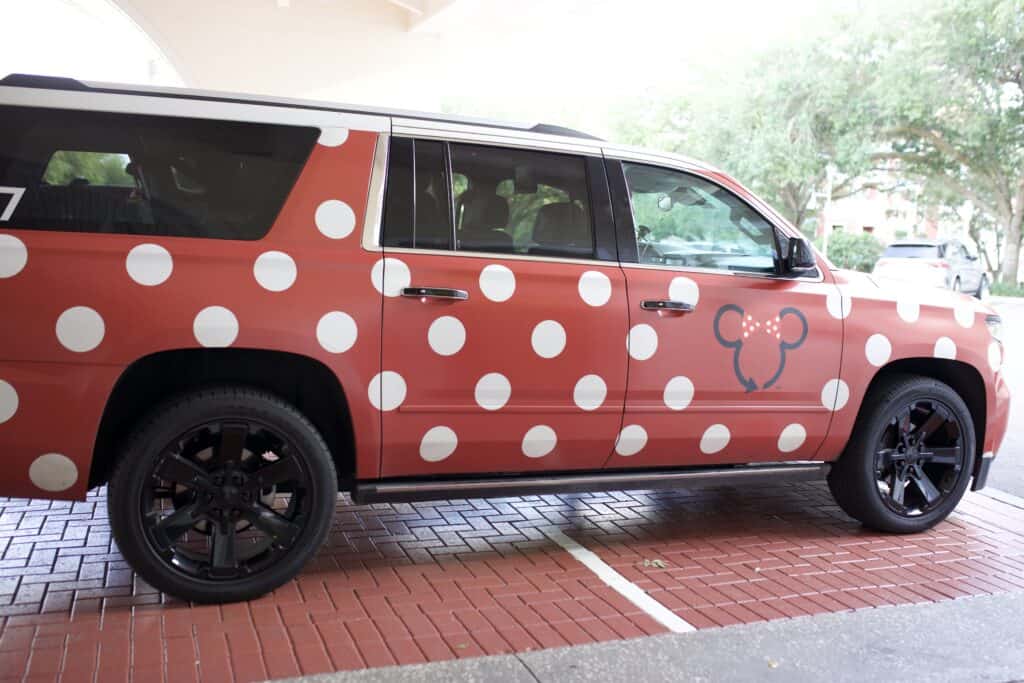 Consider an Uber or better yet, a Minnie Van. Minnie Vans are great because they drop you off right in front of the park whereas an Uber or taxi drops you off at the Transportation and Ticketing Center. You can hail a Minnie Van through the Lyft app.
9. Use the secret entrances and shortcuts
Well, they aren't really secret but there are other options to get into the parks other than the main entrances that can save you time. For example, we love staying at the Beach Club Resort and walking to the Epcot International entrance. There are very few people there and it gives you a head start on the crowds.
Many of the parks also have shortcuts that can save you time when you are walking. For example, you can get to Tomorrowland quickly from Main street by taking a right at Casey's Corner! We highly recommend examining the maps of each of the Disney parks before your trip. We also always grab a paper map at the park entrances as it can be easier to find shortcuts and attractions and you don't waste your phone battery!
If you love Disney secrets check out this list!
10. Consider a character meal to see several characters at once
Lines to see Disney Characters can fill up quickly. Depending on who your children must see, there are some ways to do two things at once.
Consider a character dining experience. You can eat and see the characters. We love Chef Mickeys for the little ones to get their character fix. Story Book Dining is also a fan favorite! One suggestion is to plan a character meal for your travel day. Its a fun way to kick off your trip!
11. Skip the parades
Before you get mad at us, we admit that the Disney parades are over the top fantastic! We will even suggest that you need to watch one at some point. But we also want to let you know that as people are spending valuable time securing their spot for the parade 45 minutes before it starts, you can be riding some great attractions!
We hope this helps you figure out how to save some precious time at Disney World! If this is your first visit to Disney World be sure to read this post to give you 13 tips you need to know before you go.