As you are planning your Disney vacation you are probably wondering "what in the world should I wear?" You are not alone! This is a common question.
You will have dozens and dozens of pictures taken so it is smart to put a little bit of thought into what to wear. You want to look back at photos and love your photos – not be annoyed by your outfits!
You also want to be comfortable and ready for long days at the parks. You don't want t be uncomfortable because you were too hot or too cold. You definitely do not want to waste precious time to run back to your hotel for a sweatshirt, jacket, or raincoat.
We want to help you figure out what to pack for your trip to Walt Disney World. Our goal is to help you simplify your clothing so you can focus on other things!
This post is dedicated to what to wear (and pack) to Walt Disney World in February.
What Is The Weather at Disney World in February?
February is a fantastic time to visit Disney World, especially if you are going to Florida from a colder climate. The average high is a lovely 75 degrees, with nights getting down to the mid 50s.
There are about 4 days of rain in February, so rain outs are something you don't need to worry too much about. There is about 2 inches of rainfall during the month of February.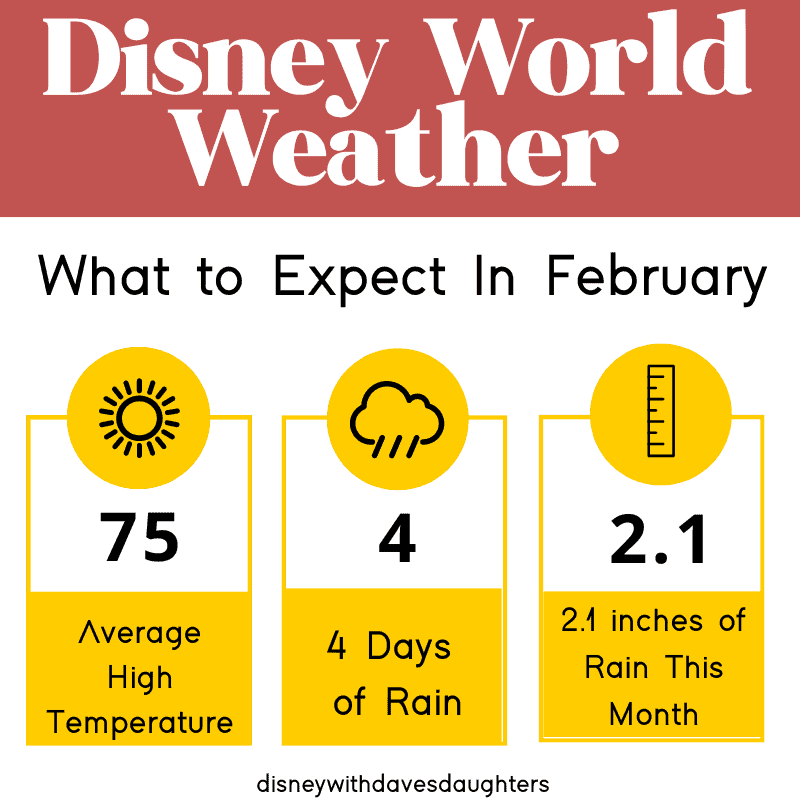 What To Pack For Disney: Clothing Packing List – February
In February you should plan on packing – and wearing – layers. Layers will make your days comfortable and give you the flexibility to stay at the parks as long as you want. There is quite a difference between afternoon temps of 75 and morning temperatures when you are out waiting for the bus or monorail.
We recommend packing the following:
T-shirts
Long sleeve shirts
Sweatshirts, fleece jacket, or cardigan for layering
Several pairs of pants or jeans
One or two pairs of shorts
Socks
Additional items to consider (see below) gloves, hat, packable blanket
1. Tee Shirts
Pack at least one t-shirt per day that you will be at the Disney Parks. We always bring at least one Disney themed t-shirt because we love adding to the Disney Magic!

Many, many people wear Disney themed shirts at Disney World! It is fun to match your shirt to the park you will be in. For example, wear a Star Wars shirt in Disney's Hollywood Studios and your classic Mickey shirt in the Magic Kingdom
When visiting Disney World in February you may want to consider adding Valentine's themed Disney clothes to your packing list! Here is a great option for the whole family:
Valentines Disney Family Shirts
Handmade item in USA, Louisiana.
Unisex t-shirts. Run normal to size. Suggest to order the size you usually wear. Check the size chart for accurate measurements.
Design made to outlast the garment. We use only high quality material and commercial grade equipment to design our shirts.
We'll process and ship out your order within 1-3 business days.
All shirts are made to order. No returns on personalized items.
We earn a commission if you make a purchase, at no additional cost to you.
We have our favorite Disney themed Valentine shirts listed here.
If you don't want to wear Valentines' shirts, there are always Mickey ears to wear!
We earn a commission if you make a purchase, at no additional cost to you.
Because the weather is cooler in February, you may opt for your short sleeve shirts to be thin, athletic fabric instead of a Disney tee. This will help keep you comfortable under your layers.
2. Long Sleeve Shirts
We definitely recommend bringing several long sleeve shirts to Walt Disney World in February. Lightweight long sleeve tops are easy to throw in your backpack and will give you a warm layer for those chilly restaurants and early mornings.
Layering is key to enjoying your time in the parks! Make sure the long sleeve shirts will fit comfortably over your t-shirts.
Our number one tip for layering for your trip: Try on your outfits before you go! Make sure everything fits comfortably.
We have a list of our favorite long sleeve Disney themed shirts here. These are a prefect option for wearing Disney gear.
3. Sweatshirt, fleece jacket, or cardigan
You will want to bring a couple sweatshirts (our favorite Disney ones are here), a fleece jacket, or other third-piece layering items for extra warmth. Early mornings at the bus stop and late evenings at the fireworks can be quite cool. Our motto is this: we would rather have a sweatshirt and not need it vs. wishing we had a sweatshirt and not bringing it!
You will want to be aware that you will likely not wear this layering piece for most of the day, so make sure it will fit easily into your backpack and isn't too heavy. While we love the look of jean jackets, they can be bulky and heavy to carry around. Of course, your personal preference trumps our opinions!
Puffer jackets are a great option as they are lightweight, squish easily into a backpack, and provide plenty of warmth! This one from amazon is incredibly affordable.
We earn a commission if you make a purchase, at no additional cost to you.
If you prefer a fleece style jacket, this is a great option – it has great zippered pockets, very affordable, and comes in 40 different color options!
Amazon Essentials Women's Classic-Fit Long-Sleeve Full-Zip Polar Soft Fleece Jacket, Aqua Blue, X-Small
CLASSIC FIT: Close-but-comfortable fit with easy movement
POLAR FLEECE: Double-sided knit fabric with a brushed finish and subtle texture, this soft and cozy midweight fleece keeps you warm and insulated while withstanding everyday wear.
COLD-WEATHER STYLING: Designed for any outdoor activity, this polar fleece jacket takes you everywhere you need to go. Perfect as a finishing touch for a cool-weather look or a comfy base layer when...
DETAILS: Features flattering seam details for the perfect fit, front zipper closure, zip pockets, stand collar, and long sleeves with elasticized cuffs.
We earn a commission if you make a purchase, at no additional cost to you.
Don't feel the need to buy anything new if you already have something that works. You can spend that money you save on snacks!
4. Several pairs of pants or jeans
You are definitely going to want to bring pants or jeans on your February vacation. The number you will bring is subjective to the exact weather and your personal preferences.
Again, consider what your comfort level is and pack accordingly. Pants options could include: joggers, jeans, leggings, or athletic pants.
Of course, if you are experiencing unseasonable warmth, you will want to pack lighter pants (leggings, joggers). If it is cooler than normal, or if you will be at an after hours party, you will want to pack more jeans and heavier sweat pant style joggers.
5. A couple pair of shorts
We do recommend that you bring one or two pairs of shorts, even if you think you won't wear them. They take up very little space in your suitcase, so throw in a pair!
6. Socks
This is its own category because you CANNOT forget to bring socks! You will not want to wear sandals to the parks in February (we don't recommend sandals as your park footwear anyway, but especially not in February).
We recommend you wear your socks with your park shoes for several weeks or months prior to your vacation. Make sure you will not get blisters.
We actually recommend that you pack two pair of socks for each day of vacation. If your feet get sweaty in the parks it will feel amazing to swap out your socks for a clean pair when you get back to your hotel. Trust us on this one – we are from Minnesota and understand socks.
If you are in the market for new socks, check out Darn Tough socks. They are super comfortable, merino wool (they will hep keep your feet dry!), and are made in Vermont!
The best part is that they have a lifetime guarantee. If you get a hole in them, send them back for a new pair! Our entire family wears this brand.
We earn a commission if you make a purchase, at no additional cost to you.
7. Additional Things To Consider Packing
Rain Gear – while the amount of rain in February is not very high, you may want to consider grabbing a poncho to throw in your backpack in case you get caught in an afternoon rain shower. Be sure to check the weather forecast as your trip gets close to make the best decision.
Dressy clothes – some dining locations have a dress code, so please keep that in mind. If you are planning a nicer date night at Disney Springs or the Boardwalk out make sure you have appropriate clothes!
Hat and gloves – a lightweight pair of gloves or a hat may be something to consider, especially if you will be pushing a stroller around and unable to put your hands in pockets during chillier weather.
Is February A Good Time To Go To Disney World?
Generally speaking, February is a good time to visit Walt Disney World. Spring breaks have not started yet and the Christmas rush is well past. We do recommend avoiding Presidents Day weekend.
Other Disney Packing Tips
Of course, we didn't cover packing sunscreen, pajamas, and other personal items! This post will help make sure you don't forget anything. We have other packing tips to help you plan your January vacation to Disney World.
If you are looking for an overview of what clothes to pack for Disney World for other times of the year, check out our month by month guide!