Figuring out what to wear on your Walt Disney World vacation can be a bit of a challenge. You want to be comfortable for a day of magic, but lets be honest – you also want to look cute!
You will have dozens and dozens of pictures taken so it is smart to put a little bit of thought into what to wear. This post in particular will focus on the month of May.
What Is The Weather At Disney World In May?
To start out, you need to know what the weather is going to be like when you are at Walt Disney World. May in Orlando can definitely be considered hot. The average temperatures in May are around 88 degrees, and overnight temps only drop down to 70. The humidity is starting to rise and it will feel sticky!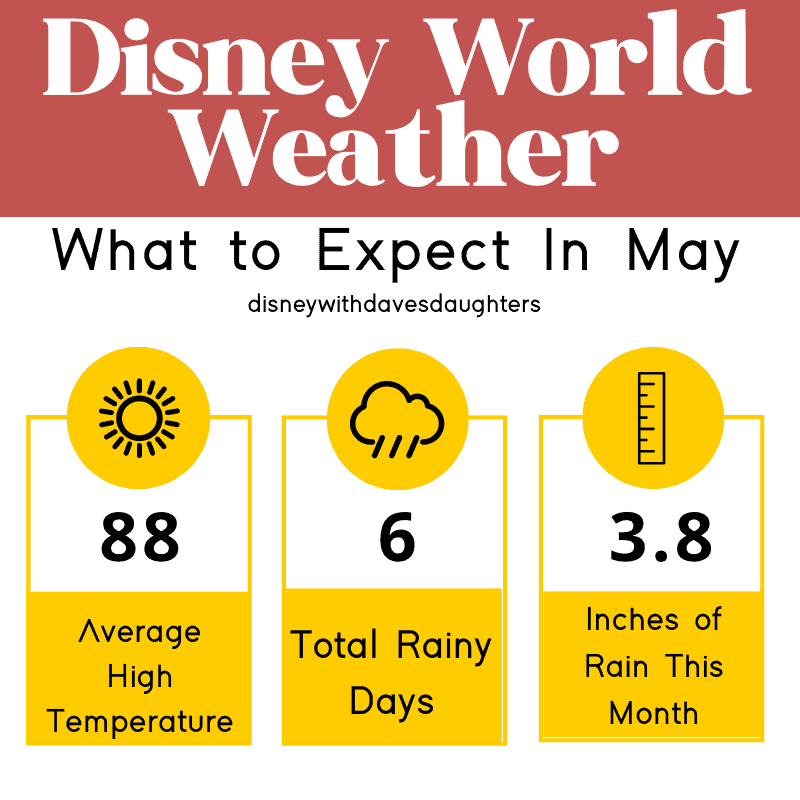 Full blown summer is right around the corner – and if you are traveling at the end of May you can expect it to only get hotter and more humid. You will generally have sunny days with afternoon rain showers – Orlando gets measurable rain about 15 days of the month.
What Should I Wear To Disney World in May?
You will want to wear short sleeve t-shirts, shorts, and comfortable shoes when visiting Walt Disney World in May. You may want to consider bringing a lightweight long sleeve shirt to wear if you have dining reservations where the air conditioning might be a bit cool.
It is important to consider the type of fabric your clothes are made out of. If you are choosing to wear a Disney graphic tee, make sure it is made of breathable fabric. Athletic wear that is moisture wicking is a great option.
Your best bet is to wear clothes that are comfortable and that you like. The following list is geared towards women, but it is easily adjusted for men and kids. We have specifics for all members of the the family below. We recommend packing:
Tee shirts
Tank tops
Shorts
Sneakers
Sandals
Swimsuits
Lightweight long sleeve for hotel or restaurant
One pair of pants/jeans/leggings
Rain jacket
Personal items
What to wear to Disney World in May
Let's break down exactly what you should wear in Disney in May!
Tee Shirts
Pack at least one t-shirt per day that you will be at the Disney Parks. We always bring at least one Disney themed t-shirt because we love adding to the Disney Magic!
This is the perfect time to buy a Disney shirt with your favorite character on it. Make sure that you wear t-shirts that will not be see through if you get wet on water rides.
For kids, be sure to pack several Disney themed t-shirts. If you can, pack new ones that they have never seen and purchase them from places like Target, WalMart, or Amazon to save money.
Having new Disney shirts will help prevent the constant "I want!" that kids can do on vacation! Disney clothing items can also be re-worn all summer long which makes them worth the money.
Because we love Disney t-shirts so much we have posts dedicated to all our favorite Disney shirts.
Tank Tops
Depending upon the weather forecast you may want to bring a tank top of two. If you are especially prone to getting irritated by heat, a tank top may be just the ticket to keep you comfortable.
Tank tops also make great layering pieces – you can wear a tank top underneath a lightweight long sleeve shirt and be comfortable all day long! If you are planning on wearing a backpack make sure that the straps won't bother your shoulders if you are wearing a tank top.
Shorts
In May you will want to wear shorts to Disney. Choose whatever pair of shorts are the most comfortable for you to walk in. Do not wear shorts that cause chaffing or ride up no matter how cute they are – you 100% will regret this choice. Skorts are also becoming a popular alternative to shorts.
There are many cute shorts available to wear that you can be cute and comfortable in! We actually really love these biker shorts that come in a variety of lengths and have a cell phone pocket!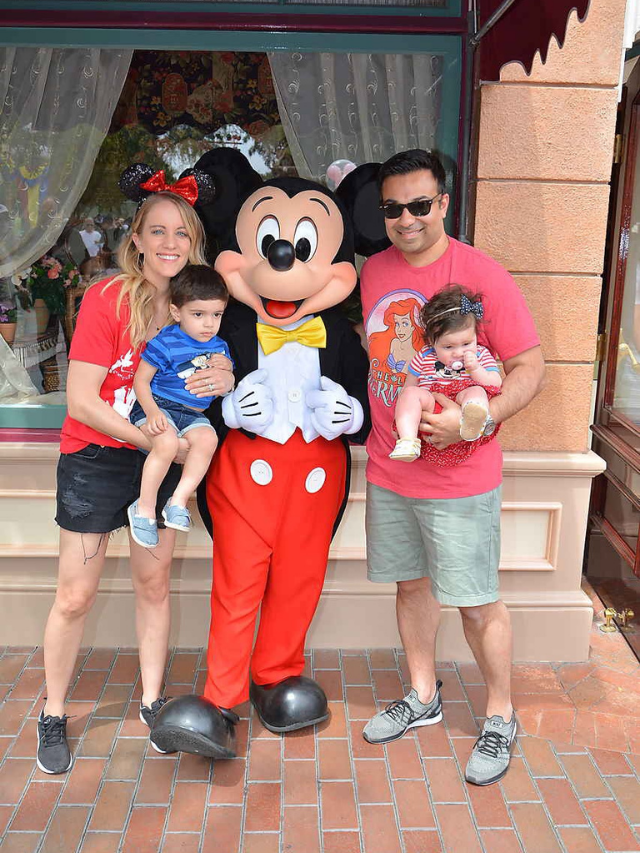 Make sure men wear shorts that are comfortable. If they have pockets that have zippers on them we recommend packing those – it will help keep things from falling out and getting lost.
Sandals
While we don't recommend wearing sandals while walking around the parks, they are perfect for hanging at your Walt Disney World Resort or going to the pool or water park. Choose whatever your favorite sandals are – flip flops, chaos, crocs, or Birkenstocks!
Comfortable Walking Shoes
Our biggest tip is this: do not wear new shoes to Disney World! We cannot emphasize enough the importance of comfortable walking shoes. You will be doing a lot of walking every single day. On our last trip, Jen and Katie walked over 40 miles in 3.5 days!
We have an entire post dedicated to walking shoes. We have recommendations for the best shoes for men, women, and kids.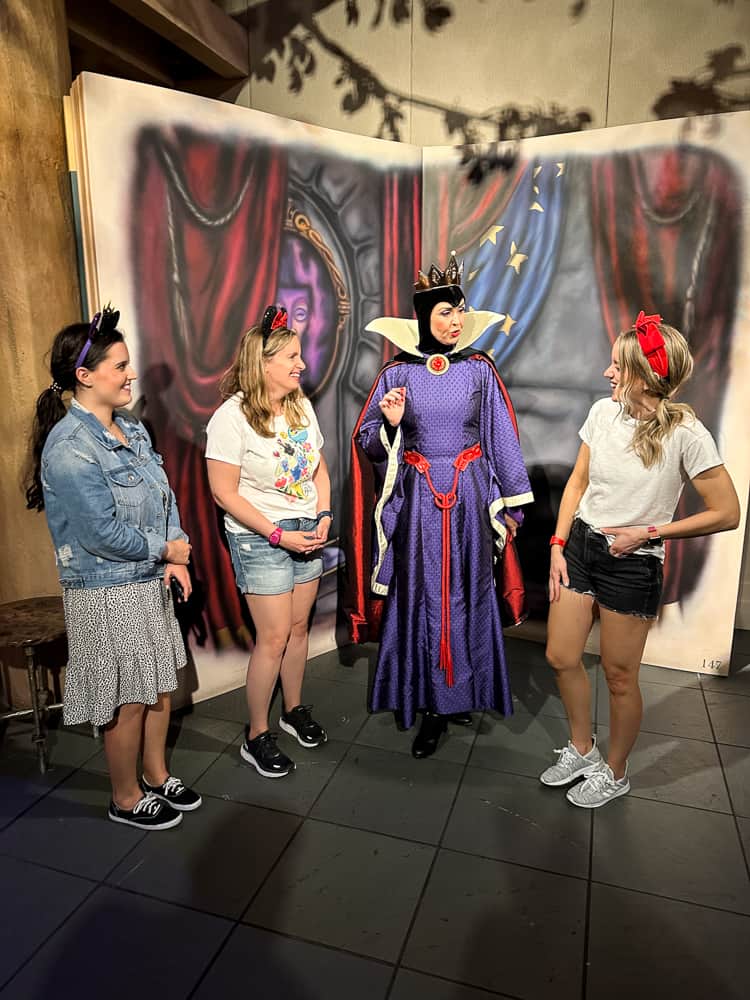 Having the wrong shoes can ruin your vacation. You will be walking many miles in hot weather and bad shoes can also contribute to getting the Disney Rash. We think that comfortable walking shoes are the most important thing you can wear in Disney World.
Swimming Suit
You will definitely want to bring a bathing suit with you on your Disney Vacation, even if you aren't sure you will be using it. The warm weather will make a dip in the pool feel refreshing.
If you have small children, you may not have a choice about visiting the pool! Luckily suits don't take up a ton of space in your bag, so if you end up not needing it that's fine. We have gone on many Disney vacations and not used the pools but we have always been glad to have our suits just in case.
Long Sleeve Shirt
You will want to have a long-sleeved shirt with you for cool mornings or evenings or time in your hotel room. Air conditioning can make a room feel extra cool after being in the hot weather. You want to be able to be comfortable during your down time in the evenings.
We recommend bringing something that is not bulky so you can throw it in your day bag and not have it take up too much space. You can see our favorite long sleeve shirts here.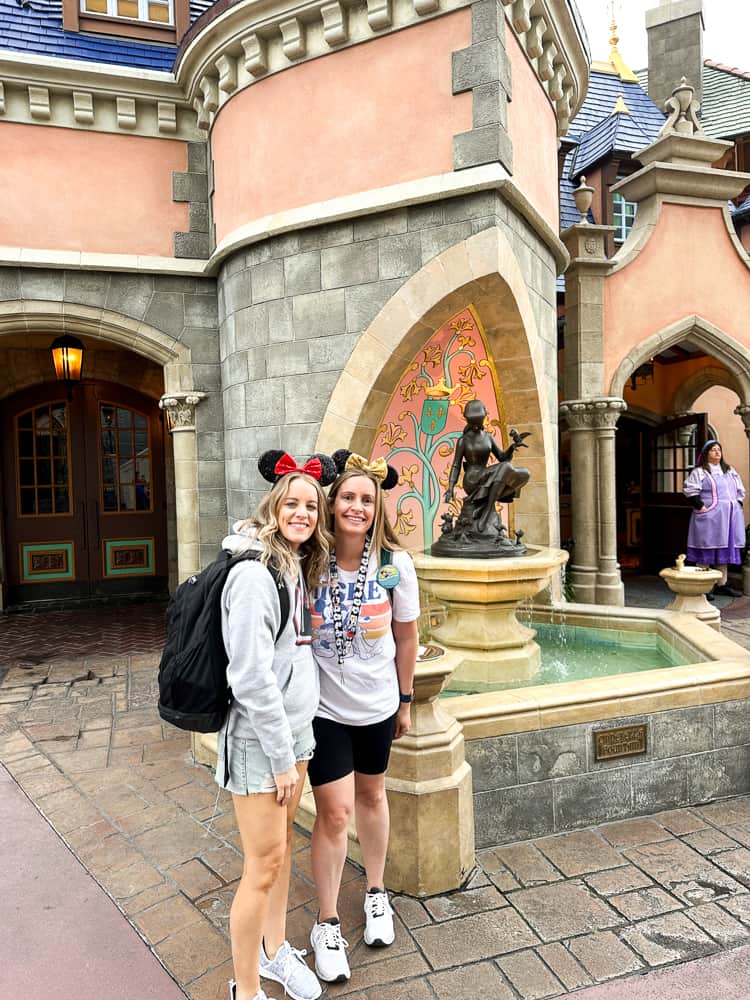 Long Pants
Every person in your family should have at least one pair of long pants packed. We recommend packing whatever is most comfortable for lounging around your hotel room as the likelihood of wearing these pants in the parks are slim (your will get too hot).
We personally love leggings or joggers for women, joggers or lounge pants for men, and leggings or sweatpants for kids! Of course, consider your personal preference and pack those!
Rain Jacket or Rain Poncho
It will rain in Orlando in May. In Central Florida, May brings about 4 inches of rain during the month – which might not seem like a lot, but as the month goes on it gets rainier. (June is the wettest month at over 8 inches of rain).
If you are visiting the Disney Parks in May we highly recommend bringing a rain jacket or rain poncho. We prefer ponchos because you can throw it over your backpack easily.
We have an entire post dedicated to all the best rain gear for Walt Disney World (jackets, ponchos, the best small umbrella, the best rain shoes). Be sure to check it out.
Special Clothing Considerations
Be sure to keep in mind any special events that you might be taking part in during your vacation. If you are planning a date night out at Disney Springs you may want to bring a dress or collard shirt. A few select Disney restaurants do have a dress code so make sure you have proper attire for each of your reservations.
If you are spending extra time at the Disney Water Parks, you may want several swimsuits and a coverup or two.
Is May A Good Time To Go To Disney World?
We actually love the idea of visiting Walt Disney World in May. You do not have the heavy summer crowds but you do have nice warm weather. For our family, the crowd sizes make or break our trip.
We try to visit when the crowds are low. Be sure to check out the crowd calendar to take into consideration what is the best time for your family.
Other Disney Packing Tips
We have other packing tips to help you plan your May vacation to Disney World:
You are now ready to pack your bags and head out to Walt Disney World! We would love to hear how your May vacation was!